Big Bad Voodoo Daddy benefit concert and Music Fest foster arts programs throughout district (54 photos)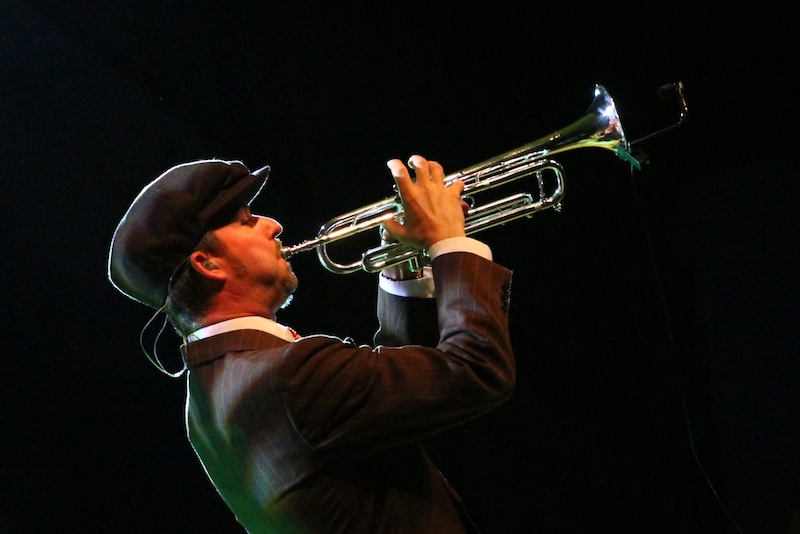 Approximately 1,442 people filled Ventura High School's Art Deco auditorium on Saturday night to see contemporary swing band Big Bad Voodoo Daddy perform. Donning their usual pinstriped suits and fedoras, the band performed a benefit concert for Ventura Education Partnership to a sold-out audience.
All of the concert proceeds go through VEP to arts programs in local schools, but this event's promotion of the arts didn't end at just paying for paintbrushes. Student attendees were also inspired by the presentations and performances of the event.
Before the concert, there was a Music Fest by the VHS Music Boosters, including student music and art performances, as well as booths selling ukeleles and offering free swing dancing lessons.
At the Music Fest, Nick Rail ran a booth where people could donate their old instruments, and he would then repair and refurbish them before giving them to VUSD for use in its schools.
"Because I've worked for the district for so many years doing repairs for them, I know that they've always had a challenge in having enough instruments to give to kids," Rail said. "These instruments that people are being generous enough to donate will open the door to music for a bunch of kids that otherwise wouldn't have the opportunity."
The Music Fest itself also fostered art appreciation for students in attendance.
"They're [the students] getting a chance to see all the different things we can do," Foothill junior Cali Mahoney said. "It's a different type of view that they get to see."
Big Bad Voodoo Daddy was also excited about giving students opportunities in the arts through schools.
"If you take it [music] out of the schools, then it's going to die. All of us in Big Bad Voodoo Daddy are really passionate about music, and keeping it going and spreading it for everybody," band member Scotty Morris said.
With $60,000 expected to be raised, VUSD's arts program will get more than a boost.
The concert itself was a hit. With every ticket sold and every seat filled, the audience loved both the show and the local cause.
Before Big Bad Voodoo Daddy performed, one of VUSD's most popular student arts programs, district-wide high school show choir Company, performed two songs.
After that, Big Bad Voodoo Daddy entertained the crowd for an hour and a half with their energetic, swing-inspired songs.
The huge crowd got into the jazzy spirit of the music and even started swing dancing in the aisles.
Everyone involved with the concert and the Music Fest was passionate about promoting the arts in schools, and the community's turn out and reaction proved that the arts have a strong support system.