Bioscience Academy's FAD Night informs freshmen, celebrates seniors (36 photos)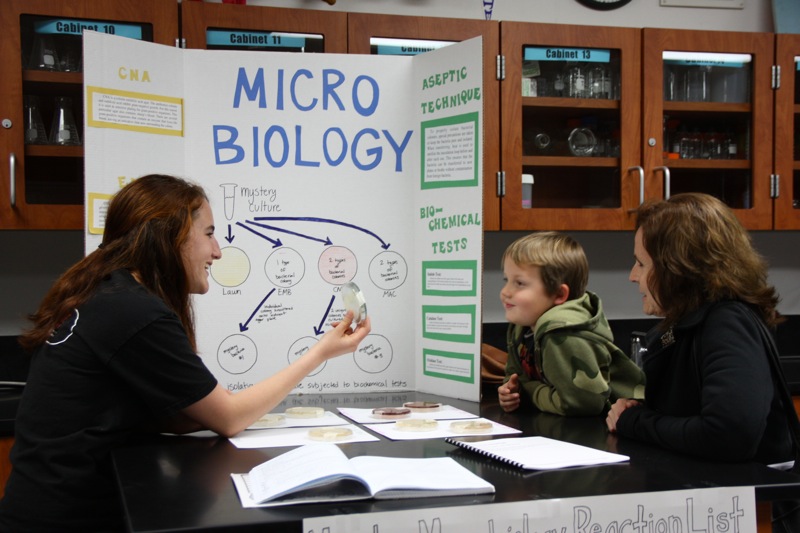 Freshmen and their parents milled around Foothill's campus eating pasta and learning the ins and outs of the BioScience Academy, while seniors were celebrated for their contributions to the academy on Wednesday's FAD Night.
During Fiesta Award Demo (FAD) Night, freshmen and sophomores gained insight as to the rigour of their upcoming classes and the fun networking that their busy schedules will entertain in coming years. Also, special awards were given to seniors who are graduating this spring.
"FAD night is the BioScience fiesta. It's basically a time for us to celebrate all of the seniors who are graduating as well as welcome all the incoming freshman into the program, and to showcase all the skills the students will learn," science teacher Mika Anderson said.
The fiesta consisted of a free dinner, an informational meeting for new parents, classroom and lab visits, first aid demonstrations and the senior celebration of accomplishments.
Awards were given to seniors who played crucial leadership roles and displayed outstanding skill in various scientific fields. Amanda Torres and Natalie Waechter both won leadership awards, Noah Christie and Lauren Hughart won Medical Technology awards for first aid and microbiology, respectively, and Eric Moll II won an award for Biotechnology.
Though the night was geared toward freshmen and seniors, sophomores and juniors were able get a better feel for what their upcoming year has in store for them in Medical Technology and Biotechnology.
"It will be good to start getting more involved in science and in Med-Tech," BioScience sophomore Sean Anthony said.
Many students in the academy already have an idea of what they would like to pursue in the medical field.
"I joined BioScience mainly because I want to be a Biomedical Engineer," sophomore Trevor O'Keefe said. "Next year I am taking Med-Tech and Physiology because we are learning about the anatomy of the human body."
The informational meeting for new parents was informative and helped parents learn about what happens in each class and specific activities and opportunities that their students will have access to.
Debbie Fox, mother of freshman Charlotte Fox, didn't quite know what the Bioscience Academy was, but, after the informational meeting, is both excited and concerned for her daughter's academic future.
"I'm hoping that it will help her be more informed," Fox said.
Many parents also felt that the most impressive opportunity that will be offered to their children in the academy are internships. Anderson also felt that they provided unique and exciting opportunities.
"Having experiences that typically wouldn't occur until college at a high school level, I would even say that some of these students are going to get experiences that they won't even get in college," Anderson said.
Credit: Melissa Marshall and Bridget Parrino/The Foothill Dragon Press