Dorothy Boswell provides students with disabilities opportunities to succeed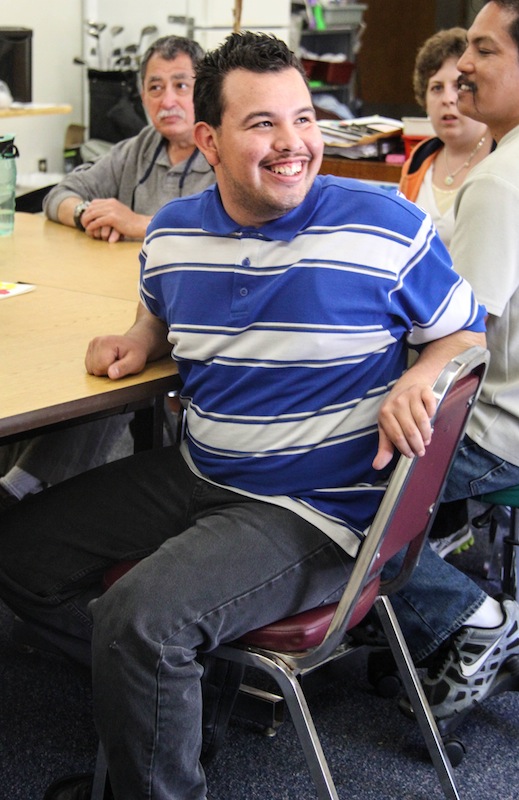 Facing adolescent changes and adversity is difficult enough for teenagers to handle, but the task becomes significantly more difficult if that teenager has a physical or mental disability.
Dorothy Boswell School, Foothill's neighboring school that sits on the corner of Day and Loma Vista, provides students living with physical and mental handicaps from across the county with assistance with personal living skills.
Students aged 18 to 21 can help prepare themselves for their future in the school's large, spacious classrooms that are equipped with several vocational skills facilities.
Teacher Stephanie Rodriguez works with the students on a day-to-day basis and notes the value of the school's importance in their lives.
"Their everyday existence depends on what we provide for them here," she said.
Staff at Boswell help their students reach their full potential by focusing on vocational skills training and IEP goals (measurable objectives and standards that students accomplish by graduation), and thus try to prepare students to be as independent as possible come graduation.
"We want our students to achieve the most independent living skills possible. [According to section 504] students with disabilities have the right to participate in a public education until they are 22," said principal Brett Taylor. "Our students just need that extra help with tasks that many of us take for granted."
Aside from standard classrooms and areas for physical therapy, Boswell has a kitchen as well as a laundry room, both of which help students further their independence.
Once reaching the age of 22, students either move on to a group home, live at home with their own family, or are able to find daily employment.
As a part of the program, Taylor incorporates opportunities for his students to work and build towards a self-sustained future.
"The hope is that students after this program are able to go to a job. Somewhere they fulfill responsibilities and can go to day to day. We take them to several job sites where they can start learning tasks. Anacapa Brewery, Ojai Humane society, Coco's are a few places where they can start feeling responsible," he said.
Going to job training sites is not the only place where students can begin practicing responsibility. Teachers like Rodriguez take students to Foothill's cafeteria to pick out lunches for the school. For students who are not as mobile, the staff makes a point to take them out of their wheelchair and experience physical freedom.
Taylor not only stresses the mobility component for his students for physical purposes, but also for a heightened sense of awareness for the community at large.
"We do community walks to really take them out and show our population that we do have these citizens with these needs," he said.
Foothill junior Eryk Vaughn has been volunteering at Boswell for two years helping the staff with administrative work. His time spent at the school has alerted him of the lack of consciousness and understanding the student body at Foothill has towards students with disabilities.
"It's so shunned in America's society, they are almost treated like second-class citizens that we shouldn't talk about. We don't make an effort to be aware of students who have disabilities, especially teenagers our age," he said.
While working with students with disabilities on a daily basis, Rodriguez sees her students wanting to be involved socially with their peers, but not having the opportunity to do so.
"We have a big population that doesn't get the same social outlet. They really do want to interact, [they] just don't have the tools to reach out to their peers," she said.
Foothill junior Alan Vargas has volunteered at Boswell in the past. The experience was his first exposure to students with special needs, an experience he feels not enough of his peers have had.
"When teenagers see someone with a disability, they feel scared and unsure. Very few of us have taken the time to reach out to another student who is different from us. We really need to put ourselves in their shoes and help out more," he said.
This lack of familiarity and awareness often leads to teenagers responding negatively towards students with ranges of disabilities. Studies have shown that children with disabilities were two to three times more likely to be bullied than their nondisabled peers.
While there are pieces of legislation in place such as the Americans With Disabilities Act, research shows that the source of unchanging living situations for these students is the way the outside world views them. Critics of the act say "legislation cannot always protect them from subtle forms of discrimination and prejudice".
The Special Olympics Foundation shows that if there were positive interactions among youth and their peers with special needs, an overall understanding would increase to 70 percent among the population.
"You feel really good that [you] actually accomplished something," Vargas said. "We don't really appreciate all that we can do. We take for granted all the small things we are able to do and stress about the big picture. Some people really need our help with just the small stuff."
Taylor has dedicated his entire teaching career to helping students with disabilities. He has grown passionate about his involvement and believes what his staff has committed to do every day is the extremely impactful.
"I have the greatest job ever. Getting to just hang out and spend time with these kids is really meaningful and creates change that this community and world needs," he said.