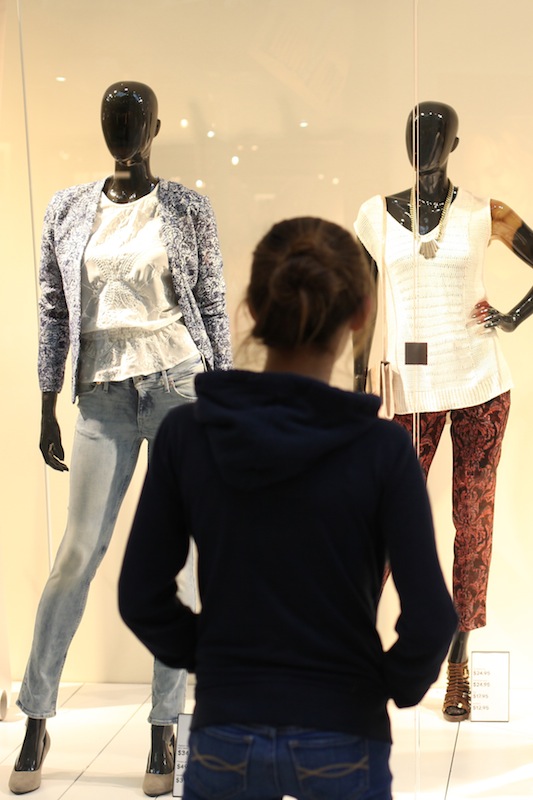 The options for role models are countless in a society saturated with the influences of celebrities, models, and athletes. Students gravitate towards several different role models, valuing different characteristics they obtain.
For Junior Michelle Sanchez, celebrities form an ideal for what people hope to look like.
"I've read before that attractive people are more likely to be successful. And what teenage girl doesn't want to be considered pretty? Beyoncé is my role model because she's pretty and that, in society, defines you as a person," she said.
Society's value on looks is what worries several social research groups in that aspiring to have the coveted look on magazines is nearly impossible.
According to the Social Issues Research Center, "The current media ideal of thinness for women is achievable by less than 5 percent of the female population."
Junior Sedona Powell doesn't like what the media often portrays as she thinks it leaves girls feeling inferior to celebrities.
"Models in magazines and most of what teens consume is unrealistic. They make it look like those people are perfect and it just lowers your self-esteem," she said.
English and Psychology teacher Melanie Lindsey also thinks that praising certain celebrities is unnecessary and is negative for girls to spend time on.
"Miley Cyrus should not be a role model for teens or other young girls that will be influenced by her. It's just sad," she said.
Senior Mariela Camacho feels that certain celebrities could be positive role models, for both embracing individualistic beauty or character.
"I don't really like the Katniss girl from the Hunger Games as an actress, but I like her as an influence. She's fine with being herself and isn't going to lose weight to be super skinny," she said. "Like Kim Kardashian shouldn't be an influence. Oprah however is a positive one because of her story."
Oprah Winfrey serving as a positive influence is credited towards her work done inside and outside her community. Forbes lists Oprah as the most powerful celebrity not only because of her net worth, but also because of her success as a philanthropist. In 2007, Winfrey opened the Leadership Academy for Girls which provides education to underprivileged girls in South Africa. For Camacho and many others, Oprah proves to be a positive celebrity role model for teenage girls.
As for the role models for young men, Lindsey believes that society influences them rather than celebrities in the media who can have a negative influence.
"Society itself has severely emasculated men, not willingly, but we have taken masculinity away from men. Women run everything, not allowing [men] to do things," she said.
A study about modern men feeling emasculated stated that 52 percent of men feel that they have to live by the standards set by women. 63 percent of women felt that men were struggling to meet these demands.
These large expectations placed on males are what Foothill Counselor Steve Boyd believes draws young males to role models that appear victorious but end up making poor choices.
"One person who is popular out there is Oscar Pistorius, even though he made a bad choice. People, especially boys, put athletes on pedestals and they are just people," he said.
Senior Aiden Moore believes that looking up to whichever celebrity you choose is fine, since every person is still making a choice to emulate a person with characteristics they admire.
"It's all based on the person's perspective. It depends how far the teen takes it when they look up to someone. It's different when you go overboard," she said.
Filmmaking, photography, and art teacher Cameron Crouch also feels that it is not the media to blame for the actions and influence, but instead what its audience takes from it.
"I always shy away when people say movies or video games influence [young people]. It's just not realistic because actresses and actors have trainers and make up artists," he said.
Today, many companies manufacture unrealistic images for their consumers. Fashion chain H&M recently confessed that the swimwear models being used in their online catalog are fake.
"We take pictures of the clothes on a doll that stands in the shop, and then create the human appearance with a program on [a] computer… The message is clear: Buy our clothes, not our models," they said in a public statement.
Crouch is worried about this distorted image for not only for this generation, but also the next.
"It's a slow burn, a fake reality. I worry about my son and daughter looking at that and thinking it's reality," he said.
In a nationwide study conducted by The Barna Group, it was found that after their immediate family, teens mentioned teachers, coaches, friends, and pastors or other religious leaders to be among their top influences.
Powell believes these influences to be more meaningful and thinks that praise should be directed towards the real individuals in one's life.
"It's more positive to look up to people we know personally. I know my role model is my sister because we have that immediacy and connection. It's someone who can relate to what you are going through," she said.
Boyd thinks that the true role models in students' lives are their parents.
"I think most people look towards their parents whether they like it or not. However there are several teenagers who don't have a father figure at home. Young men begin to get into trouble and females get into negative relationships," he said.
Live Strong expresses the importance of having a close, positive role model. Having a coach, teacher, or a parent involved has shown better self-esteem and higher academic success for the teenager versus the one who does not have the influence in their life.
Lindsey believes that the lack of a positive role model can result in a struggle for teenagers to find themselves through achievements and failures.
"[There is] a sense of being lost. As much as they hate to admit it, kids like boundaries and expectations, without role models kids don't have those," she said.