Duffy to drop ASB and take part-time position next year to start a family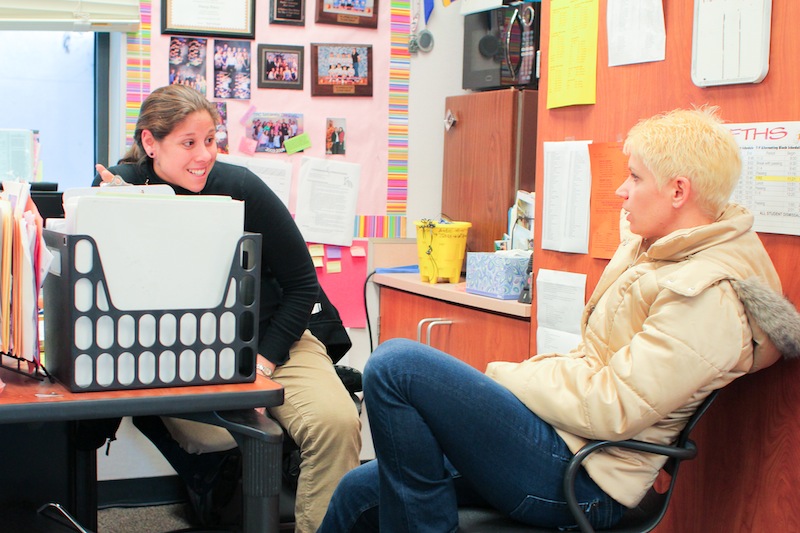 A lot can change in nine months, and for Darcy Duffy, the decision to spend more time with her growing family will result in changes in leadership in the Associated Student Body program.
Duffy, the Bioscience Academy director and ASB advisor, will be taking a 50 percent leave of absence next year to care for her son, whose birth is expected soon. Consequently, she will have to drop her position as ASB advisor but will keep her position as Bioscience Academy Director.
"As you have probably noticed with being in the class with Mrs. Duffy she is pregnant right now. And because of that and because of her desire to spend more time with the baby, especially the first year, she will be taking a 50 percent leave of absence," principal Joe Bova said. "The thing she would give up in that process would be the ASB Advisor position."
Duffy said that this was not an easy decision for her. She didn't want to "over commit and under deliver," but she said she is still very passionate about the ASB program.
"With my child arriving soon and looking at how my lifestyle is now and the amount of hours I work, I decided I want my children to turn out as good of people as all the Foothill students," she said. "I think that his first year of life I couldn't run the programs that I currently have and be the mother I want to be and be the wife to my family that I want to be. So I decided I would have to let one of those things go and take a part-time position."
There have not been any final decisions on who will take the position next year, however Bova said that they have some ideas of people who would be effective for the position and have some interest in the position.
"We will recruit from teachers on campus first, and if we find someone on campus that would be great. If we don't, then we will fly the position to the outside and look for an outside person to come from another school that may be interested in being an ASB advisor or is currently an advisor somewhere else," Bova said.
Psychology and AP Literature teacher Melanie "Captain" Lindsey is one of the teachers interested in becoming the new ASB advisor.
"I have been the senior class advisor for 11 years, and I started the Finish Strong program, which is the senior renaissance program. I think I have a lot of creativity and vision dealing with programs for motivation for kids, so that's why it appeals to me so I can impact all 1000 kids by moving the program to the next level," she said.
Because of her experience in motivational programs, Lindsey already has ideas if she were to take the position.
"They may be working very differently than they have worked in the past," Lindsey said. "If I took the position, we would be reading leadership books once a semester, doing a lot of community outreach, where we are raising money for a cause. And, I'd like to see smaller renaissance programs at every level, more engrained throughout the school."
Even though the ASB program may be very different next year, Duffy has no doubt that the students will be able to adapt to the changes they will face.
"Knowing the quality of people they are and the leadership traits that they have, I know they will be able to adapt to change and respond well to a new advisor. I think they will do quite well," she said. "There is a time when you hand it off to the next person so they can bring their cup of tea, and bring the energy and passion to keep going and make those positive changes. The students in the class will be ready for that for sure."
Junior Hanna Rivera is looking forward to ASB next year, even though she knows there could be some difficult changes.
"A new person should be interesting, and we should be using a lot of new ideas in ASB, but I know the first couple of years are going to be rocky, just getting acclimated," Rivera said. "But it should be exciting and they said they're going to pick someone really good. I'm looking forward to see how it goes next year."