Ventura students sing, dance and "share the joy" at holiday performance (30 photos)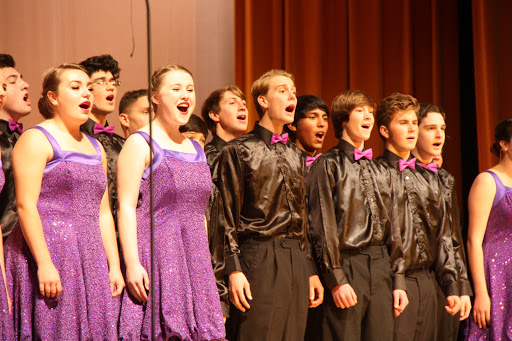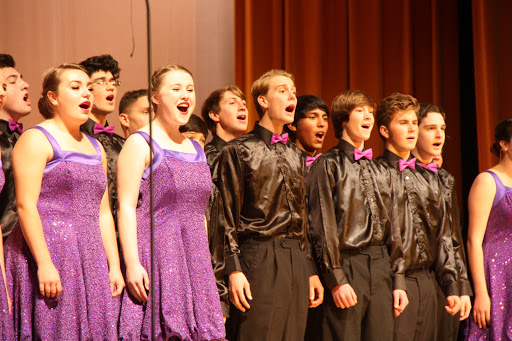 Parents, students, and other spectators gathered for the third annual Holiday Celebration district wide choir production, "Share the Joy," for an evening of music, laughter, and fun on Friday night at the Ventura High School auditorium.
The purpose of the event was, according to choir director Heidi House, "to lift your spirits and warm your heart."
Three groups performed: the "Notables," consisting of the All-District elementary school choir, the "Crescendo" made up of the middle school choir, and "Company," the high school choir.
With the motto, "The best way to spread Christmas cheer is singing loud for all to hear," students performed holiday classics such as "Anything is Possible," "Baby It's Cold Outside," "Silent Night," "Candy Cane Lane," and an acapella rendition of "Holly Jolly Christmas."
The show closed with a group performance of "Imagine" by all grades.
"The best part was 'Imagine.' It brought everyone together- not just the performers, but the audience. You could just feel the love in the room. This being my last Christmas performance, I'm glad it went so well. I can't wait for our spring performance,"  Ventura High senior and three-year choir member Jessica New said.
The choir programs have been working on this production since the beginning of the school year in August.
"We have to be in rehearsal at 6:15 every morning, but it's worth it. This group of people is amazing," El Camino freshman Mimi Mize said.
"It is my pride, my joy. I love my job. My dream is to have a full house," House said.
Ventura Unified School District superintendent Trudy Arriaga said that it's great for the community to come and "fill our hearts with joy to the sound of our children. I love the sound of their angelic and joyous voices."
There are also productions Saturday at 7:00 p.m. and Sunday at 2:30 p.m., with CDs and DVDs of the show available for purchase.
"Bring your friends!" House said.  
Credit: Stevi Pell/The Foothill Dragon Press