Students dance the night away Old Hollywood style at Winter Formal (66 photos)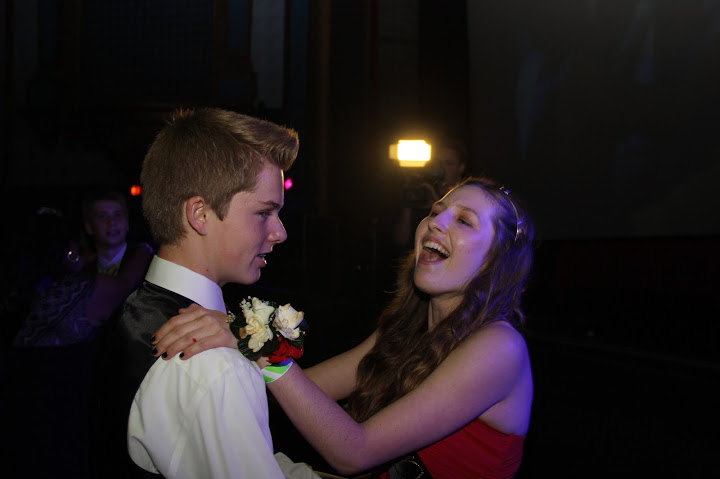 The Majestic Ventura Theater was filled with loud music, colorful lights, and over 400 people Saturday night, but it wasn't because of a Snoop Dogg concert. December 8 was Foothill's annual Winter Formal, and the theme was Old Hollywood.
"We heard it was the coolest, hottest place in Ventura… I'm blown away by the turnout," sophomore ASB president Carlos Cohen said.
While every other year Winter Formal has only been open to Foothill students and their dates, this year any student in the district could come as long as they filled out a dance contract.
Students danced from 7:30 to 10:30 to songs like "Somebody that I Used to Know" by Gotye, "Call Me Maybe" by Carly Rae Jepsen, and "Bringing Sexy Back" by Justin Timberlake. All the while, a video screen above the dance floor was flashing music videos and movie covers such as "Titanic" and "Twilight." DJ Boogeyman and DJ Kutz were on stage the whole time to supply the music and lights.
"The light show was well done this year," Foothill alumni Sarah Stutt ('10) said.
The Majestic Ventura Theater had four different tiers, each with a different set up. The lowest was the dance floor and stage, with a small area set aside for couples and groups who purchased VIP tickets. These students got a private table and waiter, and a balcony view above the dance floor.
The next level was the entrance to the theater where students put belongings they didn't want to carry, and also where they got drinks and popcorn. Above that level, there was a place for pictures as well as the bathrooms. The last level was a seating area above all the others, for people to rest and watch the dancing.
"I like the different levels so you can see everything that's happening and the lights are really cool because it gets dark and they have really cool decorations. It makes it look old and historic," Ventura junior Celeste Bujold said.
After a couple hours of dancing, the winter court was announced while the crowd waited in anticipation. The princes and princesses were freshmen Cody Clark and Rugile Pekinas, sophomores Andrew Miech and Erin Maidman, juniors Bridget Coonan and Dee Lucas, and seniors Brian Garvey, Amelia Gomez, Wesley Harris, and Sophia Horigan. Seniors Camden Mahoney and Katie Teshima won king and queen this year.
"It's an honor," Mahoney said.
Mahoney and Teshima shared a slow dance to "You and Me" by Lifehouse, and after a while the rest of the court and then the rest of the couples joined in.
Other slow songs throughout the night were "Tip of My Tongue" by The Civil Wars, and "White Horse" by Taylor Swift, the song that ended the dance.
Many students were happy that Winter Formal was at the Ventura Theater this year, and thought that it was a great place to dance the night away.
"The Ventura Theater is so fancy-looking, it has so many dance floors, there's a giant screen, and everything looks like it's painted in gold," senior Anthony Khodanian said
"My favorite part of Winter Formal so far is that it's so relatively close to everything downtown that it was easy to go to a nice place and eat dinner and then come here," junior Quinlan Moran said.
Some students were skeptical about the dance before they came.
"It's better than I thought it was," junior Hailey Winfield said.
Even the teachers liked to watch the students having a good night.
"I think it's a great venue. It seems like the kids had a great time," mathematics and AVID teacher Alice Braitman said.
"I think I like watching the kids be dressed up and have the excitement, the real excitement of having a good night," World History and English teacher Dan Fitz-Patrick said.
Credit: Michael Morales & Lauren Pedersen/The Foothill Dragon Press