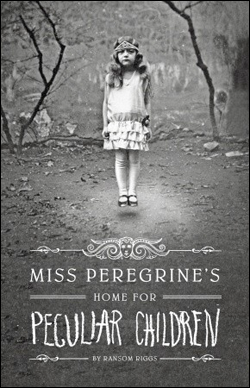 Imagine: a tragic family death, a dilapidated orphanage on a remote island in Wales, and mysterious black and white photographs. All are important components in Ransom Riggs first novel Miss Peregrine's Home for Peculiar Children.
The book opens up with a short poem by Ralph Waldo Emerson that sets the tone for the story: mysterious, creepy, and magical.
Jacob Portman, the 16-year-old protagonist, was fascinated with his grandfather's stories as a child. His grandfather described how he fled from Poland and went to live in a paradise orphanage with other children. But these weren't ordinary children; they were peculiar. He tells Jacob about the invisible boy, the girl who could levitate, and the child with two mouths, a few of the strange residents at Miss Peregrine's orphanage.
Jacob wrote these off as fairy tales when he grew up. But his grandfather's black and white photographs and mysterious letters suggested otherwise.
A terrible family tragedy sends Jacob and his father on a quest to Cairnholm, Wales in order to discover the truth about his grandfather's past.
Cairnholm, a tiny fictional island in Wales is like any cliché horror story setting, from the fog that sweeps over the town, to the small, isolated village with unfriendly residents. This cliché setting, however, works well with the events in the novel and challenges the characters to utilize their limited resources.
Jacob finds the orphanage and explores its empty halls, discovering more and more photographs of even more peculiar children.
Jacob is eventually able to make contact with these long gone children, and over the course of a few weeks, learns more about his grandfather's past and discovers his own talents, capabilities and place in the world.
The tale of Jacob and the peculiar children is well written. A few plots, twists and surprises make the story interesting and keep it from falling into a cliché supernatural storyline. The plot takes a different turn than originally imagined; the book cover suggests that it is a gothic ghost story, but it slowly transcends into a more fantasy genre.
The characters are well-rounded and believable, especially Jacob. His interactions with people and his environment are expected of a teenager, which makes him easy to identify and relate with. The descriptions of Cairnholm are eloquently written, painting a beautiful picture of a green, lush, and rainy island in Wales.
But the most peculiar part of the novel is the photographs. Surreal, vintage, black and white photographs are peppered throughout the book. Although at times it felt like the photographs interrupted the storyline, they provided a nice visual for the characters and brought them to life.
Anyone looking for a quirky, captivating, supernatural story with a twist can find enjoyment in Miss Peregrine's Home for Peculiar Children. The mystery and magic of the novel will certainly enchant its readers, such as the stories and photographs of Jacob's grandfather enchanted him.