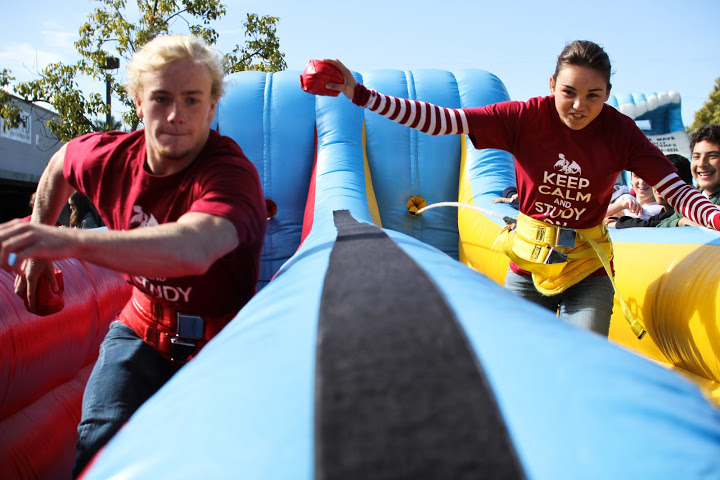 Foothill's Renaissance students celebrated their achievements today with an extended lunch and a Renaissance rally that included inflatable slides, a dunk tank, a rock wall, music, and burritos from Corrales, a local Ventura restaurant.
Once a semester, Foothill's Associated Student Body puts on a special rally for students who have earned at least a 3.0 grade point average and have qualified for Renaissance.
Students were also given Renaissance shirts today, which read "Keep Calm and Study On," a parody on the British adage "Keep calm and carry on," which was popularized in World War II and has recently been resurrected in modern pop culture.
Senior Sarah Noell said she enjoyed the inflatable slides, one of the most popular activities at the rally.
"It's pretty great," she said. "All the jolly jumps and whatnot really bring out the inner kid in me."
Seniors worn out from filling out college applications were not the only ones who enjoyed the break in Foothill's vigorous course schedules; students of all ages seemed happy to relax with friends and be rewarded for the work they put into their studies.
Sophomore Luke Stowell agreed with Noell, and added that the Renaissance program provides worthy incentives for students who want to do well in high school and later on in life.
"The rallies help us push ourselves so we can look forward to a reward for our hard work and dedication," Stowell said.
Junior Amy Bradford was in charge of the event and had been working tirelessly since September, planning with fellow ASB student and junior Caleb Bigler.
"Caleb and I were researching theme ideas and came up with a few but the ASB class narrowed it down to 'Under the Sea', 'Western', 'and Circus'," said Bradford.
ASB sent out a survey asking which of the three choices students would like to be the theme of the year's first rally, and 'Under the Sea' was the ultimate winner.
Teachers and students alike were dressed appropriate to the theme, some even decked out in pirate or mermaid garb. Students could take pictures on the stage with their faces peeking through ocean-themed paintings as well.
Bradford was pleased with the rally, saying, "I think everything went according to plan. I think people had fun and that's what counts."
Credit: Bethany Fankhauser & Maddy Schmitt/The Foothill Dragon Press
Credit: Emily Chacon, Kazu Koba, Erin Maidman & Bridget Parrino/The Foothill Dragon Press