Foothill named Blue Ribbon School for the second time (audio)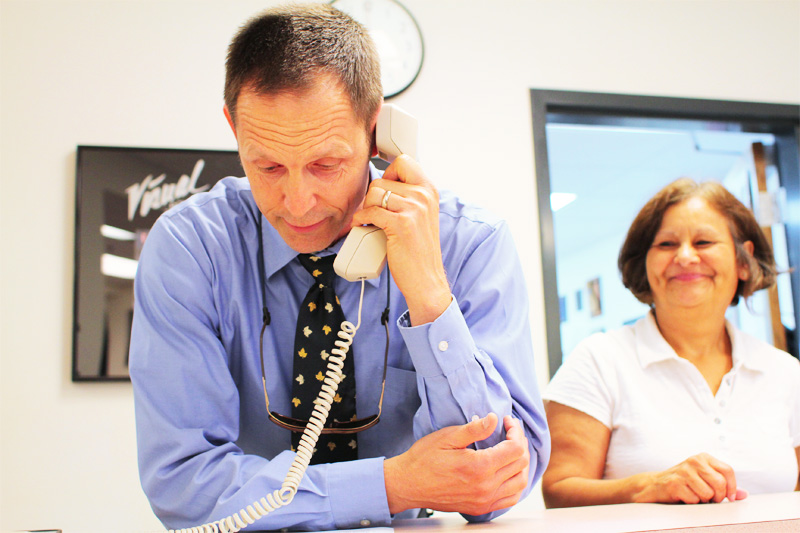 Foothill Principal Joe Bova notified students Monday morning that the school has been named a Blue Ribbon School for the second time since its opening in 2000.
Foothill is the only school in Ventura County to receive this highest national honor. It is one of five high schools in California, and one of 50 high schools nationwide to receive the award this year.
"This shows all the excellent things going on at this school and brings pride to our staff and students hard work," Bova said.
Students are also excited about Foothill being named a Blue Ribbon School.
"The award shows that the students are doing well, the teachers are teaching well, and gives the school as a whole a sense of pride," said junior Jenny Hamlet. "It is a way to say that all our hard work is paying off."
Schools nationwide are eligible for nomination for the Blue Ribbon Award every six years. Foothill was nominated and won the award for the first time in 2006. Foothill learned that it received the nomination for this award in January. The California Department of Education formally announced the 24 National Blue Ribbon Schools from California on Monday.
This award honors a total of 269 public and private elementary, middle, and high schools where high academic performance or significant improvements are being made.
Winners are separated into two categories. Schools who win the Exemplary High Performing award, like Foothill, meet all of their 2012 Academic Performance Index (API) and Adequate Yearly Progress (AYP) targets. Those who win the Exemplary Improving award have at least 40 percent of their students from disadvantaged backgrounds and are showing improvements with their achievement levels measured by state assessments.
This year Foothill's API score was 912, a score that is two points shy of last year's score but is still very high for the school.
In order to qualify for the award, schools have to prepare and submit written documents and essays about their different curricular aspects of the school and provide demographic and assessment data.
The award will be presented at a national ceremony held in Washington D.C. on Nov. 13 and 14. Staff members Liz Prado, Joe Bova, Rick Villano and Connie Carr will be representing Foothill at the ceremony.
A lottery drawing determined which staff members would attend and represent Foothill at the ceremony. Each member was given the opportunity to enter their name in the drawing based upon their number of years of service at the school.
Prado originally did not have her name pulled from the lottery.
"Many staff members thought that Liz should go because she has put in lots of work throughout the years," Bova said.
Villano feels honored to represent Foothill at the ceremony and is pleased that the school has received the award.
"It is another honor for our school to claim as a reason for being proud to be a student and staff member at this school," he said.