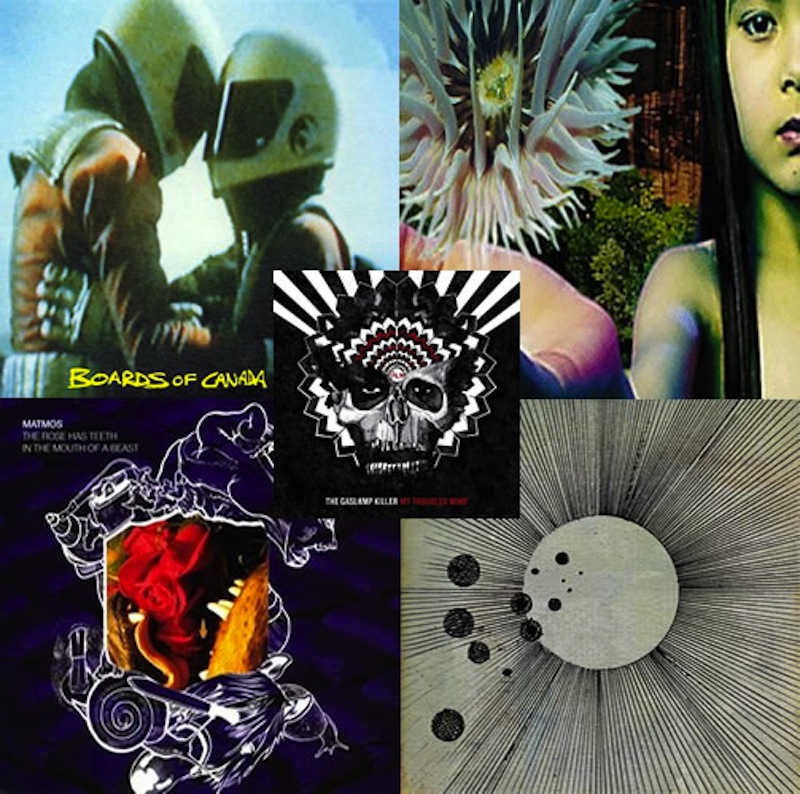 It's summer, it's hot, and you're bored out of your sunburned mind, what to do? Why not check out these five awesome electronic artists that, unless you're a connoisseur of all things electronica, you've probably never heard of.
This mishmash of electronic artists is as diverse and random as the samples used in their tracks, with sounds ranging from the sickening to the earsplittingly scratchy and screechy. And as off-putting as that may sound, if you have the mind and ears to handle the following onslaught of digital beats, you'll find these musicians to be quite satisfying.
So, if you're ready for a musical trip of weird and wonderful proportions, dawn your headphones and prepare yourself for some sick sounds.
Hailing from the streets of San Diego's Gaslamp district, the aptly-named Gaslamp Killer (a.k.a. William Benjamin Bensussen) is as gritty, grimy, loud, crude, and as off-the-chain as they come. The man, simply put, has no off switch. His beats are always turned to eleven, and his energy never fails to impress. The Gaslamp Killer is more than an artist, he's a one-man show, and the only real way to experience him is live. Luckily, you can easily find him at the The Low End Theory Club every Wednesday in Los Angeles.
Listen: "Shattering Inner Journeys"
2. Matmos
Amplified crayfish nerve tissue, chin implant surgery, Polish trains, and beating on rat cages, these are just a few of the ungodly number of sounds used by the electronic duo known as Matmos. Comprised of Drew Daniel, a former UC Berkeley grad student, and M.C. Schmidt, former manager of the conceptual art department at the San Francisco Art Institute, Matmos is an experimental electronica pair based in San Francisco. Over the past 13 years, the two have been crafting and combining organic sounds from every imaginable source into intricately woven tunes. By using the sounds no one else would ever consider, or want for that matter, Matmos manages to create music that is truly unique in its own right. For a musical shock to the system, look no further.
Listen: "Lipostudio…And So On"
3. Flying Lotus
A direct descendant of the Coltrane musical lineage, Flying Lotus (born Steven Ellison) is a genre-bending electronic composer born and bred in Los Angeles. Known for his jazzy, hard-hitting, and at times trance-inducing beats, Flying Lotus is a prolific artist with four albums under his belt. His music is the perfect fit for those sweaty and sleepless summer nights, and each track is guaranteed to put you into a zen-like mood. You can check him out live on an irregular basis at the weekly Wednesday night electronic club called the Low End Theory in Los Angeles.
Listen: "Camel"
Despite what their name might lead you to believe, the prolific Scottish electronic duo known as Boards of Canada is comprised of brothers Mike Sandison and Marcus Eoin. Tracing their music roots all the way back to 1986, Boards of Canada has produced an extensive and diverse catalogue of atmospheric, warm, spacy, and all together calming records. Boards of Canada is my go to group for clearing mental clutter, and every time I hear it, their music delivers on that promise. If you feel the need to free your mind, Boards of Canada is an excellent choice indeed.
Listen: "Everything You Do is a Balloon"
"Future music" is an appropriate name for the impressive array of sounds produced by British electronic duo Future Sound of London (FSOL). Made of Garry Cobain and Brian Dougans, their music runs the gamut across every known sub-genre of electronic music. The only real unifying detail amongst FSOL's is that nothing sounds similar, each and every track produced by the group stands out in its own right. Some have described their sound as ambient, others have labeled it pscyhadelic, however I have yet to find an adequate term to describe the sound that is FSOL. They are certainly worth a listen for any electronic fan looking for a little something off the well-worn musical path.
Listen: "We Have Explosive"