Author Andrew Smith shares writing experience with Foothill students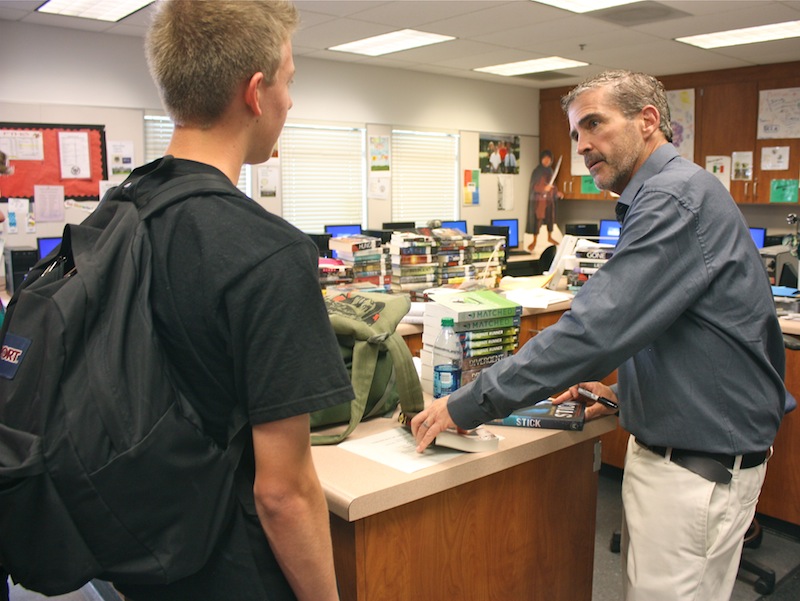 Published author Andrew Smith, who visited Foothill Wednesday, started his journey as an author with a dinner table conversation that caused his parents to choke on their food. At age fourteen, he announced to his three siblings and parents that he wanted to become a writer. His family was shocked by Smith's chosen career path.
Smith has written many young adult novels such as "The Marbury Lens" and "Ghost Dance," and he talked about his writing experiences with a room full of eager Education in the Digital Age (EDA) students.
In order to achieve his goals, Smith made the decision to work and study hard. In fact, Smith graduated high school early at age 16. From there, he attended college at California State University Northridge.
Years later in his life, Smith regained communication with an old friend who had already published about 15 books and novels.  His friend helped him contact an agent and editor who fell in love with his first book, "Ghost Medicine." This book was quickly published in 2008 and was voted "best book for young adults," by the American Library Association/ Young Adult Library Services Association in 2009.
Before all these events occurred, Smith never wanted any of his books to be published.
"I never intended for my books to be read by anyone from the general public," Smith said.
Smith now has a wife and two children. He says part of the reason he agreed to continue to write for publication is to help pay for his childrens' education.
"I actually tried to get fired," said Smith of being a published author. "I wrote a book that I intended to be awful and hoped that the publisher would fire me so the pressure would be lifted from my shoulders, but unfortunately they loved it."
Along with "Ghost Medicine," many of Smith's other books have received awards. "Stick," "In the Path of Falling Objects," and "The Marbury Lens" were all awarded "Best Fiction for Young Adults," by the ALA/YALSA.
"The Marbury Lens" was also chosen as one of the "Best Books of 2010" by Publisher's Weekly and was the Booklist Editors' Choice in 2010. The basis for this book was a real life experience Smith had when he was kidnapped at age 17.
"The Marbury Lens" was the reason Smith ended up speaking on Foothill's campus. EDA teacher Kristen Faulconer started a new project with her students that included selecting and reading a book from the American Library Association list.
"I have extended the project to what I call 'The Revolution.' This has students creating posters and reading books that I showed trailers on," Faulconer said.
"The Marbury Lens" was one of these books. After seeing the book trailer in Faulconer's class, freshman Ava Fenwick made the decision to read it.
"Right away I fell in love with the book. I like creepy books," Fenwick said. "So Mrs. Faulconer recommended that I email him because I finished my project early and that he was going to be coming to Foothill soon."
Faulconer and Fenwick both contacted Smith and organized a time for him to talk to the students.
This past year, Smith decided to take part in what writers call "Nano Wrimo," an event when authors all try to write 50,000 words in one month. Smith ended up writing an entire book that totaled around 70,000 words.
Between training for the 30 marathons he has run in, taking care of his horses, and spending quality time with his kids, Smith spends hours everyday writing and teaching. During the school year he gets up at 3 a.m. everyday to write before teaching government and economics at Canyon High School in Santa Clarita, California.
Smith will be publishing more books in the near future including "Passenger" in fall of 2012, "Wringer" in spring of 2013, and "Grass Hopper Jungle" in the fall of 2013.
Readers can meet Smith and have their books signed by him at the Booklist Youth Forum ALA annual conference in Anaheim, California on June 22.