Foothill talent travels through decades at Air Guitar (66 photos, 2 videos)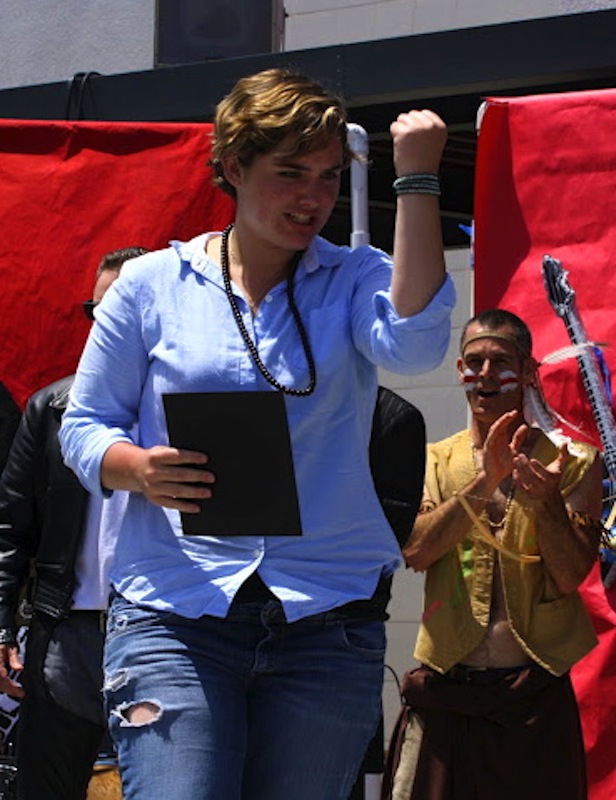 Applause and cheers rang throughout the quad Friday afternoon during Air Guitar, Foothill's annual talent show held to celebrate the end of California State Testing and Advanced Placement testing.
This year's theme was "Music Through the Decades."
"We thought it would be a cool way to combine many of our ideas about having a decade themed event," Associated Student Body Lunchtime Activity Director Stephen Mariani said.
After returning from Spring break, Mariani and his team began putting in countless hours of planning to prepare for the event. This year, 16 acts auditioned for a spot, and 12, including the house band, made the cut.
"We encouraged all acts that didn't make it to try again next year at Air Guitar or at Back to School Night. It's extremely hard to cut the acts because they are all very talented," Mariani said.
The band Myrmar, formed by seniors Henry Ashworth, Daven Gonzales, Connor Fenwick and Nolan Bailey, and junior Nate Rowley, entertained staff and students during the Food Fair, when clubs and organizations raise money by selling food to students.
Before the main show began, Principal Joe Bova and ASB director Darcy Duffy announced this year's receiver of the Tanner Aubert award. Freshman Britney Richardson, who has a visual impairment, was awarded for her positive outlook on life everyday at school.
ASB class president Riki Schmitt awarded a trophy to the Class of 2012 for their accomplishments in Foothill's Greek Week. This trophy will be passed down to the winners of the Greek Week challenges every year.
Seniors Jon Oyan and Renae Schultz began the show with a duet cover of Barton Hollow by The Civil Wars. Both performed earlier this year at the senior SOAR rally in February.
Juniors Alex Tompkins, Jared Kelly and Jared Berman, and sophomores Kevin Fickenscher, Gibson Splies and Damien Masterson performed as part of the Buena High School Drumline.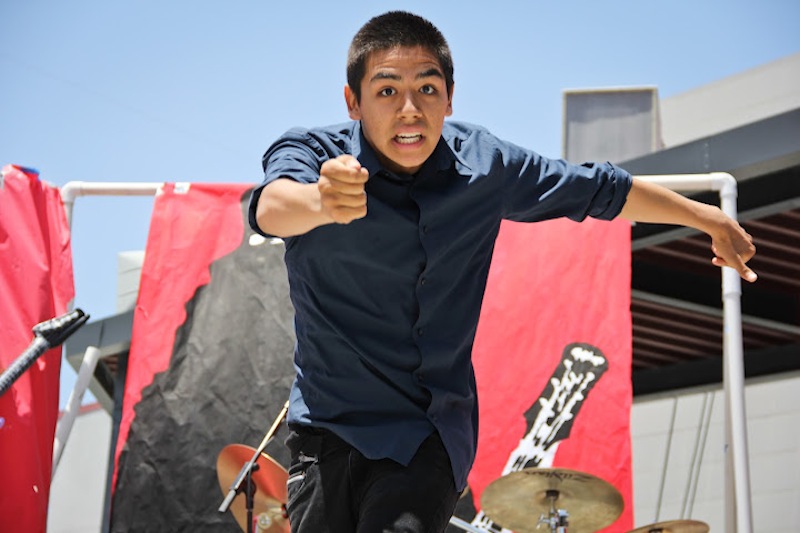 "I really enjoyed the drumline," said sophomore Alexis Malcolm. "It really grabbed my attention and it was cool to have an act other than dancing and singing."
Other musical performances included a cover of "Hallelujah" by seniors Isabel Reeder and Madeline Anguiano, a song performed by senior Joe Malach, a dance by sophomore Lucy Liao and juniors Mackenzie Bacalzo and David Hernandez, and a rendition of Bruno Mars' "Grenade" by Estefania Zapata, Blake Gurrola, and Oscar Pratt.
"Before I got on stage I was so nervous, but when I got on stage it was very energetic and everyone was really excited, so I was very happy," said Zapata.
Other musical talents included a song by senior Taylor Kennepohl, a violin performance by freshman Rosie Tufte, a song performed by bass player Michael Stancil and guitar player Don Rojo, and a band performance by sophomore Michael Morales and his friends from Ventura and El Camino.
Before the winners were announced, male Foothill teachers participated in a surprise act for the students. Vice Principal Carlos Cohen came up with this act after being notified of this year's theme.
Everyone in the quad stood and danced to "YMCA" as the teachers, dressed in costumes, sang and danced on stage.
Judge Melanie "Captain" Lindsey then announced the winners. Morales earned third place, Kennepohl received second place, and Oyan and Schultz were the overall winners.
Credit: Bethany Fankhauser and Aysen Tan/The Foothill Dragon Press.
Video: Emily Chacon/The Foothill Dragon Press
Video: Emily Chacon and Bridget Parrino