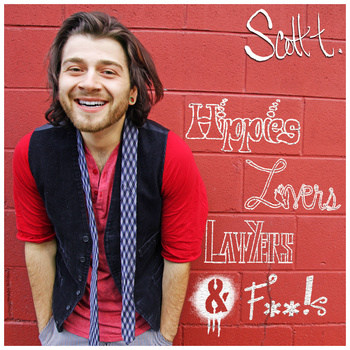 Lessons learned, lovers lost, and living life are the key ingredients in indie singer-songwriter Scott T.'s debut album, "Hippies. Lovers. Lawyers. & Fools."
Scott T., a relative unknown to most, resides in the historic college town of Charlottesville, VA, and hails from the small northeastern town of Saugerties, NY.
Much of the music in his debut album is rooted deeply in his childhood memories growing up in New York, forming something of an ode to mom, dad, and all of the friends he's made along life's journey.
His smooth, soft voice and laid-back coffee shop style recall something along the lines of Jason Mraz, but his surprising lyricism is what sets him apart from the rest of the crowd.
In "Under the Stars," for example, Scott reminisces about his journey leaving home as a young man, and the special place his parents hold in his heart. While these topics are nothing unique, the way Scott manages to blend them together into a moving ode about the trials and tribulations of adolescence makes the album a breath of fresh air.
Scott's musical palate also extends into a catchy piece of contemporary pop entitled "Countin' on You." The song's uplifting vibe and positive lyrics about appreciating each and every day of life not only ring true but also make for a great single.
Despite the fact that some of the other tracks on the record come across as a bit generic, Scott's first release is definitely something worth listening to. After hearing this first sample of his musical talent, it seems as though the future is bright for this young artist.