Festival of Fools provides a "night of laughs" (8 photos, video)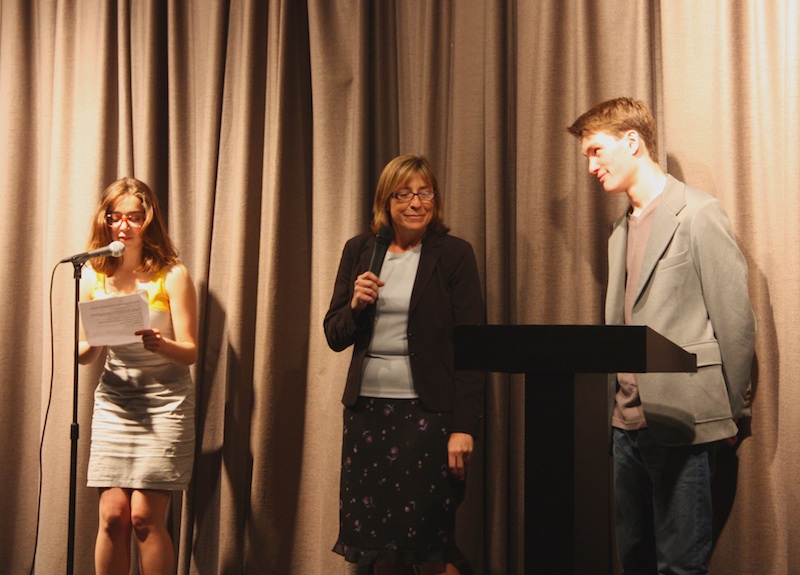 Thunderous applause rang throughout Foothill's Spirito Hall Friday night as the Speech and Debate team's third annual Festival of Fools took place inside.
Festival of Fools is a slightly more adult version of Merry Fest and it was "a night of laughs" as the team took the stage in skits.
"This is our third year. Three years ago, April 1 fell on a Friday and it was the last day before Spring Break… I always do stand-up comedy in the spring as part of the speech class and we're like, let's get them up there and charge admission. And it coincides with April Fools so we thought it'd be perfect" Speech and Debate coach and English teacher Jennifer Kindred said.
The curtains opened with senior Joseph Castro on the phone in a skit called "Lifeline" by David Ives. Castro was the victim of a seemingly neverending voicemail in which the operator, played by junior Molly Roberts, threatened Castro to stay on the phone and never get off. The phone call also featured freshman Rosie Tufte, junior Adam Braver, and senior Kevin Kunes.
The next people on stage were senior Anaika Miller in a monkey hat and freshman Lucas Wiltjer in a grandma-like hat to perform "Llamas with Hats," their version of the YouTube sensation created by Jason Steele.
Miller played Carl, a character who "kills people and eat hands." As Carl revealed horrible things that he did to people, Wiltjer's character just groaned "Carl!" in an old woman voice that had the audience laughing out loud. This was the first of three "Llama with Hats" skits Miller and Wiltjer performed, all interspersed between skits and songs.
"It was really funny to see the contrast between Anaika and Lucas because you totally wouldn't expect that from them because that's not really their character and then they just showed it. It was really fun, " sophomore Brianna Houska said.
Other acts included a reenactment of "Monty Python's Flying Circus: Merchant Baker" by sophomores Joshua Ward and Tyler Bransfield, a performance of "Beyond Therapy" featuring senior Nicole Tietel and junior Luke Ballmer, a stand-up comedy skit performed by freshman Jason Borrajo, and a humorous skit about school performed by junior Anthony Khodanian.
The hosts for the night, seniors Aron Egelko and Kevin Kunes, also took the stage to say a few jokes.
"What's green and has four legs?" Egelko said.
"What?" Kunes said.
"Grass. I was lying about the legs" Egelko replied.
The jokes had audience many members cracking up.
"I liked the one with Aron and Kevin. Very funny," Foothill parent Roshelle Tufte said.
Before intermission, Foothill band Myrmar featuring seniors Daven Gonzales, Henry Ashworth, Connor Fenwick, and junior Nate Rowley came out to perform two songs.
A ten-minute intermission followed during which audience members mingled and had the opportunity to buy cookies, cupcakes, and hot chocolate.
The second part of the show began with a skit inspired by Saturday Night Live's "Weekend Update," with Ballmer as the reporter.  Foothill Alumni and college freshman Sam O'Donnell was a guest for the act and pretended to be a pretentious student who spends his time sitting in book stores drinking Oolong tea.
Also featured in this skit was Egelko who played "Aron," his version of SNL's city correspondent "Stefon," and talked  about "Ventura's hottest clubs."
Junior Brynn Gallagher and Miller then performed "Grandma Like Whoa" by Julian Smith. Miller watched as Gallgaher rapped about her grandma.
"My grandma is hot, my grandma is awesome," Gallagher sang. "She wears MaryKay, my grandma is awesome."
Kindred came on stage next to perform a skit with Ballmer and Roberts.
"I don't usually perform but I am performing tonight a George Burns and Gracie Allen bit. They were a 1940's radio show," Kindred said.
The last routine of the night was "Kevin Kunes" performed by Kunes himself. Kunes explained why he wasn't wearing his usual hat for 40 days, claiming that he "just likes to try new stuff."
To close the show, Myrmar came on again to perform a song called "Shakespeare" that they wrote in English class.
Egelko, who oversaw preparation for the show, was pleased with the outcome.
"There's so many things that I liked. I liked being a part of it. My favorite part was being a part of it," Egelko said.
Credit: Bridget Parrino/The Foothill Dragon Press.