PTYA's "Pride and Prejudice" is witty and heartwarming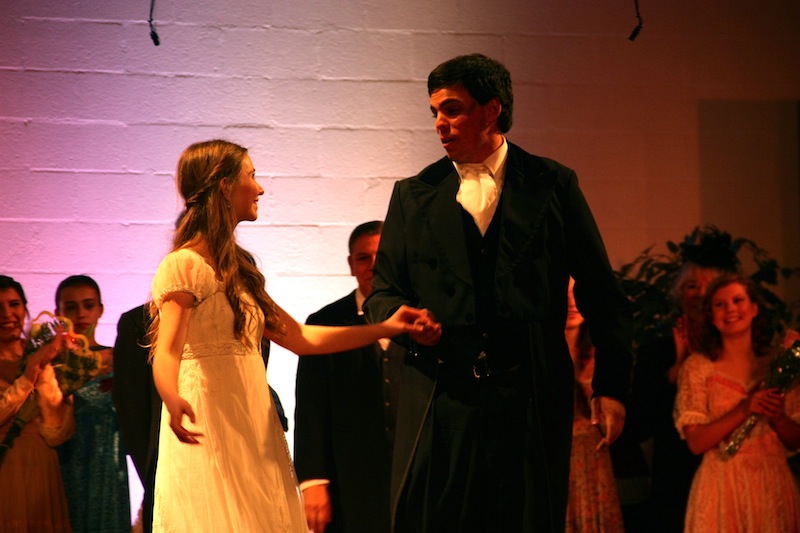 Dominated by a primarily female ensemble, the Performing Theater for Young Artists brought forth a production that exhibited the nineteenth century charm and humor evident in Jane Austen's beloved classic, "Pride and Prejudice".
In this intimate production, the audience was introduced to the five unmarried Bennet sisters – sharp-witted Elizabeth, kind Jane, flighty Lydia, childish Kitty, and bookish Mary – and their mother Mrs. Bennet, whose sole priority is to marry off her daughters into English society.
Taking a place in an era in which the girls are pursued by a number of suitable bachelors (including first cousins, a norm at the time) with the dance floor serving as a potential courtship locale, "Pride and Prejudice" is a must-see for those captivated by the world of Jane Austen.
The show features an alternating cast, Ayla DuMont portrayed the part of Elizabeth Bennet on Friday's showing. Her portrayal of the second eldest sister who is not easily swept off her feet during her interaction with the seemingly haughty Mr. Darcy (played by Foothill alumni David White) was believable. Furthermore, she showcased her strong vocal ability during one scene in which Elizabeth is beckoned to sing along to the pianoforte.
Brianna Houska (in the role of Jane) played her part convincingly until a somewhat out of place but brief ballet solo took place during her time alone onstage in the latter half of the play.
Other notable character portrayals included Emily Vallance as Lydia, and Martin Hanson who pulled off a very convincing Mr. Charles Bingley.
A crowd favorite was the pretentious clergyman Mr. Collins, played by Seryozha LaPorte who kept the audience entertained with his high energy in both his humorous dialogue and stage movement.
Despite the fact that "Pride and Prejudice" takes place in English society, British accents seemed to have been forgotten among some of the minor characters.
Audience members are kept on their toes as tension builds between Elizabeth and Mr. Darcy, and as the conniving Caroline Bingley (Megan Velzy-Lenington), Louisa Hurst (Tiffany Silva), and Lady Catherine (Linda DuMont) threaten to prevent any union between the two aforementioned characters.
The performance was not without its opening night kinks, with some awkward intervals between scene-changes and characters' conversational dialogue.
There was also a continuing mysterious sound coming from either backstage or through an overhead speaker that sounded like too-loud iPod music that resonated throughout the theater and throughout the performance.
However, my guess is that as the performances go on, all the above will be ironed out to make for a smoother run of the play.
For those who can't get enough of the old British banter, some scandal, and the era in which reputation served as a high factor in sealing the deal of marital bliss, PTYA's production of "Pride and Prejudice" is a fun little performance of Jane Austen's famous satire brought to the stage.
"Pride and Prejudice" continues Sunday at 4:00 PM, Feb. 25 at 7:00 PM, and Feb. 26 at 6:00 PM at Poinsettia Pavillion.