Biotechnology students learn on the open seas (28 photos)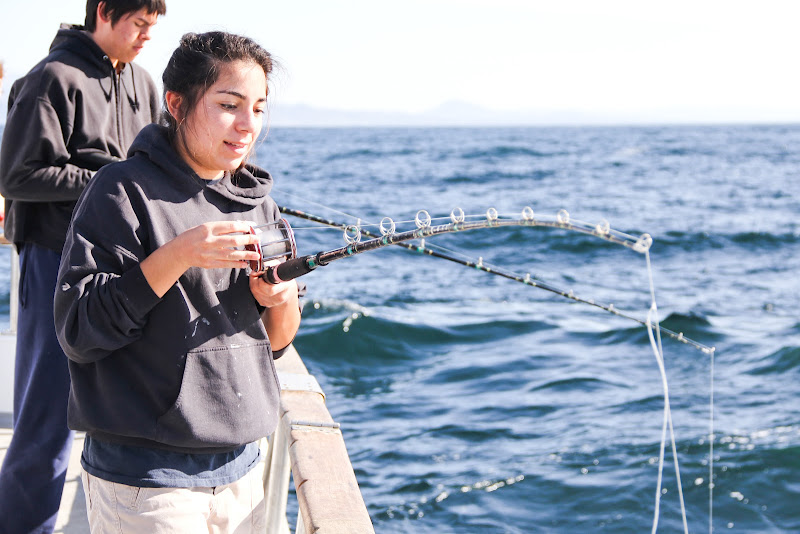 Foothill seniors enrolled in the biotechnology class set out to sea Thursday and Friday afternoon to catch a particular variety of rockfish and further learn about the species and DNA Barcoding.
The students were accompanied by science teacher Darcy Duffy as well as Ralph Imondi and Linda Santschi, two scientific directors from Coastal Marine Biolabs, and a dog named Copper.
The day began when the seniors met at Ventura Sportfishing at the harbor, and spirits were high as everyone expected to have a successful day.
"Okay guys, we're going to be 'efishent' today," Taylor Rios joked.
"I 'sea' what you did there, it's going to be 'off the hook'," Aron Egelko replied.
Once they arrived, the nine seniors were separated into three groups led by more experienced group leaders. The leaders, Egelko, Elena Schink, and Averi James, recorded their group's information when they caught a rockfish.
After about an hour of travelling, the students reached their fishing destination, and lines were cast.
Emily Wages was the first to get a bite, reeling in two orange rockfish. This particular variety has darker markings on top.
"There's an entirely other side of science than just the lab. There's a lot of hands-on experience," Luke Barnett said.
After a fish was caught, Imondi and Santschi cut out a small piece of its gill, and students put the sample in a small tube with barcoding stickers on it. Then they isolated the DNA, amplified and sequenced a specific gene, and then published their work on Barcode of Life Data Systems or BOLD, a national database system.
To help with bar coding, students used an iPhone app called DNA Barcoding Assistant.
"Ultimately, what this app does is it enables you to collect the digital image, the GPS coordinates, the time, the date, the collector, and the genus and species name for every specimen of the field," Imondi said.
"What's going to happen within the next six months is that the records that are stored in the iPhone are going to go directly to the Barcode of Life Data Systems and entered into a sequence page," he continued.
There are 102 species of rockfish worldwide with 60 species where the students were fishing.
"Rockfish are an unusual case. They're the exception and not the rule," Imondi said.
After a day of students catching many of the same variety of rockfish, Schink reeled in a rare striped version.
The seniors tried to catch another one, but after about an hour and a half of fishing, the 40 fish they needed were caught, and they were ready to head back home.
Many of the students enjoyed their day and learned a lot from the experience.
"I didn't know as much about how quickly the rockfish diversify and how they evolve. I thought that was really interesting," Hannah Alday said. "It was a nice day… I think just getting to work with Ralph and Linda was neat because they're really great people, and they're really smart, and they really help you rise to the occasion."
When asked if they had advice for students who go on this trip in the future, many brought up the risk of seasickness.
"Take seasickness medication, definitely do that. They're going to have to be willing to get their hands dirty, like literally. They'll probably get a fish slapped on them so maybe know that ahead of time," Egelko said.
The scientists wanted the students to get a lot out of this trip.
"We hope that this supplies the context for the laboratory work that they're going to be doing later and heightens their investment and excitement over the research that they do in the lab," Santschi said.
With the samples that they caught, the students will later be going to Coastal Marine Biolabs to work with the fish.
"I hope the students are able to see the complete DNA barcoding process from collection of samples all the way through the actual sequence being posted on BOLD. I hope that they're able to have a good time while they're out here learning," Duffy said.
Credit: Bethany Fankhauser/The Foothill Dragon Press