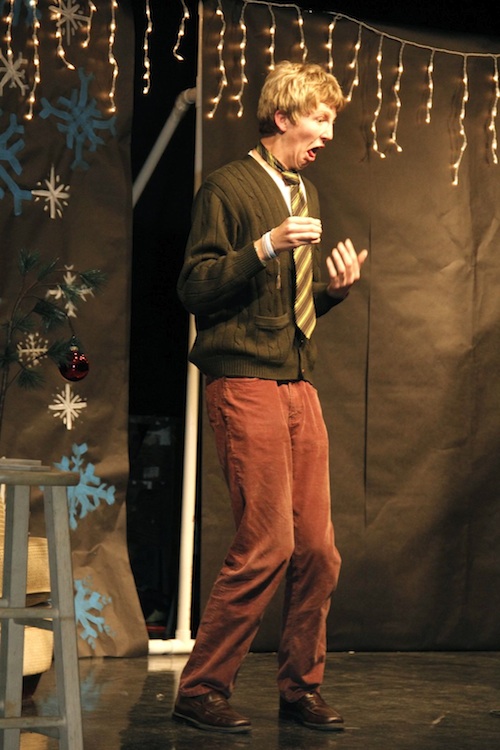 Chatter, laughs, and holiday cheer filled Spirito Hall Wednesday night at Speech and Debate's second annual Merry Fest. 
"Last year we did it because […] we got into debt with ASB," debate coach and English teacher Jennifer Kindred said. "This year we decided to do it again because we're trying to raise the money for the bus to Berkeley."
The show opened with juniors Marnie Vaughn and Annabelle Warren seranading an audience member with "Baby, It's Cold Outside." With each verse, they scooted closer and closer to him, resulting in more laughs from the audience, and a redder face from their guest.
Seniors Kevin Kunes and Aron Egelko then revealed themselves as the hosts for the night and performed a story entitled "How the Speech Team Saved Christmas," about last year's Merry Fest and their need for money.
Then, Kindred and debate coach Anthony Villa came on to express how proud they were of Kunes and Egelko for winning an award in Carlsbad for their dual interpretations skit, "The Odd Couple" by Neil Simon. Kunes and Egelko performed the skit afterward.
The night also included tellings of "Rudolph the Red-Nosed Reindeer" and "Llama Llama Holiday Drama," as well as a performance of "Herman the Chanukkah Candle."
In between singing, dancing, and storytelling, the speech team performed a retelling of "A Christmas Carol."
This story was broken up into four sepearte parts and told throughout the night in different scenes. It was remade into a 1930's black and white radio show, complete with old advertisements.
Junior Molly Roberts read "The Giving Tree" to the audience. Later on in the night, Kunes and senior Nicole Teitel peformed a parody of the story called "The Taking Tree."
During intermission, alumnus Jim Bern was asked to perform his juggling act while guests crowded around pizza, cupcakes, and cookies.
"When Aron asked me to juggle, that was surprising," Bern said.
The next act opened with another scene of "A Christmas Carol" with surprise guest, freshman Lucas Wiltjer, acting as "Tiny Tim."
A group called "The Apathetic Daffodils" then came on to sing a winter solstice song while Warren, Vaughn, and senior Connor Fenwick performed an interpretive dance.
"My favorite part was the winter solstice song, because I was not expecting that," sophomore Bridget Coonan said. "It was great that the people interacted with the audience when we were just watching them."
Finally, the last scene of "A Christmas Carol" came on and the show closed as junior Emilia Covault sang "Have Yourself a Merry Little Christmas."
"It was very creative & very original. I was surprised at how natural their acting was. It looked like a drama club, not a debate club," audience member and parent Nora Castro said.
Credit: Bethany Fankhauser/The Foothill Dragon Press