Cohorts 10, 11 and 12 competed in the annual BioScience Olympics this Friday. While all three Cohorts gave it their all, Cohort 10 came out on top.
……………
Cohorts 10, 11 and 12 competed in the annual BioScience Olympics this Friday. While all three Cohorts gave it their all, Cohort 10 came out on top.
"It always is kind of skewed towards the seniors so that's usually who we predict to win, but the other grades have shown out in full force and these sophomores are quite on it so we will expect high things from them as well," BioScience Director Darcy Duffy said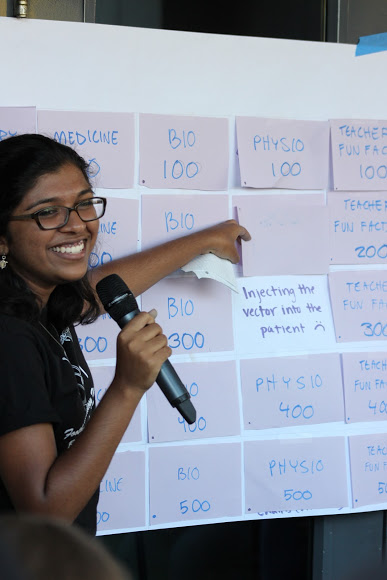 The BioScience Olympics is a chance for the three Cohorts, representing sophomores, juniors, and seniors in the Bioscience program, to bond and socialize.
Junior and Cohort 11 member Josh Ramirez enjoys "getting to socialize with all the Cohorts together 'cause during school I'm only with my Cohort and MedTech and other sophomores are with their Cohort and in Bio Survey so it's just really nice to see everyone together."
Each Cohort was given a color: 10 was blue, 11 was black and 12 was purple. They all wore bandanas to show their pride.
The evening began with the "rescue the baby" event. Each Cohort cheered on their teammates as they raced to find their group's "baby," a decorated sack of flour, by solving clues.  
Cohort 12 "stole" Cohort 11's baby, so Cohort 11 had a tough first event. Cohort 10, the winner, won 5,000 points. In second place, Cohort 12 won 1,000 for finding the wrong baby, and losing the event, Cohort 11 received no points.
The next game was science Jeopardy. The five categories were chemistry, biology, physiology, teacher fun facts and medicine. While each team knew their fair share of facts, the seniors took another win, earning 3,800 points.
Taking a new approach, the engineering project was introduced this year. This project was meant to help level the playing field for the sophomores, because it plays into what they do in their entrepreneurship project.
The goal was to build the tallest, most stable, and most creative tower possible from the allotted materials (straws, raw spaghetti, toothpicks, plastic cups, and marshmallows) and time.
"I really like the engineering project, it's something we introduced new this year," senior Asia Moore said. "It wasn't here last year, we kind of took some games out and added some new games trying to make it more fun, I guess, and more science related while also giving sophomores a fair chance."
While a close fight between Cohorts 10 and 12, Cohort 10 once again came out on top. Even though Cohort 11 lost the game, they were awarded an extra one hundred points for having a great cheer.
[soundcloud url="https://api.soundcloud.com/tracks/227821812″ params="color=ff5500&auto_play=false&hide_related=false&show_comments=true&show_user=true&show_reposts=false" width="100%" height="166″ iframe="true" /]
After finishing the first couple of activities, the students had a dinner break. They were given burritos, and other snacks and dessert.
While the ultimate goal of the day was to bond and socialize, sophomore Enkela Qoshli said "I feel like it's more BLT [Bioscience Leadership Team] that has bonded with each other rather than the Cohorts as wholes but, so maybe that's something we could improve on."
The last activity of the day was the "Great Race." The race is a relay consisting of mummy wrapping, blindfolded splinting, the blood race, and mummy labeling. Cohort 10 had a significant lead going into the competition.
All three teams worked hard during the race, but Cohort 10, the seniors, ultimately won.
The Great Race secured the win for Cohort 10, giving them the "golden crutch."
"It's always a fun time when the students of all the Cohorts get together and encourage each other and compete in some funny activities," Duffy said.
Background Photo Credit: Grayson McCoy/The Foothill Dragon Press