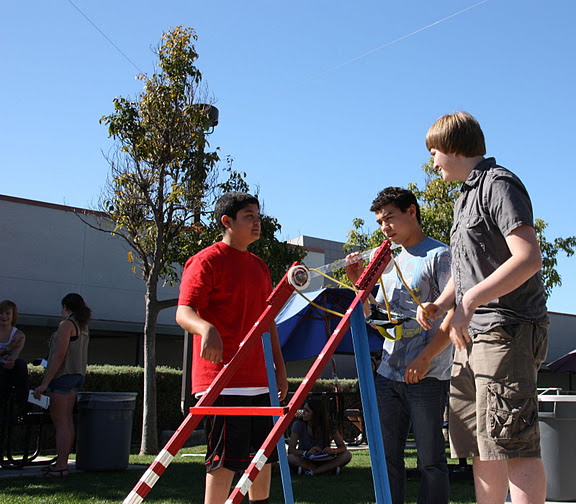 Flying tennis balls pelted the Foothill quad Thursday afternoon as conceptual physics classes participated in their annual catapult launch. Students worked together in groups to construct a catapult that would launch a tennis ball at a set target.
"I'm hoping that I increase their enthusiasm for physics, and that they're able to apply what they learn in class about projectile motion to an actual goal of hitting our target," science teacher Emily Hunt said.
After setting up their self-designed catapults at the starting point, students rolled a dice to determine how many meters away their target would be. Their goal was to land the tennis ball as close to the target as possible, earning more points for being closer to the goal.
"I show them examples and pictures from previous years," Hunt said. "We study about projectile motion in class, learning about horizontal and vertical motion. Mostly they use their own creativity and ideas to generate a unique catapult."
Students had a month to work in their groups to design, build, and decorate a tennis ball launcher in preparation for the final test of how well their design would be able to perform when it came time for the demonstration.
"I thought it was a great experience for everyone to be able to see, and I got some really good skills out of it," sophomore Tanner Woodward said. "It was a great experience for my group and we had a lot of fun doing it."
Many students got their ideas from the internet, and expanded on what they found there to create their own catapult.
"We just worked together. We didn't do it all last minute, but there were some last minute changes," sophomore Sandra Jeffery said. "We did have a design, but all designs change when you first make them, and we ended up doing a kind of a slingshot."
After trying to get as close as possible to the target, the students held another contest just for fun to see which catapult could launch the tennis ball the farthest. The winning design launched the ball from near the base of the stage to the roof of the Black Box.