Dragon athletics: Sports Retrospective 2015
As the school year draws to a close, coaches and athletes reflect on their sports in Foothill's inaugural year of athletics.
Fall
Coach David Wallace feels that the boys' water polo team was able to build a strong base for this year. Not only did they perform well in the pool, but they also shone in the classroom.
"I believe we were successful at establishing the groundwork for a water polo program that will represent Foothill Technology well for many years to come. The boys' water polo players worked hard in practice, competed with sportsmanship and excelled in the classroom," Wallace said.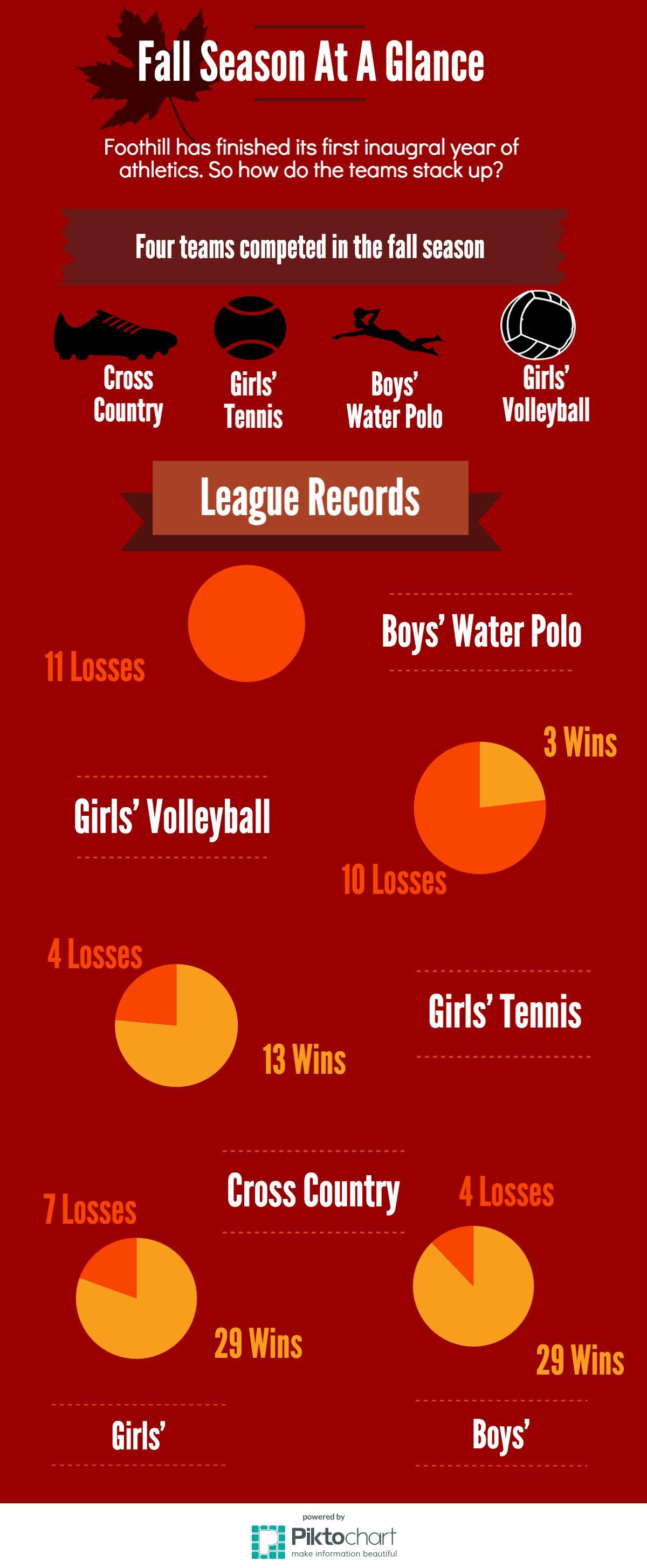 His hopes for this season were to instill good sportsmanship in the team, for the team to have an average 3.0 or higher GPA and to foster camaraderie among players.
"At the end of the first semester, our team GPA exceeded 3.0. We did not accomplish our performance goal of making the CIF playoffs, but we did improve each week of the season and represented Foothill Technology well. Finally, the team has developed from a group that never played together into a group that enjoys competing with and supporting each other," Wallace said.
To move the team forward next season, Wallace plans on pushing the team harder to build up strength in preparation of the new season.
"For next season we need to get bigger, stronger, faster and more experienced. We will do this by training hard in the summer and playing as many games as possible in preparation for the fall season," Wallace said.
Sophomore Payton Grenier felt that the girls' volleyball team did well in their first season, though they had some losses.
"I think Foothill's first season of volleyball went pretty [well]. Starting a new program was hard and we were able to slowly fight the competition, bringing with us a new threat to other schools," Grenier said.
She felt that overall the team had a tough season but played hard.
"Overall, we had ups and downs, really great games, but again we were a brand new program at a high school level, we played hard when we wanted to and sometimes the teams were tough, but we still played on," Grenier said.
From this season, Grenier will remember the sportsmanship from the players after a game, whether it was a win or loss.
"What I will remember from this season [is] how we played. When we won or lost we were all able to get that [feeling]," Grenier said.
Coach Ken Reeves believes that the cross country team performed well in their first season competing for Foothill, with 82 runners during the season.
"[I] thought the season was great. Competitively, we did very well. Our athletes established a positive competitive reputation for FTHS across the state," Reeves said.
Reeves' goals for the team this season were focused on creating habits of a team that works well together. His plan included training, academics and social interaction.
"Other expectations included fielding all four teams all season long and being competitive at the league, county, CIF and state level. Athletes exceeded expectations socially, athletically and scholastically," Reeves said.
In spite of the fact that the team "exceeded expectations" in creating a good culture, Reeves still hopes to improve on the culture even more in the upcoming season.
[soundcloud url="https://api.soundcloud.com/tracks/209031013″ params="color=923100&auto_play=false&hide_related=false&show_comments=true&show_user=true&show_reposts=false" width="100%" height="166″ iframe="true" /]
Although Reeves is moving forward, he will miss the seniors on the team who will be graduating this year and will remember the people who supported the team.
"I will miss the seniors who are moving on and helped establish our program, [and will remember] the efforts of the student-athletes, the administration, the parents, and my fellow coaches to start FTHS [cross country] off on the right foot," Reeves said.
Coach Brad McClain began the season with the expectations of the girls' tennis team members to "be on time, work hard, and play hard."
"Then all it comes down to [is if] we are good enough or not. Never any regrets when you give your best effort," McClain said.
The friendships among the players is what McClain feels he will remember most.
"I'll say this about the FTHS kids, they are a tight group. They support each other. Girls come to boys' matches and vice versa. [They] are very positive with each other and have fun together and you don't see that at very many schools," McClain said.
Winter
Coach Analiese White came to coach girls' soccer with a blank slate, expecting nothing more than for the athletes to "come in, work hard and grow as athletes." She found them willing to do just that from day one, and they became, in her opinion, "an amazing success," placing third in league play and competing in two rounds of CIF play as a "wildcard" entry.

"We began our run here at Foothill in a winning spirit. The girls were completely dedicated to the program and supported my coaching philosophy," White said. "Our 'underdog' status was never used as an excuse to be mediocre; it was used as motivation to prove that we were a force to be reckoned with."
Coach Andreas Wedderien found his boys' soccer team got off to a shakier start.
"The first month of practice was like teaching Bambi to walk on ice," he said. "Thankfully, we had some very capable players who took it as a challenge and worked hard to get better."
However, the Dragons eventually found their footing, displaying "tireless" dedication to "improving their [soccer] skills and keeping their grades up."
The team finished the season with an overall average GPA of 3.21 for the varsity players, and 3.17 for all the players combined. To Wedderien, "the future is bright in Foothill's boys' [soccer]."
Sophomore Lezly Plahn transferred from the Buena girls' water polo team to play for the Dragons because she wanted a fun experience, "to have great coaches and a great team," but she did not have any goals for the team other than to try to win as many games as they could.
That the girls' water polo team won CIF in their first year of play, then, made the season for her "super successful."
"I don't think [the season] could have gone any better," she said.
Though the team will be losing graduating seniors, Plahn continues to have high aspirations for the 2015-2016 season.
"Hopefully we'll be able to win CIF again, [and] bump ourselves up another division so we're not playing such low [level] teams," she said.
Girls' basketball Coach Jason Edgmond is proud of the team's first season but notes they still "have a ways to go."
"Well, I think the season was a successful season as far as us laying the foundation on how we want to play, the style we want to play, teaching the girls the system," Edgmond said. "But we also have a ways to go, it's the first year so this year we need to add and build from what we did the first year."
The team ended their season with a league record of eight win and six losses and Edgmond has "high expectations" for next year.
"We expect to do very well, we expect to compete for the conference championship, and we expect to win but continue to grow and just get better," he said.
Senior Nick Vaughan played on the boys' basketball team, who finished out the season with a league record of three wins and nine losses.
Vaughan attributes this to the team's limited size and the CIF mandated 30-day sit out period, but still feels that the Dragons accomplished what they could during their first season.
"We were a little bit undersized and a really young team but I feel like we had a really good heart, we had a good system," he said.
"In a couple years we're going to be a really big force to be reckoned with in the whole league and I'm really proud of what we accomplished here our first year. I had a lot of fun."
Vaughan is confident that Dragon athletics will be great over time and is pleased with the school's acceptance of sports at Foothill.
[soundcloud url="https://api.soundcloud.com/tracks/209028373″ params="color=832c00&auto_play=false&hide_related=false&show_comments=true&show_user=true&show_reposts=false" width="100%" height="166″ iframe="true" /]
"We're going to be really great soon and just hang in there Foothill, our sports are going to be something to be reckoned with," said Vaughan, "and I'm really proud of how just all of Foothill sports came out this year and how Foothill adopted it because I think it could have gone a lot worse."
Spring
Foothill baseball Coach Clint Ellison believed the first season was very successful and surpassed their original goal, which was to make playoffs. The team tied for second in the Division VI Frontier League playoffs and had a league record of seven wins, three losses.
"It has been a lot of fun with this being the first year and all the stuff that goes with that; trying to establish ourselves as a good program," Ellison said.

According to Ellison, there were many highlights of the season and multiple players were honorably mentioned in the league, which "speaks volumes that we are on the right path for the program."
For softball Coach Priscilla Rouse-Becker, the season went well, considering it was the first year of athletics. The team ended the season with a league record of eight wins and four losses.
"I think each girl became a better ball player and ended the season with a better understanding of what it takes to be a good teammate and how to contribute to the group to produce something bigger than oneself," Rouse-Becker said. "That was a primary goal […] so from that perspective we were successful."
"There were so many things that we had to move through that will never happen again because this was our first year," she said.
Coach Mark Wipf believes that the boys' golf team had a "very successful" season, especially since the team competed in CIF, two players were named "first team" and one player competed individually at CIF. The team went undefeated in the league, with a record of 30 wins, zero losses.
"They responded well to my advice and the way the team interacted with each other was fun to watch and be a part of," Wipf said. "Working with the kids at practice and seeing their success on the course was a lot of fun!"
Despite the success of this year, Wipf is concerned about the population of the golf team next year.
"Next season the team will be much smaller, but my program will not change too much. I expect to be competitive next season," he said. "Our returning players have had some solid veterans show them what my expectations will be and have set a great example."
Boys' volleyball Coach Jeanine Cobian noticed that the team worked hard and "never gave up" throughout the season. The Dragons had a league record of eight wins, four losses.
"Although, our win/loss record doesn't show what an amazing season we had," she said. "We started so young and raw and had so much to learn in a short amount of time. The boys gave everyone in league a tough game and that was very exciting to watch."
Cobian believes that everyone improved throughout the season and never lost hope when they were competing against more experienced teams.
"I believe everyone had a fun time learning the game of volleyball, playing at a high level and working hard," Cobian said. "They played teams that had much more experience and were much older and they kept working hard and had wonderful attitudes […] The team continued to improve each day and by far exceeded my expectations."
Boys' tennis Coach Brad McClain also thought that the team had a successful first season. The boys' ended the season with a final league record of four wins, four losses.
"All the players got their first taste of playoff tennis which is always nice," he said.
In order to have a successful season next year, McClain feels that it depends who on the team practices on their own and takes lessons.
"Tennis is no different than any other sport. You have to put your time in. If you don't, somebody else will," McClain said.
[soundcloud url="https://api.soundcloud.com/tracks/209029148″ params="color=8a2e00&auto_play=false&hide_related=false&show_comments=true&show_user=true&show_reposts=false" width="100%" height="166″ iframe="true" /]
Freshman Josie Thorp thought that the girls' swim team did "pretty good," especially since that the girls' placed fourth at CIF and five individuals competed in CIF finals. The girls' swim team had a final league record of three wins, two losses and one tie.
One of the most memorable parts of swim team was the "family" relationship.
"I mean, it was like that on the water polo team but then you introduce the guys and there's even more of a family dynamic because they're like brothers and sisters and that's how it feels like when you're with your team," she said.
Senior Ethan Tan believes that the boys' swim team was even more successful, since they took first place in Division IV Frontier League finals. By the end of the season, the team had a league record of five wins and one loss.
"I think it was really successful because we won league and we basically trampled league, trampled them," Tan said. "A fair amount of people went to CIF and did pretty well for our first year."
The track and field teams "exceeded [the] expectations" of Coach Ryan Duston. With 120 students on the team, they were the largest sport and club that has "ever existed" at Foothill.
Duston said he will always remember "going to CIF prelims with the athletes that qualified and watching them compete against the top athletes."
"[The] future for Foothill track will be very successful," he said. "I will remember how we started many traditions and built a team that had not existed before."
Featured Photo Credit: Josh Ren, Rachel Horiuchi, Chloey Settles, Austin Hunt and Carrie Coonan/The Foothill Dragon Press