Class of 2015 celebrates at 13th annual Senior Awards Night
Seniors flooded into Buena High School's Dr. A. W. McConnell Auditorium Thursday night for Foothill's 13th annual Senior Awards Night.or Awards Night is an evening to celebrate the seniors' scholarships, academic and extracurricular achievements and community service. The "Dragon Hall of Fame" awards are also given out.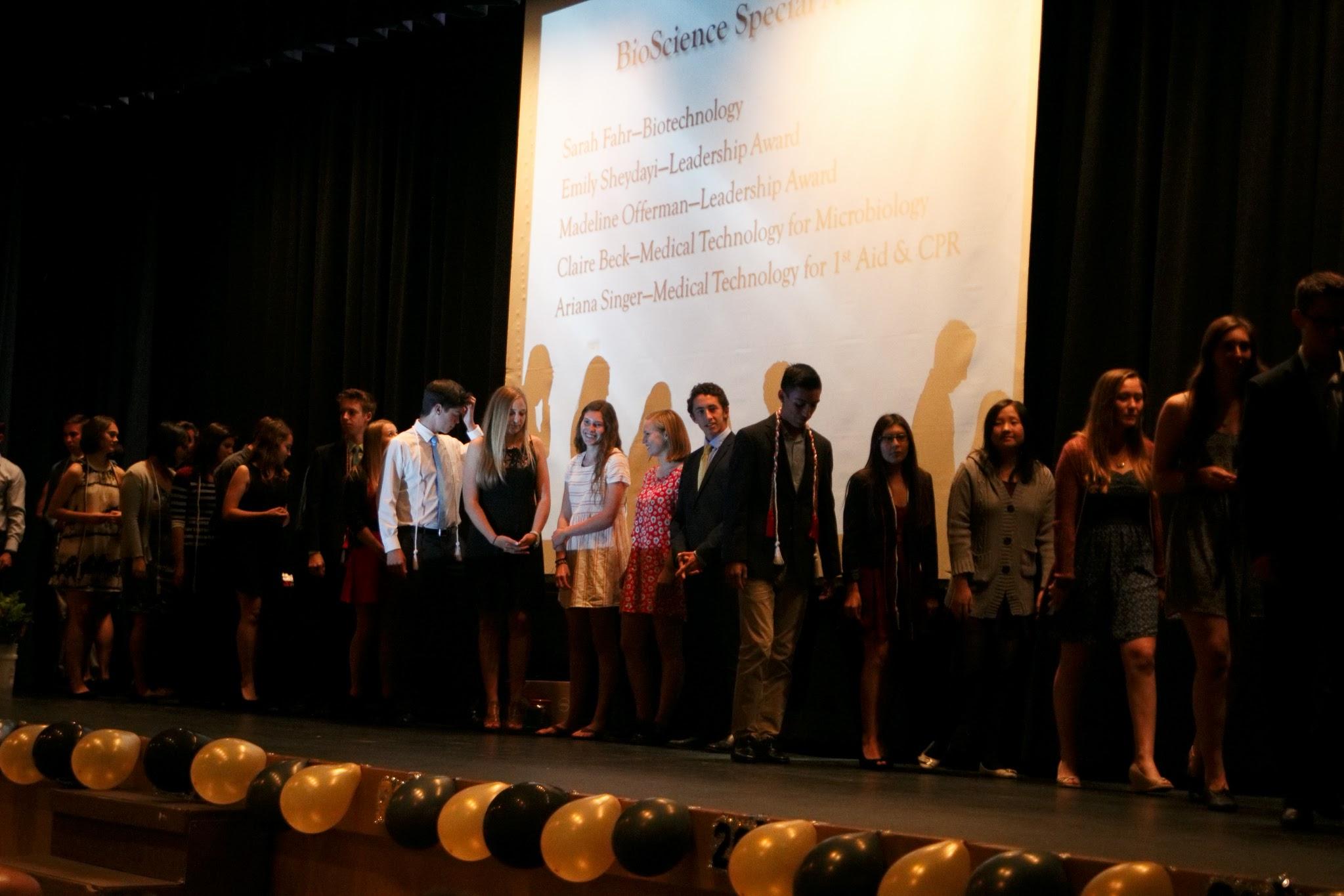 Seniors flooded into Buena High School's Dr. A. W. McConnell Auditorium Thursday night for Foothill's 13th annual Senior Awards Night.
Senior Awards Night is an evening to celebrate the seniors' scholarships, academic and extracurricular achievements and community service. The "Dragon Hall of Fame" awards are also given out.
This year, the event was hosted by senior class Advisers Melanie "Captain" Lindsey and Justin Frazier.
"Good evening everyone. Thank you for coming to this 10-hour event," Lindsey joked.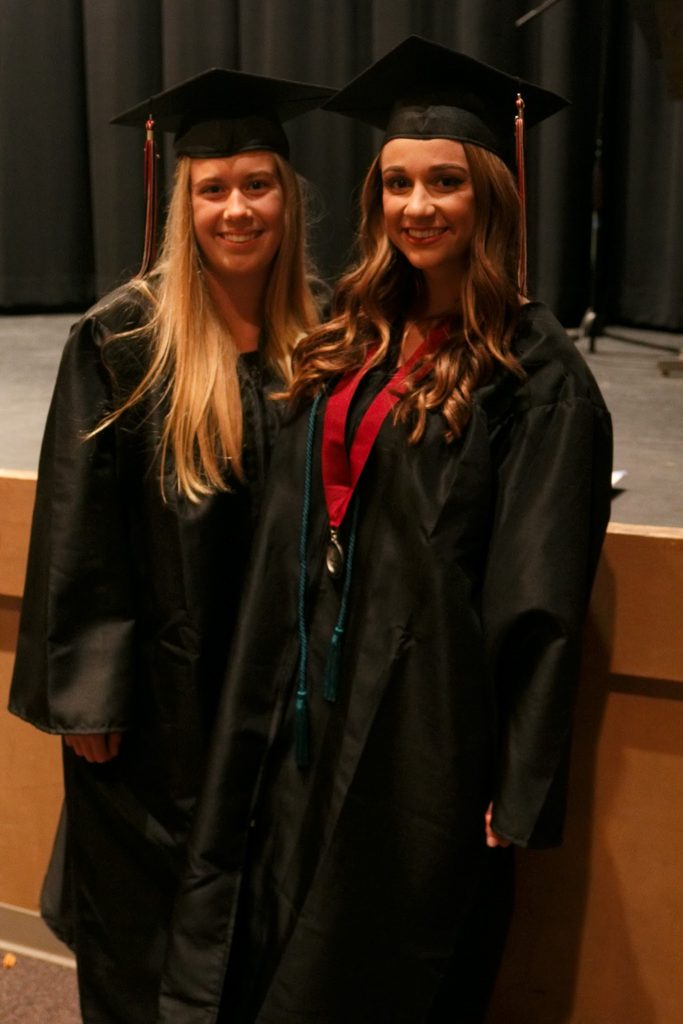 The evening began with seniors Torie Dawson and Cassidy Bouchard going up on stage to wear their cap and gown for the evening. Due to a conflict with the national rowing tournament they are competing in, they will not be able to attend graduation.
They both crossed the stage and shook hands with Principal Joe Bova. Bailey Greenslit, who also qualified for nationals, arrived later and also wore her cap and gown.
Then, several student scholarships were announced. Those who had received college scholarships were asked to stand and be recognized.
Seniors were also invited up on stage to receive cords, certificates or pins for their participation in various extracurricular activities.
Students who participated in Foothill's Associated Student Body (ASB), the Speech and Debate team, the California Scholarship Federation (CSF) and the Foothill Intervention, Reinforcement and Enrichment (FIRE) crew were invited on stage.
Students in the journalism program, National Honors Society (NHS) and the BioScience Academy were also recognized, as well as students who had received a Multilingual Seal.
Career and Multimedia Specialist Linda Kapala also gave out awards for the various levels of community service that students had completed (Bronze, Gold and Platinum) depending on how many hours they served.
According to Kapala, the Class of 2015 has served 27,000 hours from freshman to senior year.
A new award was created this year, entitled the "First In Family" award, for students who are the first in their family to graduate high school. Seniors Shelly Boyd, Lilia Carmen and Guadalupe Salgado received this award.
Lindsey said that Salgado single-handedly organized the High School Nation event in April, in which students walked to Buena to hear concerts, test out musical instruments and participate in various other booths.
Salgado, who was not in attendance, will be given the first-ever Start Strong gown to wear at graduation, signed by her and her peers four years ago during the rally their freshmen year.
Next, Scott Hamlet received the Perfect Attendance award for not missing a single day of school since kindergarten year.
"I was so hoping he was not going to be here," Frazier joked to the crowd.
Students from the Senior Focus Council, a group of students from various friend groups that helps make decisions for the senior class, were recognized, as well as students who had "finished strong" by receiving above a 3.0 GPA their senior year.
Lindsey said that 71 percent of the senior class had kept their grades up all year.
Assistant Principal Ron Briggs then inducted student athletes into the brand-new "Sports Hall of Fame" for their participation in Foothill's sports teams this year.
Tomas Snyder was inducted for his participation in cross country, James Florez and Ariana Singer for water polo, Josselyne Pereda and Justin Redemann for soccer and Scott Hamlet for golf.
Briggs then honored 46 students who will graduate magna cum laude (4.0-4.3 GPA) and 14 students who will graduate summa cum laude (4.4 and above).
Four Foothill parents were thanked for their service to the school with the "Parent of the Year" award: Cecilia Johnston, Patricia Woods, Cheryl Shaw and Mallory Hammer.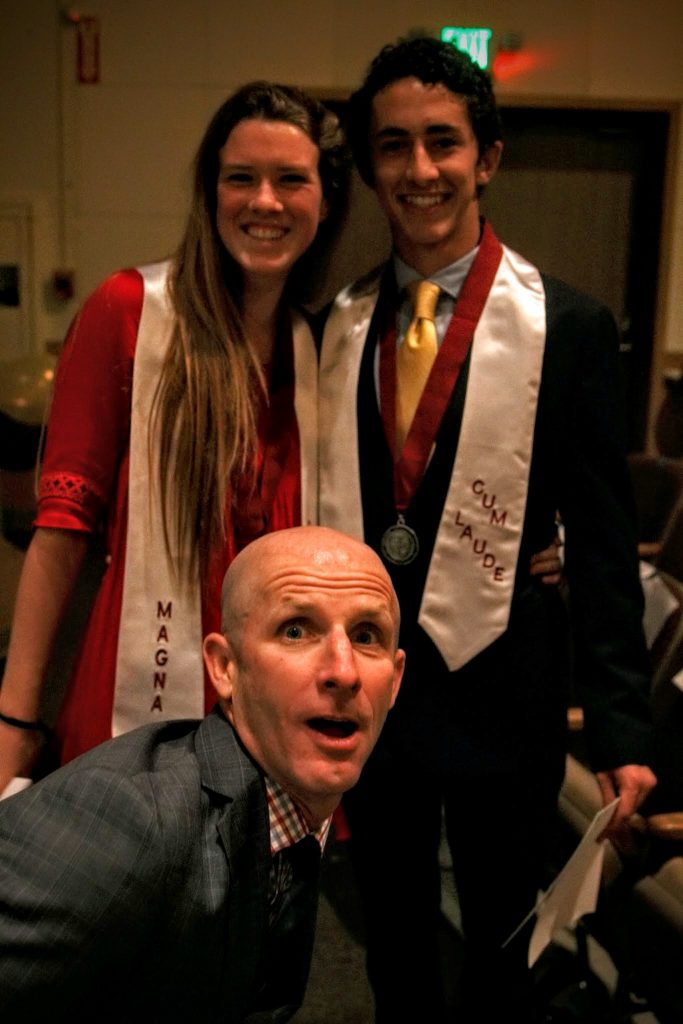 Melissa Wantz received a new "Super Teacher" award, created this year. Wantz will be leaving Foothill next year to become the new adviser of the Harvard-Westlake Chronicle.
"I've often told Melissa that she is working well below her pay grade. She could be at any number of technology consulting firms, district offices, or teaching at the university level, which she did this year, or as it turns out, at a prestigious private school," History teacher Cherie Eulau told the audience.
"There are few people who are truly indispensable to an institution, but Melissa is one of them […] Thank you for the legacy you created, and all you have done for Foothill," she said.
Wantz received a standing ovation from the crowd.
Next, various teachers came on stage to induct students into the "Dragon Hall of Fame" with awards for the different subjects and services to the school.
During one of the awards, Frazier passed the microphone by saying, "Next up is the person most likely to be played by P!nk in her autobiography: Linda Kapala!"
This joke received a lot of laughs from the crowd, and Lindsey replied, "He thinks he's hilarious!"
One award in the Dragon Hall of Fame was for senior Brittany Richardson, who received the "Most Inspirational Female" Award. Richardson is visually impaired, but according to her teachers and peers, that never stopped her from reaching her goals.
"She is not just an amazing student that thinks critically and feels strongly about so many topics, but she is an amazing person as well," EDA teacher Connie Carr said, reading Spanish teacher Kathy Leaf's statement.
"I do not know many adults who have the wisdom and insight that this young lady has. […] She has never let her disability define her, or stop her from achieving her goals."
Drama teacher Karen Rodrigues also wrote a statement to be read.
"During her sophomore year, she was in drama. Her performances were always incredible, as she portrayed character along with the best actors in the class," Carr said, reading Rodrigues' words.
"The most inspirational part of it was the fact that she had to work 200 times harder than anyone else to memorize her lines because she had so much difficulty seeing them. Again, she never complained or made a fuss."
Richardson also received a standing ovation.
The big awards of the night were "Best All Around" male and female. Bova said that there are several criteria that the school looks for when deciding this award.
"The 'Best All Around' award has four or five criteria. It involves academics, of course, leadership on campus, community service involvement, extracurricular activities, and the one that's really important to us is lasting impact on the school," he said.
Devan Peterson and Evan Askar were nominated for the award, and senior James Florez was inducted into the Dragon Hall of Fame as "Best All Around" male.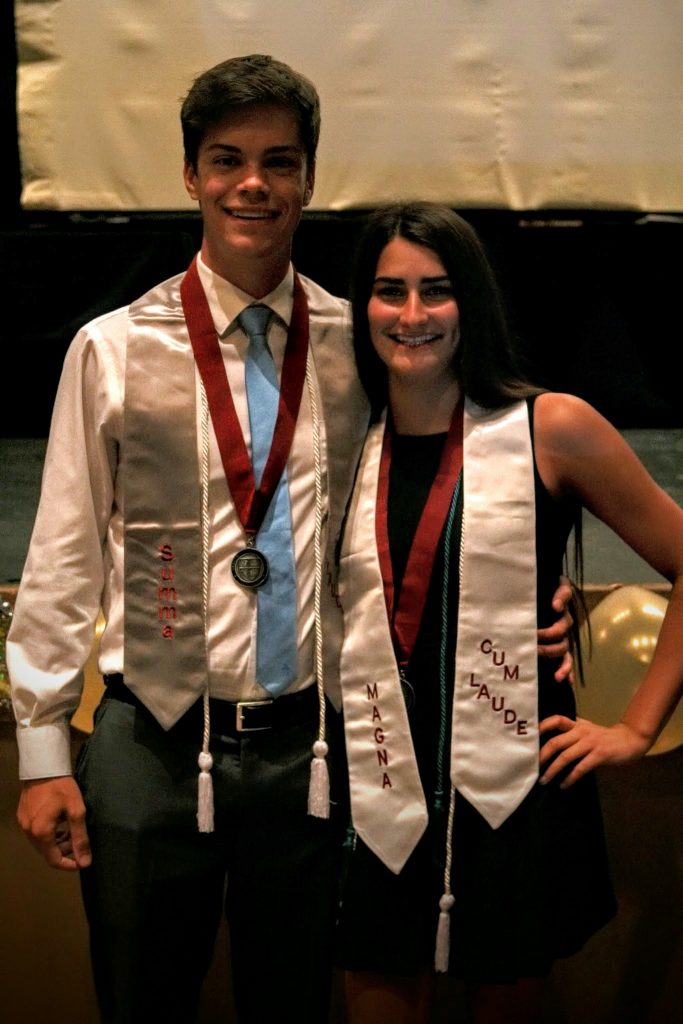 Florez graduated summa cum laude and is one of the three valedictorians. He is an Honors Graduate, Golden State Merit Scholar, a member of NHS and a Ventura County Star Scholar.
He is an ASB leader and a member of the BioScience Academy, and captained the inaugural water polo team this year.
"I feel very honored and very excited to have won. It's a great award, and I'm really proud of it. I felt like it really paid off for all the work that I put in, and it's also making me really sad to leave," Florez said.
Seniors Canela Lopez and Annie Sinclair were nominated for the "Best All Around" female award, and senior Ariana Singer received the award.
Singer is graduating magna cum laude. She is a member of the BioScience Academy, NHS and CSF. She is an Honors Graduate, Golden State Merit Scholar and earned a Multilingual seal.
This year, she was inducted into the Ventura County Sports Hall of Fame for water polo. Singer also earned the Platinum award for community service.
"I'm really honored that all of my teachers recommend me, and nominated me for the award. It's just a big honor for me. I'm really glad that I was recognized for all the hard work," she said.
"Obviously there are people out there who deserved it as well, so I want to commend them for their hard work because I know it's probably frustrating for them not to be recognized, but I know there are people who really deserved it as well."
The Chris Prewitt award, an award created last year, honors Chris Prewitt, "who was unfailingly positive, energetic, optimistic and inspirational."
The award honors those who have a positive effect on their community and "love, live, adventure and forgive with a generosity of spirit and an infectious enthusiasm for life," Eulau said.
Senior Paris Dosch was awarded this year.
"This recipient embodies all these qualities […] She is uniformly personable, and like Chris, is willing to try anything," Eulau said. "Like Chris, she cares about people. She is the kind of person who always asks how you are first, and will only reluctantly tell you about herself."
"Like Chris, one of the most memorable things about her is her smile. It lights up her face and is nearly constant accessory. It is how she approaches life. It is her superpower, and it works."
| | | | | | |
| --- | --- | --- | --- | --- | --- |
| Dragon Hall of Fame | | | | | |
| Social Science | Carlos Cohen | Foreign Language, Native Speaker |  Lisset Ayala | Finish Strong- Male  |  Joel Sobonya |
| Renaissance Social Science |  Cassidy Bouchard | Foreign Language, Non-Native Speaker |  Delaney Warren | Most Inspirational- Male |  Marco Tadeo |
| Science |  Jameson Mah | Mathematics |  Jeffrey Li | Most Inspirational- Female |  Brittany Richardson |
| Renaissance Science |  Sandra Meliton | Renaissance Mathematics |  Scott Hamlet | Scholar Athlete- Male |  Evan Askar |
| BioScience |  Devan Peterson | English |  William Hammer | Scholar Athlete- Female |  Annie Sinclair |
| Fine Arts |  Cameron Liljekvist | Renaissance English |  Brennen Hasty | Best All-Around- Male |  James Florez |
| Renaissance Fine Arts |  Mahaila Woods | Club |  Benjamin Limpich | Best All-Around- Female |  Ariana Singer |
| Applied Arts |  Kazu Koba | School Service |  Canela Lopez | The Chris Prewitt Award |  Paris Dosch |
| Renaissance Applied Arts |  Adam Vork | Community Service |  Amanda Gilchrist |   |   |
| F.I.R.E. |  Ceejae Alfonso | Finish Strong- Female |  Sophia Miller |   |   |
Background Photo Credit: Joel Mayorga/The Foothill Dragon Press