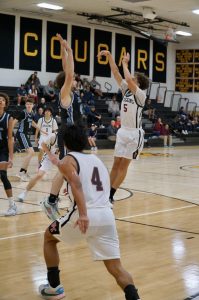 On Nov. 17, the Foothill Technology High School (Foothill Tech) boy's basketball team hosted the Buena High School (Buena) Bulldogs at Ventura High School's Tuttle Gym in a one-sided tournament. Without quit, the Dragons disappointedly left with a 73-30 loss.
Following the tip off, Foothill Tech showed signs of high energy in the first few minutes, with two quick three-point jumpers from Ashton Brown '26 and Nick Drucker '26, respectfully. Foothill Tech jumped out to a quick 8-3 lead over Buena.
Buena quickly answered back to the Dragon's efforts, tying the game 8-8 after some quick pull-up jump shots. Buena eventually took the lead, but Foothill Tech reciprocated every Buena shot with one of their own.
Towards the end of the first quarter, the Dragon's hot starting streak was put to an end with a dominant 16 to 2 run by the Bulldogs to close out the quarter.
Foothill Tech came out of the break with a clean rebound and putback layup by Elijah Spencer '26. The following possession, Brody Baker '26 drained a baseline jumper with the 35-second shot clock nearly run out.
Despite Foothill Tech's energy, Buena's size and speed was too much for the Dragons as they made yet another big run in the second quarter, finishing the half with a hefty 36-23 lead.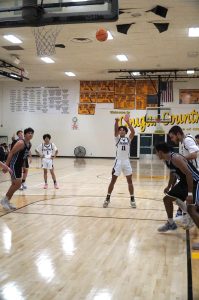 Foothill Tech's momentum was halted as the referees rewarded Buena with multiple technical free throws alongside impressive consecutive shots over Foothill Tech's defense.
Throughout the second half, Buena continued to drop in baskets, bringing much more energy to the court than Foothill Tech. The Dragon's ran out of steam offensively, despite bringing their best effort on every play.
Coach Jamaal Brown shared his thoughts on the team's fight throughout the game, "… if you're watching the game, you didn't see any quit in them, that's for sure." Brown also gave his thoughts on areas in the Dragon's play that could've been improved, "We can always rebound better, and then just finding the right chemistry."
Foothill Tech will try to find their footing at their next game on Nov. 20 against De Toledo High School where they will strive for a win to get things going for the upcoming season.