Macie Rizzo brings enthusiasm to Room D107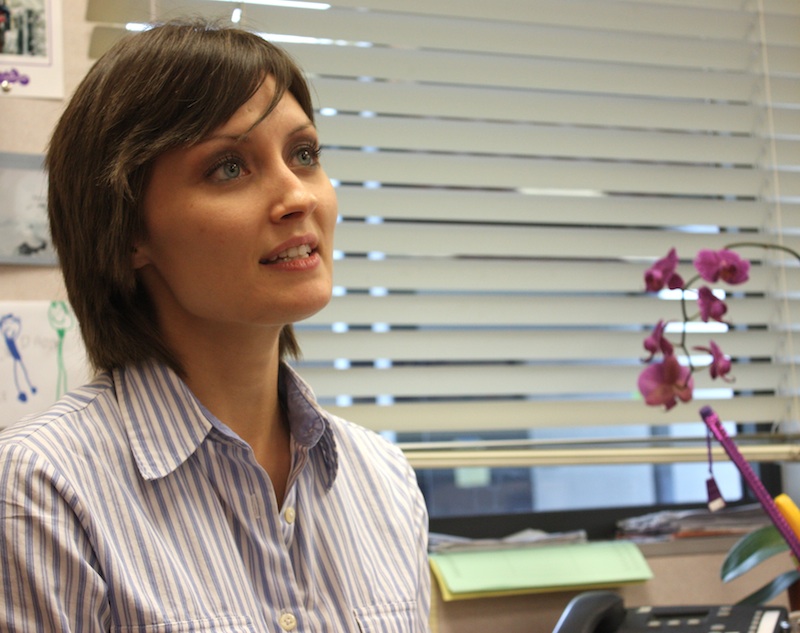 From chemical reactions to dissection, Macie Rizzo knows it all.
An enthusiastic new teacher from Alabama, Rizzo, will be teaching science at Foothill this year.
"I really like it here," Rizzo said. "Foothill is the school that most teachers want to work at."
Rizzo attended the University of Alabama for two years and then University of California at Santa Barbara for her credential.
In college she was interested in sea turtles and figured her career would be focused on them, but realized later on that she had a passion for teaching.
Rizzo decided to work at Foothill because of its friendly atmosphere.
"The students are motivated and work together. Also, the staff and parents are very supportive. Everyone is really nice," she said. "I'm just so excited to be here."
Rizzo teaches biology, chemistry, and conceptual physics. Her motivation to work as a science teacher came from the resistance she saw kids had towards their science classes while working with the Child Protection Service, which interviews and tutors middle school students.
"I thought I could change that," Rizzo said, who hopes to motivate her students to learn.
Although becoming a first-time teacher can be nerve-racking, Rizzo remains positive and excited. Her optimism seems to rub off on her students.
"I think she has a friendly and relatable approach. She's super sweet everyday and probably one of the most adorable teachers I've ever had. When you walk in the class you can't help but smile, and that makes class less intimidating especially for chemistry," sophomore Anna Cogswell said.
One of the challenges Rizzo faces on campus is "keeping up" with all the activities Foothill offers. She has even taken up the position of an Associated Student Body advisor.
"For her first year, she  jumped right into managing ASB. She's already helping plan winter formal!" sophomore Natalie Searcy said.
Rizzo will be getting married this year, and she laughs as she pictures her students having to learn her new last name, Vega, midway through the year.