This article is a continuation of the Advanced Placement (AP) series that describes what to expect when diving into each college level course at Foothill Technology High School (Foothill Tech). If you are curious and want to explore what AP Language and Composition (AP Lang) has to offer, then this article is for you.
Each year, dozens of students sign up to take AP Lang, a College Board course widely known by students and teachers alike. The course is taught by two separate teachers in response to great student demand: Richard Geib during sixth and Jennifer Kindred during second and fourth period in rooms G108 and G106, respectively. For those of you planning to take or are currently taking AP Lang, read on for a quick overview of the course. 
AP Lang is most commonly seen paired with AP United States History (APUSH,) taught by Dan FitzPatrick (Fitz) in room I108. Much of the topics and materials of the two courses overlap due to a curriculum the three teachers have carefully developed over the years, called "The American Experience" (AMEX.) But for those not taking both classes at once, Natalie Schermer '24 shared that, "Even though a lot of the assignments are related to history, they always come with resources, so you're still able to keep up even if you don't take APUSH."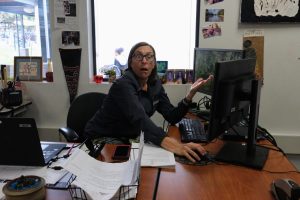 A great match for anyone who loves partaking in argumentation and writing, AP Lang has well established itself as an introductory college-level course that takes students on a journey through the rigors of learning to efficiently operate the English language. "This class is the equivalent of a freshman composition class at college, [but] unlike taking it at a college, Fitz, Geib and I provide a whole lot of support while teaching with the same amount of rigor," Kindred explains. 
AP Lang covers several topics, such as rhetorical, persuasive and informational writing. Both teachers incorporate minimal pieces of literature and more non-fiction pieces of writing into their classes, including speeches, essays and primary documents. With their students, Geib and Kindred analyze the documents for arguments that the author makes and teach them how to apply these skills to their own writing. According to Kindred, her class usually writes 12 to 14 essays in the first semester, while Geib predicted that his students typically write 40 to 45 essays in the whole school year. These numbers include smaller assignments called "blogs," which are discussion assignments of compact essay responses to prompts shared between APUSH and AP Lang. 
However, both teachers had more to say about the class than strictly the academic aspect. Geib states, "This is a class teaching kids how to write, which means teaching them how to think." Adding on, "We do that in general to have people be able to do well in college, and the AP exam and in life. Our ability to teach kids how to think and write is really the big goal." Kindred, who has a similar mindset with her class, explained that she also believes that being articulate is one of the best ways to succeed. Their bigger-picture perspectives show in their class projects, which can require the research of historical events, insight into social issues and use of critical thinking in order to execute.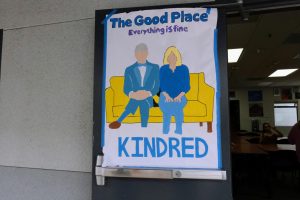 Through the flurry of analyzing, writing and thinking, students are gradually prepared and geared up for the AP Exam that takes place in May of the second semester. "The biggest thing we focus on are the three essays [of the exam]," Kindred stated. These three essays include a synthesis, rhetorical analysis and an argumentative essay, while the multiple-choice portion of the exam focuses more on the direct comprehension of text. 
While the AP Lang classes expect hard work and commitment from its students, the class is not particularly known for its heavy workload. Instead, they focus more on in-class work. Students are usually able to take care of questions or ask for help during class time, but also know their teachers as a resource outside of class as well. When asked about advice that she would give to current or future students of AP Lang, Schermer stated, "Don't stress too much, especially about how often we write in-class essays. It just gets easier and it's not worth it to worry about whether you're going to run out of time, because the most important thing is just about practicing."
Although AP Lang may seem like a daunting course to take on at first, it is a great class to enroll in for students who seek to hone their writing skills, rhetoric or critical thinking. Even if you do not plan on becoming an English major, knowing how to sharpen your arguments and wield the English language are always exceptional tools to have in your future. AP Lang may be a high school Advanced Placement course that assesses your skills, but the classes here at Foothill Tech are much more than that.