On Aug. 23, 2023, with the start of the school year, a new cell phone policy was implemented for grades six through 12 across Ventura Unified School District (Ventura Unified). The policy prohibits students from using their cellular devices during class, with its purpose to promote respectful learning environments and minimize distractions during class time.
While a different policy has existed prior to this school year, new advances towards disciplining students for having their phones out is being pushed by the district, in an initiative to prevent the use of cellphones in classrooms. The policy is heavily advertised with posters in classrooms and around campus, as teachers are encouraged to remind students to put away their phones and take out their ear buds at the start of class.
Along with the posters and reminders, the new policy brought updated disciplinary protocol for students caught using their cell phones during class.
The protocol includes four offenses, with the first offense including a warning and parent notification of the offense. The second offense includes possible confiscation of the device for the day and a non-suspension correction.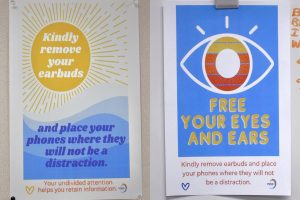 The third offense includes confiscation by administration and suspension the day of the infraction. The fourth offense includes confiscation by administration until a parent/guardian meets in person with administration, suspension and possible apprehensions to privileges such as off-campus passes, dances, school events and extracurricular activities. Each offense is documented in the students record and as the infractions increase, the consequences for the infraction get more serious.
Rick Villano, a well-known math teacher on campus, said the new initiative has had positive improvements in regard to engagement in his classroom. He explained how the policy was affecting teachers, "I think we've seen a lot more engagement and attention in class and since we're all consistent it seems to be somewhat positive actually."
Though the policy has had positive effects, it has also presented some challenges in the classroom. Villano expressed, "I think my biggest challenge is when the student has a legitimate reason to use a phone … but we want to be consistent so we'll try to find other alternatives."
Many students at Foothill Technology High School (Foothill Tech) stand in opposition to the new policy. Some argue that the use of cell phones and earbuds did not create a distraction to the learning environment.
Celeste Nevarez '25 conveyed her feelings toward the new policy by stating, "Cell phones were very helpful to use in class and I did not see them as a disruption."
Others are taking a bit longer to adjust to the set of rules. According to Natalie Shirotov '25, "I understand why the district implemented the new policy and violations, but it still feels like many have lost a privilege."
While this policy may not be a popular one, the school district hopes to provide a classroom environment with less distractions and more time focused on learning. Many new policies come with opposition. Foothill Tech, along with all six-12 grade students in Ventura Unified will have to silence their urges to check that buzzing notification and follow the story of what is happening directly in front of them.