The Port of Hueneme seeks to make Ventura County a better place one banana at a time
Founded in 1937, The Port of Hueneme is a 4.7 square mile long site of economic prosperity, where an abundance of commodities are imported and exported each year, that emphasizes giving back to the community. The Port is privately owned and governed by a set of elected commissioners. It is also directed and led by CEO and Port Director Kristin Decas. 
Decas has a history in the Port industry. She has been running the Port of Hueneme for over ten years and is the first female to be in charge in the port's 86 years of running. But before running the Port of Hueneme, Decas became the first woman to run the New Bedford Port. She is also the fourth woman to chair The American Port Authorities, a union that represents all the ports in America. In addition, she has received several major recognitions, such as being named woman of the year by California Sen. Hannah-Beth Jackson and being named as one of the top 50 women in business by the Pacific Coast Business Times from 2019-2023.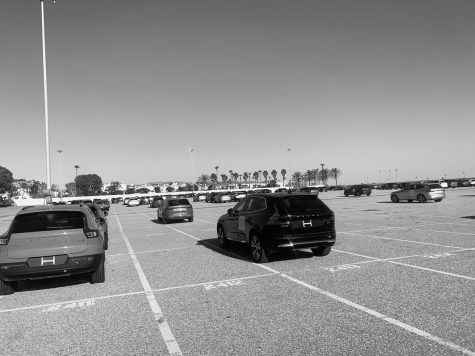 There is a huge amount of commodities imported and exported to and from the Port of Hueneme. But two of the largest ones are passenger vehicles and surprisingly enough, bananas. 
The Port of Hueneme receives an influx of vehicles. In 2021, the value of imported passenger cars being shipped to the port was $7.82 billion. This massive amount of automobile importation and exportation contributes to the supplying of 20,000 jobs. The port's automobile customers include Kia, Honda, Rolls Royce, Volvo, Maserati and many other famous car manufacturers.
Aside from cars, the Port of Hueneme imports bananas. Who would have ever thought that one of the most common items to roll through Southern California would be bananas? 5 billion bananas are moved through the Port on an annual basis with a net cost of $885 million. The Port of Hueneme has the highest rate of banana imports on the west coast with the biggest customers being Chiquita and Del Monte.
Decas recalled meeting the CEO of Walmart while at the National Committee in Washington DC and stated, "He told me in that setting that the bananas were the most popular commodity on earth, the entire globe. You have to sell bananas to compete if you are Walmart or Target or whatever."
View this profile on Instagram
She then explained that "even though it's not a huge money maker for these stores because bananas are very inexpensive, it is a must have commodity. So when you say the number, a lot of people chuckle but it really is a major logistical commodity, it is everywhere around the world."
Not only does the Port receive massive quantities of bananas, but they are also making sure to give back to the community. In celebration of the Port's 75th anniversary, Decas founded the Banana Festival of Port Hueneme. Its first year was a success with 8000 people showing up, and the large appeal prompted the banana festival to be turned into an annual event. With a majority of local vendors, there were foods ranging from banana cream pies to banana funnel cakes to banana empanadas to banana margaritas at the event. In addition to that, there was also live music, port tours and shopping.
During the COVID-19 lockdown, however, Decas found an alternative way to give back to the community. "We redirected our resources and we did community drives. And  we did about 75 events to reach 45,000 families. Del Monte contributed about 1 million pounds of bananas and pineapples and fruit to this, and we bought rice and beans and proteins" Decas said.
The Port of Hueneme also works to help local adolescents. "We do a couple things to try and create pipelines of opportunities for kids and so we do elementary school tours for them. It's free [and] we'll pay for bussing if the kids can't get here" Decas mentioned. Besides the tours, there are paid internships offered for high school students to apply for. 
Banana Festival 2018
Furthermore, the Port of Hueneme strives to be environmentally friendly. This includes using electric yard trucks that are able to move cargo from the ship to the port without gas emissions, installing air monitors at HayCox Elementary School to see what is causing pollution,  installing emission plug sites for cargo vessels that completely avoid the use of auxiliary diesel, working to receive grants to buy zero emission infrastructure and purchasing zero emission electric cranes. Decas' goal for the port is to "become the first decarbonized port in [the world]."
The Port of Hueneme may be a worldwide pipeline of trade and sales, but it is also an organization that cares about helping the people of Ventura County by opening many job opportunities, creating educational experiences for students and striving to make the port environmentally sound.