Celebrating excellence: Senior Awards Night honors outstanding achievements
High school is a transformative journey for young minds, where students embark on a path of growth, learning and personal development. As the academic year draws to a close, Foothill Technology High School (Foothill Tech) proudly celebrated the exceptional senior Class of 2023 at the highly anticipated Senior Awards Night on May 24, 2023. Amidst an atmosphere brimming with anticipation and accomplishment, the event recognized the outstanding achievements and remarkable talents of these graduating students. 
The awards ceremony commenced with a lively and entertaining introduction by Associated Student Body (ASB) advisor Melanie "Captain" Lindsey and art teacher Justin Frazier. The dynamic duo couldn't help but share a few light-hearted jokes to get the evening started, infusing the atmosphere with laughter and joy. 
The award-giving proceedings began by recognizing outstanding students through the distribution of scholarships. Among the scholarships awarded were Ventura Education Support Professionals Association (VESPA), Ventura Unified Education Association (VUEA), 20th Century Onyx Club and numerous others. It's worth noting that more than 60 accomplished seniors were granted scholarships, acknowledging their exceptional achievements. 
Following the distribution of scholarships, Captain invited the seniors in the audience who were involved in ASB, BioScience Academy, DTech, Journalism and Yearbook to rise, receiving recognition and applause for their active participation in Foothill Tech's diverse programs and pathways. 
Shortly after, a grand array of awards awaited the seniors, including the prestigious Athletics Wall of Fame, bestowed upon extraordinary individuals like Jonah Billings '23, Thomas Chadbourne '23, Sam Noah '23, Lily Shadden '23 and Benjamin Wang '23. Additionally, a new award was introduced this year to honor those who completed the A-G requirements.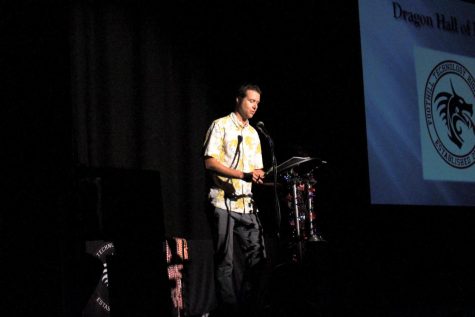 Also announced were the well-deserved recognition awarded to students for achieving Magna Cum Laude, requiring a grade point average (GPA) ranging from 4.0 to 4.39, as well as Summa Cum Laude, reserved for those with a GPA of 4.4 or higher. 
Afterward came the memorable Dragon Hall of Fame awards in which distinguished students were honored with prestigious awards that would forever grace the wall of Spirito Hall. These accolades encompassed various categories, spanning from Renaissance Social Science to Community Service. Among the notable recipients were Eli White '23, recognized as the Most Inspirational, Rebecca Trauner '23, hailed as the Best All Around Female and Benjamin Wang '23, deserving recipient of the Chris Prewitt Award. 
The Senior Awards Night proved to be a momentous occasion, filled with appreciation and recognition for the impressive accomplishments of the graduating seniors. The devoted junior members of the Dragon Honor Court were acknowledged with deep gratitude for their invaluable contributions to the successful hosting of the event. 
As the evening drew to a close, a sincere and heartfelt congratulations was extended to the seniors for their outstanding achievements. With bright futures ahead, they were wished continued success and fulfillment in all their endeavors.