Speech and debate team places highly at state tournament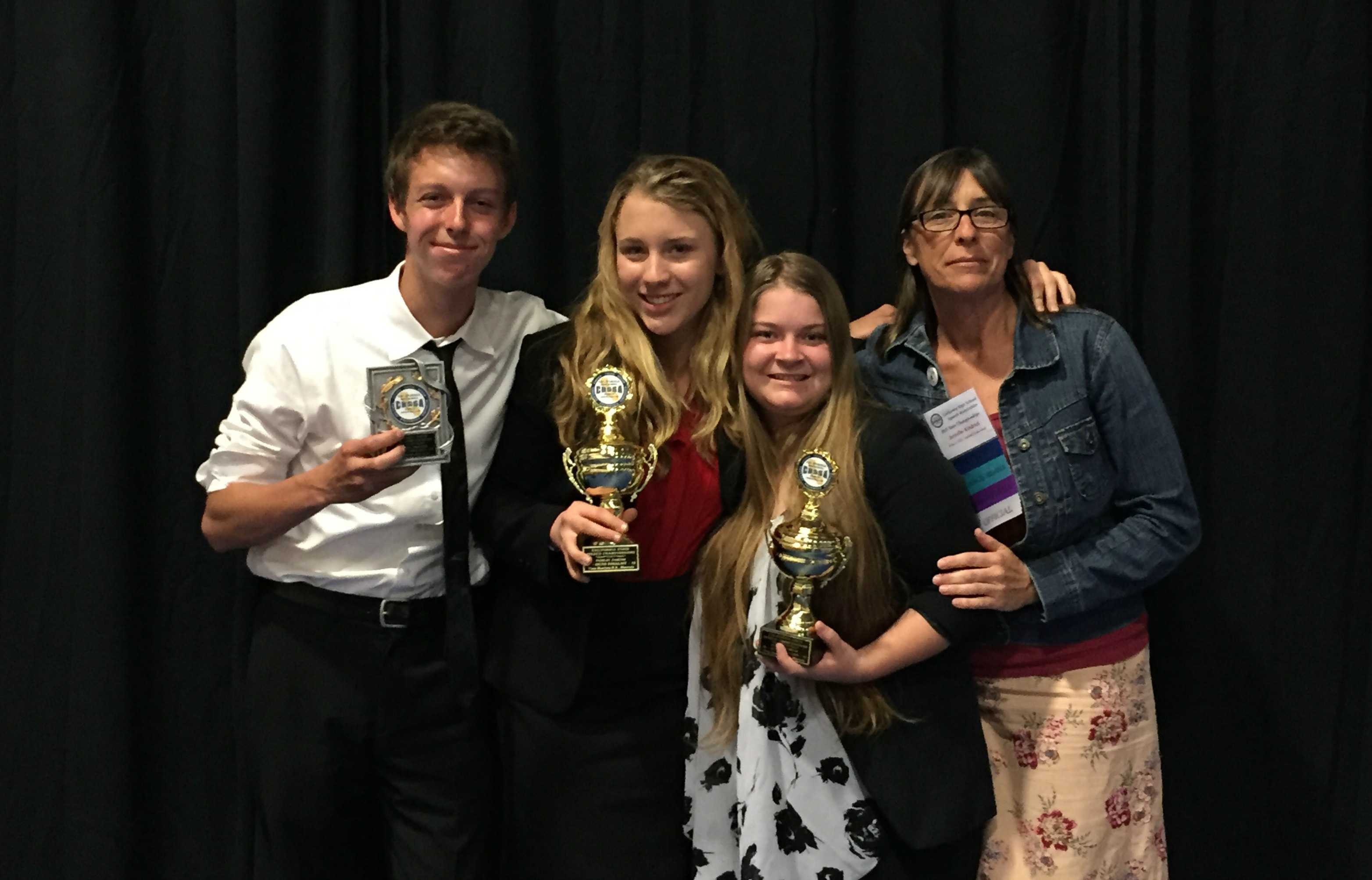 This month, three speech and debate students competed at the California High School Speech Association state tournament at Murrieta High School and received high rankings.
Juniors Fidelity Ballmer and Khaila Hartung-Dallas were ranked seventh in the Public Forum category and senior Ben Limpich was ranked 11th in the Original Oratory category.
Public forum is a partner debate in which competitors debate on politically based topics, called "resolutions." A case for each side of the argument is prepared before each tournament. 
Original Oratory is a speech event in which competitors write a 10 minute scripted event about a topic of their choosing.
This was the first time that all Foothill representatives won awards in the category they competed in at the state tournament .
Speech and debate coach Jennifer Kindred said that the state tournament is more challenging than other competitions.
"There is an important distinction between our success at state and our success earlier in the year. When we compete at invitational tournaments, we are competing against whole teams," Kindred said. "As a result, it is possible to hit weaker speakers [and] debaters in the preliminary rounds and then face tougher competition as the weaker ones are eliminated."
"But at state, only the strongest teams from each league qualify, so the competition is fierce right from the beginning. So we did very well."
The tournament was stressful and exhausting, but fun, Hartung-Dallas said.
[soundcloud url="https://api.soundcloud.com/tracks/202142309″ params="color=ff5500&auto_play=false&hide_related=false&show_comments=true&show_user=true&show_reposts=false" width="100%" height="166″ iframe="true" /]
Ballmer described the types of teams at the tournament.
"There were people from less competitive areas and then people who you could tell spent every night preparing for this tournament," she said. "A lot of people were from schools who had more resources and were much larger, so they could pool the workload and have everyone help collect evidence, making them much more competitive."
Ballmer explained how she felt when she was competing.
"Competing feels awesome. Khaila and I were super insecure about this tournament, so the first round I wrote, 'I'm so nervous!' on the legal pad we use to share notes," she said. 
"Once you get into the debate room, everything else goes away and you just feel 'in the zone,' so to speak. It wasn't until the last two debates that I felt like we were debating as well as we possibly could. It took us a bit of time to warm up and gain some confidence back."
Limpich described how he felt during his rounds.
"I felt pretty good because the state tournament has a high quality of speeches and Original Oratory. At the league, you get people who threw it together at the last minute, but at state these people have tried, they have been tested through their league already and have been filtered into the state tournament," he said. 
Ballmer described how she felt about ranking as the seventh-best Public Forum team in the state. 
"To be ranked seventh is pretty amazing. Khaila and I definitely exceeded our expectations! The best part of it was all of us making Mrs. Kindred really proud. She puts in so much work and dedication to the team that we wanted to show that it had paid off," she said.
Hartung-Dallas explained how she felt about her ranking. 
"It's amazing. I'm insanely proud of us. Our goal was to go to state this year, we didn't have any 'end all' goal of how we wanted to rank, so being one of the top 10 teams out of 250+ is pretty amazing," she said. 
Limpich expressed how he felt about his ranking. 
"It's the highest ranking I've received in a speech event, and depending on whether or not you value invitationals or the state tournament more, it's the highest I've gotten in any event, technically," he said. 
Hartung-Dallas expressed her appreciation for Kindred.
"Kindred was so immensely supportive. I don't know if we would have gotten this far without her […] She kept us on track and provided much needed stress relief; especially on the last few days before state she was just very confident in our abilities to do well and was immensely supportive and I don't know what we would've done without her," she said.
Ballmer talked about the importance of speech and debate.
"Speech and debate is so important for communication, research, confidence, speaking skills, writing skills, social skills. It's a nerve wracking extracurricular, but it's taught me so much. It's something that has shaped my high school experience, and it's made me a stronger student and thinker," she said.
Kindred said that there is a huge value of speech and debate in high school.
"I know from my involvement at the state level that speech and debate is the number one predictor of success in college. College admissions officers weigh participation in speech more heavily than participation in a varsity sport," she said. 
"But, beyond that, speech and debate develops critical thinking skills and forces students to see multiple perspectives in the issues they speak and debate about. This makes for informed voters and active citizens."