A new and unique cafe in downtown Ventura: Kaapicat Cafe
With an enticing aroma and a plethora of bountiful flavors, a new cafe in downtown Ventura called Kaapicat Cafe welcomes everyone into an amalgamation of American and Indian cuisines . 
Run by Nicholas Babbitt and Meena Babbitt, the family-owned business is inspired by South Indian cuisine, representing Meena's heritage. Meena was born in Pondicherry (a city in India), and her family is from Tamil Nadu (a state in India).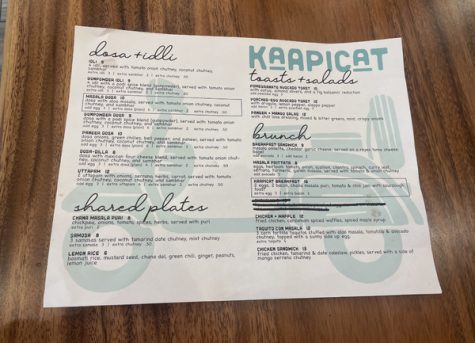 Additionally, Nicholas recognizes that most Indian cuisine in the area of Ventura focused on North Indian foods, so he wanted to switch it up and focus on what his family already knew and was good at. Nicholas developed his knack for cooking by working with Meena's mother and learning her techniques to learn the importance of food in Indian culture and pass it on to future generations. 
Nicholas states, "My wife and I have a little girl and the food in her [my wife's] culture has … passed down from family to family. They all have their own special spice blends and spice boxes … gifted to each of the families … it was not the way that I grew up. But I wanted to continue that with my little girl and make sure that the food between my mother-in-law gets passed down to my daughter, and I want to be able to connect with that myself as well." 
The restaurant opened up about nine months ago, and Meena envisioned it would only sell dosas and traditional caffeinated drinks such as chai and filtered coffee. But as the ideas grew, so did the restaurant. 
"
I'm just making all of the foods that I grew up eating like chicken sandwiches, chilaquiles, things like that but making them with all of the ingredients from her [mother in law's] shelf.
— Nicholas Babbitt
Nicholas states, "I think given the space and the size of the kitchen and just Ventura in general, it was a new food I don't think they were used to, so I wanted to do a hybrid with the menu to get them familiar with the flavors and get them addicted to the wonders of the Indian spices." The menu is a creative mix of traditional South Indian foods and regular American foods that have a mix of Indian spice in order to make them burst with flavor. 
Out of the many menu options that intertwine American foods with Indian spices to make their taste unique, Nicholas recommends the samosas with the cardamom chai if the customer wants a quick snack. He also recommends the pani puris, and he explains the process of making them. "We do a chana(chickpea) masala, the crispy puri balls with tamarind and date chutney and a mint cilantro chutney with some sweet onion." For full meals, he suggests the masala dosa or paneer dosa for a first time dish, as they are a good portion size and easily enjoyable. 
Nicholas remarks that the most flavorful dish in the cafe is the tikka chilaquiles, with a mix of tikka masala and chilaquiles. He describes the process as "[taking] some Mexican chillies, some Aleppo and Guajillo chillies and [making] it in the way [one] would make a …tikka masala, so [he] changed the consistency to make it a creamy consistency." 
"
I wanted to be able to make sure that I can be a part of that culture with her [his daughter] and make sure that she'll some day be able to pass that down to her kids.
— Nicholas Babbitt
Pairing with drinks, their chai latte is an original Indian hot drink to pair with any type of appetizer. The mango lassi is also an iconic Indian sweet, cold drink that mimics an American smoothie in taste and consistency, but has a tangy kick to it, making it great to pair with a warm meal. 
Overall, Kaapicat Cafe has many  dishes with various flavors and cuisines, focused around American and Indian food and drinks. It can also be a great place to go for a study break, a snack or a full meal located on the lower half of Downtown Ventura. Make sure to check it out, as they are a friendly business, and their food is even friendlier.