"A wedding and a wake": "Murderous Crossing" play brings a murder mystery to Foothill Tech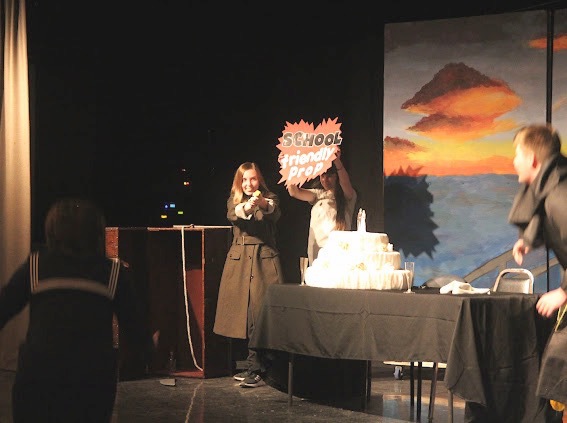 A night of comedy, food and plot twists awaited attendees to Foothill Technology High School (Foothill Tech) Drama's rendition of play, "Murderous Crossing," written by David Landau and Nikki Stern, on March 29-31, 2023. 

Guests were welcomed into Spirito Hall, which had been transformed from its usual lunch-time setup into the dimly lit dining room of Her Majesty's Ship (HMS) Victoria, the setting of the performance.  

The ensemble cast, dressed as waiters, stood by to greet and guide everyone to the circular tables that furnished the room, ready for guests to sit at after checking in. On the outskirts of the room, long flowers hung from the ceiling, which also had warm light bulbs strewn across.

Jenna Ostrom

While waiting for the show to start, the servers walked around, offering soft drinks and water to the growing crowd. 

The stage was adorned with a backdrop of a boat facing the ocean, with a table with a large wedding cake in front of it.

The show began with coordinator Miss Hastings, played by Emilia Linder '26, raising a toast with the audience to celebrate their upcoming journey.

Inspector Clurrot, played by Jessie Yalinkatian '23, entered the scene, revealing a suitcase full of suspicious items: a rope, knife and gun. The 'gun' is represented by a banana, and a red sign reading "SCHOOL FRIENDLY PROP" pops out whenever it is displayed throughout the play.

"

Drama provides a great outlet for kids to get creative.

— Jennifer Kindred

This discovery of items causes Clurrot to conclude that there is a murderer aboard, causing Hastings to panic about the high-profile wedding planned. 

In the next scene, Lord Bennet, played by Samantha Hill '25, is introduced, alongside French Countess Nicole Folette, played by Hannah Prater '25.

Bennet is an indebted crooked banker, and Folette is a poor woman who is to marry the wealthy Jonathan Rothchild, played by Andrew Ibarra '23.

During this scene, an audience member was picked to be Folette's fake Dad, to keep the facade running.

On the interactive aspect of the play, Drama teacher Jennifer Kindred shared, "When you're in an audience, you're just passive…but when you could get called on by one of the actors, that makes it exciting." 

"It makes the audience more lively and it makes the cast more lively," she finished.

 Siblings Jonathan and Vivian Rothchild flaunt their wealth as they enter the scene.

Jonathan Rothchild and Folette sharee doubts about the wedding, but seemed somewhat infatuated nonetheless. 

Isabella Coranova, an employee, enters then, and it is shown that she knows about Follette's shady past and intentions. 

In a parallel to Bennet and Folette, it is revealed that Jonathan and VIvian Rothchild are not siblings at all; they're a failed actor and bankrobber who's hoping to take his wife-to-be's money. 

To make their scheme more believable, they choose an audience member to be their 'Mom' for the wedding, and another to be the 'Best Man.'

Howard Krepps, another ship employee, enters the scene and recognizes Jonathan Rothchild from a show they worked on together. Similarly to Coranova, Krepps knows something is off about the parties getting married.

Vivian Rothchild and Bennet then sing "There's Always a Price to Pay" to Jonathan Rothschild and Folette, warning of consequences that will follow their actions. 

After the song, Bennet flirts with Coranova and takes her off stage, while Vivian Rothchild flirts with Krepps and takes him offstage. 

Hastings then invites the audience to get salad from the ensemble, prompting a short intermission. 

An awkward wedding then ensues. The drunkard Father officiates and asks if anyone objects to the marriage. Coranova and Krepps appear, tied up, and attempt to object, but are dragged away by Bennet and Vivian Rothchild.

After the "I do's" and signing of papers, Father jumps in and kisses Folette, which angered the groom and sent the crowd into a shocked laughter.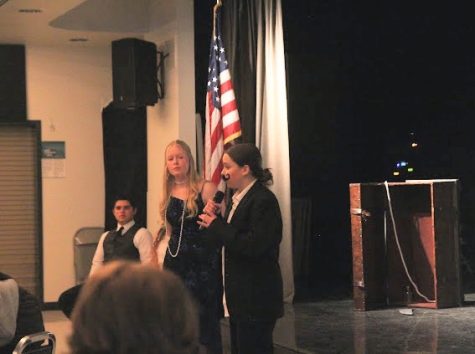 In two confrontations, Krepps and Coranova expose Jonathan Rothchild and Folette for what they are: impoverished frauds. 
Despite the uncomfortable situation, Father pulls the Best Man back out of the crowd and asks him to make a toast. The unprepared guest fumbled out a few words, causing the rest of the guests to chuckle.
As everyone drank, Coranova fell into the cake and died. Although everyone panicked, Father insisted on holding a funeral service. 
Folette threw her bouquet to the single cast members, and Krepps joined the crowd, before he was shot and killed, causing the bunch to scamper away.
The intermission for the spaghetti entree was then called, provided by Ventura High School's Culinary Arts Program.
Clurrot vowed to solve the murder, and sang, "Clue by Clue by Clue". With secrets laid bare, Bennet's mustache off, the crowd shouted evidence at Clurrot, but Father interrupted, and had the couple cut their wedding cake, which prompted the next intermission for vanilla cupcakes.
Once the show recommenced, Bennet and Vivian Rothchild were accused of killing Coranova and Krepps for knowing too much, but the real mastermind was… Father!
He toasted Bennet and Vivian Rothchild for their murders, and they both died from the poisoned champagne. 
Facing the crowd, arms out, he menacingly screams "After all, why should they have all the fun?" at the crowd, and the lights shut off abruptly. 
On the twist, Corcoran jokes, "Sometimes … it's the person you most suspect."
The cast and crew stepped onto the stage for their applause, and raffled the names of audience members who correctly guessed the murderer for a "Junior Detective" pin.
"Murderous Crossings" was full of banter, murder and interaction, which consistently kept the crowd entertained.