Dragons enjoy an exciting Renaissance Rally and spirit week
As clouds fill the sky and spring approaches, Foothill Technology High School (Foothill Tech) got lively and festive with a spirit week and St. Patrick's Day themed Renaissance Rally. The events were hosted by the Associated Student Body (ASB) from March 13, 2023 to March 17, 2023.
To show student spirit, students could participate in a spirit week with exciting themes. On Monday, students were allowed to wear pajamas, keeping them warm and comfortable during the school day. Liam Macario '25 said that his favorite spirit day was pajama day because "he can come to school comfortably."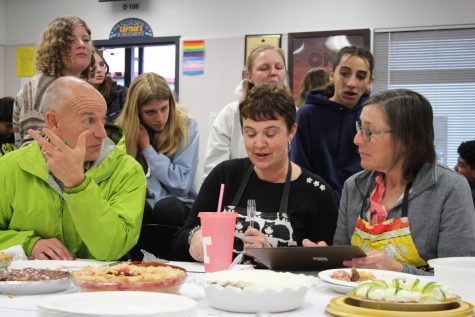 Tuesday was Pi day, and students could either take the "pie" route with aprons or the "pi" route by dressing up as one of Foothill Tech's math teachers. For additional festivities, ASB held a pie contest where students could submit a pie to be judged and possibly win a prize. 

On Wednesday, students were encouraged to wear their class colors: seniors – red, juniors – blue, sophomores – purple and freshmen – green. Additionally, Renaissance shirts, Mr. Softee tickets and Liquid Death tickets were distributed to students to be used for the Renaissance Rally on Friday. 

Thursday's theme was Soccer Mom vs BBQ Dad. At lunch students were able to play a game of soccer on an inflatable field, and chips were handed out to the students who chose to participate. 

To finish off the eventful week, ASB also held a Renaissance Rally where students were given a well deserved break for all their hard work during the new semester. Though some privileges were only given to Renaissance students, everyone was allowed to have fun. Even freshmen were excused from Foothill Intervention, Reinforcement and Enrichment (FIRE) to participate in the exciting activities. 

After fourth period on Friday, students flooded into the hallways and were welcomed by bouncy houses in the quad. The bouncy houses consisted of slides, climbing and overcoming obstacles. Students were also able to compete amongst themselves in races, making the games more competitive and exciting. Along with the inflatable games was an inflatable soccer target. Not only was the quad filled with bouncy houses, but it was also decorated with green streamers and rainbow balloons, accentuating the holiday, St. Patrick's Day. 

A photo booth was also set up for students to capture the moment. Students lined up to take pictures with friends and classmates creating a memory not soon to be forgotten. 

Sofia Patiño

Within the quad, there were also areas where students could grab a cup of Lucky Charms, skittles and even Liquid Death. If students wanted an extra sweet treat, they could get ice cream from the two Mr. Softees trucks set up in the back of the parking lot. 

The ice cream trucks were much appreciated by the student body, but the line full of eager students was a little hectic. Mikaela Clabaugh '25 said for improvement there should be "initial organization rather than yelling at anyone." 

Throughout most of the event, live bagpipes were played to add music and liveliness to the rally. Macario '25 also mentioned that the "bagpipes were a really nice touch for St. Patrick's Day."

The event was overall a great way to promote school bonding and a much needed break from the stressful environment of school. Amina Waqar '23 explained how the Renaissance Rally "brings people together … because we are so busy in our studies and education all the time." 

The spirit week and Renaissance Rally truly helped Foothill Tech students unite as a whole and celebrate their hard work through a fun and exciting week for all students.