"This is the year to make changes:" Scheduling changes continue as DTech becomes two-year program
One of Foothill Technology High School's (Foothill Tech) Career-Technical Education (CTE) pathways has recently changed from a three-year program to a two-year program. 
DTech focuses on design, technology and entrepreneurship. It is run by teachers Kurt Miller and Yiu Hung Li, who feel the switch has been a long time coming.
"
It'll be a seamless, more focused experience.
— Kurt Miller, DTech advisor
"Our program was mainly sophomore year and senior year," Miller explained, "during junior year, we had most students go to Mr. [Cameron] Crouch where they develop their design skills in particular." Not all students took the GRAFX route, however, and would take other electives at Foothill Tech, or a class at Ventura College.
He expanded on that, saying, "It always felt a little bit fractured in that junior year. There were some issues of continuity."
DTech Survey, typically a sophomore year class, is now going to be taken during junior year.
The 2023-2024 school year only served as a catalyst, " … the disruptive chaos earlier this year with the lack of a coordination period … kind of ripped the bandaid off," Miller shared, "let's mix it up so that it's a better experience for the students and a better experience for the teachers."
Sophomore year is now called the Nexus, where, according to Miller, "they'll [students] get to experience a more variety of programs."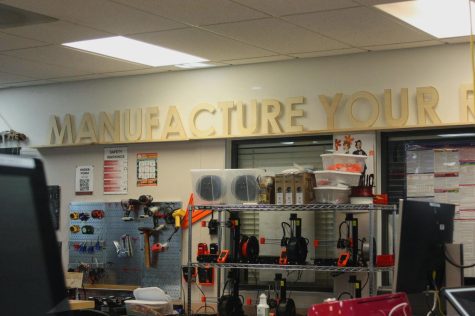 Encouraged classes are coding with Conni Carr and art with Crouch or Justin Frazier, which teach "DTech adjacent" abilities.

"We want to push them to go to all these different programs to get those fundamental skills, and then we're gonna focus them much more in the junior and senior year," Miller commented. 
DTech teachers are also hoping that older and more mature students will enter the program, as opposed to underclassmen who may still carry a juvenile attitude. 
To calm any fears around the changes, Miller assured, "Don't worry. We have a plan in place. You will still get to experience the richness of DTech."
"The experience will be even more together and even better in the long run," he concluded. 
The 2023-2024 school year has seen many scheduling changes, and DTech is the latest to join. With the transition to a two-year program, the program intends to improve upon what they had, and make it a smoother, more consistent program.