Girls' soccer battles in a 0-2 loss to knock them out of CIF playoffs
On Feb. 10, the Foothill Technology High School (Foothill Tech) girls' soccer team faced off against Ontario Christian High School (Ontario) at Ventura College for their round two California Interscholastic Federation (CIF) matchup in a battle to avoid elimination. 
In the end, Foothill Tech was unable to continue their undefeated season, as they went down 2-0. 
The first half was an intense defensive matchup. Ontario held possession of the ball for the vast majority of the half, as their stifling defense prevented Foothill Tech from having any realistic shot at the goal.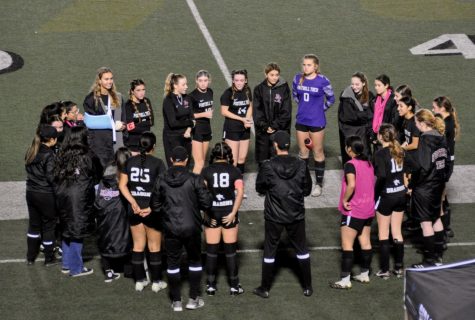 The Dragons also continued their fierce defense from earlier in the season. In spite of having many looks at the goal, Ontario failed to score in the half. Notably, goalkeeper Addison Fallon '25 made a phenomenal save in the 13th minute, and team captain Malia Sanchez '23 stopped a potential goal with a perfect tackle. 
This stalemate finally broke with an Ontario score early in the second half, as amidst a cluster of bodies around the goal the ball eventually found its way for the score. 
Foothill Tech failed to answer offensively, as they had no shots on goal in the entirety of the half. The squad was missing star player and college soccer commit Lily Shadden '23, which likely contributed to these struggles. 
Still, team captain Avery Denger '23 reflected on these struggles stating that, "we played as a team, there was communication until the end, we just didn't get the result we wanted."
Ontario extended their lead and effectively ended the game with another goal in the closing minutes, as the Dragons' undefeated season came to a close. 
Coach Patty Gomez reflected on the season by stating "I am just so proud of them and they are just amazing … they trusted us as coaches and trusted their teammates."