BioScience Academy contributes to the season of giving with the Be The Match fundraiser
Kickstarting this year's holiday season, Foothill Technology High School (Foothill Tech)'s BioScience Academy held their annual Be The Match fundraiser from Dec. 5 to Dec. 16, 2022. 
Brightly decorated mason jars with colorful labels of teachers' names were put in each of the five science classrooms on campus to collect the donations. Next to the jars were candy canes, intended to entice potential donors.
"
All of our funds go to life-saving donations for transplants.
— Laura Szavo '24
In exchange for donating one dollar, students were given two candy canes, in theme with the holiday festivities of the weeks prior to winter break. By giving a dollar, students enjoyed a sweet treat and participated in a larger cause. 
Be The Match is Health Occupations Students of America (HOSA)'s National Service Project. It is run by the National Marrow Donor Program, a non-profit organization, and works to "deliver cures by helping patients get the life-saving marrow transplant they need," according to their website.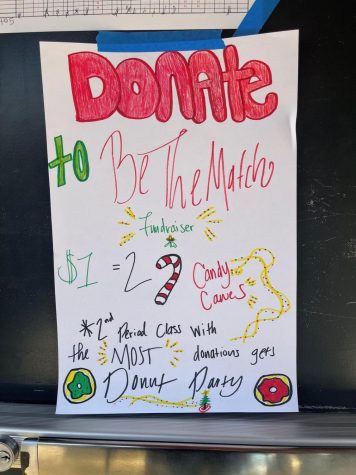 Donations of healthy stem cell marrow can aid the recovery of blood-cancers, such as leukemia and lymphoma. 
HOSA and Be The Match emphasize how important it is to have a diverse donor registry of many ethnicities because, "When it comes to matching human leukocyte antigen (HLA) types, a patient's ethnic background is important in predicting the likelihood of finding a match […] a person's best chance of finding a donor may be with someone of the same ethnic background," as stated on the Be The Match website. 
Cohort 18's HOSA Service Committee Lead Laura Szavo '24 shared, "It's a great way to involve the school and community in contributing to a good cause." 
She also commented on the hope of rallying more support for the organization as, "these medical problems are more common than some people might think." Every three minutes, somebody is diagnosed with a blood-cancer, a shocking statistic the BioScience Academy hopes to share with the larger community.
"Sharing this information and knowing that there are opportunities to help the community is important," Szavo concluded. 
As Foothill Tech dragons push school to the back of their minds for the break, they can relish in knowing they have contributed to a meaningful cause. 
For more information, visit The Mission Behind Be The Match.