Boys' soccer bested in first home game of the season
On Nov. 17, 2022, Foothill Technology High School (Foothill Tech) boys' soccer played against the Ventura High School (Ventura) Cougars in their first game of the season. Going into the game, the team had a mere week of practice, so the battle was uphill from the start.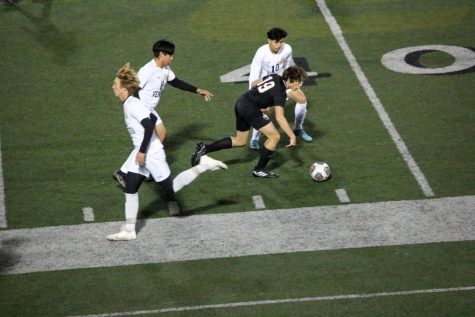 Foothill Tech had a slow start, allowing Ventura to score early on, but they soon recovered with an upped amount of intensity. 
The Cougars came out of the gate with an alarming amount of aggression, resulting in numerous fouls, with one particular foul in Ventura's box resulting in a penalty kick for the Dragons. With 15 minutes left in the first half, Mateus Gamble '24 geared up to kick the ball, sinking a perfect shot into the right-hand corner as the crowd jumped to their feet. 
When the score was tied at 1-1, both teams struggled to score another goal before the end of the half. Ventura maneuvered through Foothill Tech's defense several times, but none of these attacks ended successfully and the score flashed 1-1 as the halftime whistle was blown. 
Cristian Gramada '23 commented on the first half of the game stating, "We were getting good passes in the middle and some balls down the line…but we were not doing well from the beginning. After a while, we started building our team back up and we were solid."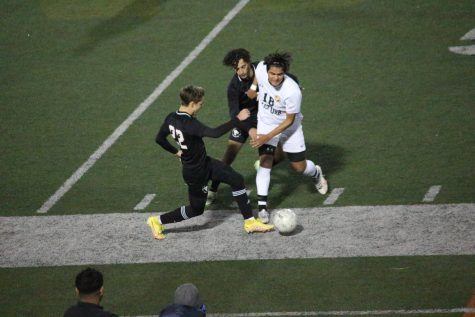 As the second half began, both teams had equal possession of the ball, but with 23 minutes left, Foothill Tech acquired a corner kick and after a furious scramble, Gramada tapped it in. However, Foothill Tech could not hold on to their lead as the Cougars scored another goal, tying up the game once again. Gramada commented on the team's struggle to hold their lead, stating, "It was our first game, we know what we have to work on. Their goals were mostly on the same things so now we know what to fix." 
The teams frantically attempted to get a lead on each other with multiple missed shots until Ventura broke through the Dragons' defense, resulting in their third and final goal of the game. Foothill Tech desperately tried to score once more, but to no avail, and their first game ended in a loss. 
Gamble reflected on the game, saying, "We put up a good fight for only having two practices before this, and I know that Ventura had months of practice."