Time to say goodbye: The Class of 2022 ends the year with heartfelt graduation
The biggest day of the year for many seniors finally arrived; a day of commemoration, goodbyes and new beginnings. 
"
You are now official graduates. Congratulations class of '22!"
— Russell Gibbs
The Foothill Technology High School (Foothill Tech) 2022 graduation ceremony was held at the Ventura College (VC) stadium on Fri. June 17, 2022. Students along with their families were able to celebrate the accomplishments of their graduates with this outdoor ceremony. The stands overlooking the field, where the ceremony was held, quickly filled with chattering families who were constantly peeking to see when their graduate was walking out. 
The stands filled with poster boards and cut out photos of graduates, while the room was filled with screams of excitement and yells of happiness. For those unable to attend the ceremony, they were able to stream online using Community Access Partners of San Buenaventura (CAPS) media, giving families the opportunity to join in virtually. 
Associated Student Body (ASB) President Marina Wolowicz '22 began the ceremony by opening up her speech to the Class of 2022. She stated, "I am so thankful that we were able to come together to complete our high school experiences on campus. Following the conclusion of this chapter of our lives, we will now emerge into the real world. Equipped with the vile knowledge gained from high school. As challenging as it was to create positive memories throughout the year, there is no way it would have been possible without ASB."
"As it's only natural to reflect upon the year. There is no doubt that the Class of '22 is the most unique group of graduates. We perceived through every challenge, surviving both a pandemic and Edgenuity. With the end of this stage we will gain independence, leaving the support and smiling faces of FTHS," explained Wolowicz.
The ceremony then commenced with a grand opening of music, along with the entrance of officiant's led by the Dragon Honor Court. The Honor Court was made up of 12 juniors who had been specifically picked by the Class of 2022, who were "leaders, and supported the upper class." These students were specifically chosen to assist during senior events with the guidance of Foothill Tech ASB advisor Melanie 'Captain' Lindsey.
After the Honor Court was acknowledged for their dedication and hard work, Principal Russell Gibbs then welcomed staff members and non staff members who supported and helped alongside the Class of 2022. There were two separate lines for the members, one line was led by Assistant Principal Katie Tedford and the other by Assistant Principal Frank Davis. 
Following those members, the seniors walked into the stadium with a grand opening of music, loud cheers and cries of encouragement. The senior class entered wearing decorated caps while some donned multiple cords as well as medals that represented their numerous accomplishments during their high school career. Friends and family members stood in the stands and watched as the graduating class walked in one by one.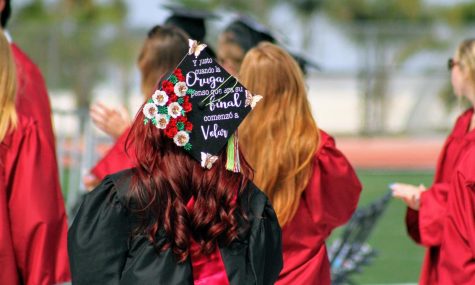 The graduation further continued as Wolowicz led the Pledge of Allegiance and their commencement speech. The crowd cheered as they thanked ASB and the Foothill Tech staff, who had dedicated all their time and effort into making this year special and who had supported them since the beginning of their journey. 
Principal Gibbs took the stage to announce and highlight the experiences through the success and accomplishments of the Class of 2022. 
"[…] you will be long remembered as a class that had no choice but to persevere and succeed," he spoke to the seated seniors, "And I hope the difficulties you have persevered through have only made your success sweeter." 
Ninety-eight percent of seniors from the Class of 2022 who either chose to attend university, community college, or even a training academy. Gibbs further went on to naming the various colleges and trade schools Foothill Tech students would be attending, and students rose from their seats as the name of their school was announced. Gibbs recognized students who chose to take a gap year, enter the workforce and who plan to travel.
Gibbs then announced one student, Owen Teehee, who will be serving in the army, thanking them for their service as well as their sacrifice. Each of the announcements was followed by an immense amount of applause and screams of happiness from the crowd. The vibrations throughout the stands could be felt as the stadium filled to the rim with roaring from the audience.
There were seven valedictorians which included Bridget Stromme, Meredith Araujo, Kaelyn Svard, Nick Kvale, Kelsa Ropersmith, Rebekah Weldele and Marina Wolowicz. 
There were also three seniors who qualified as Salutations which were Brandon Ramirez, Aimee Kidwell and Noah Brown.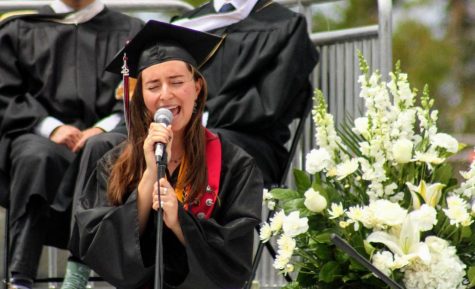 Gibbs recognized many seniors who ended up receiving and graduating with Summa Cum Laude, or rather a cumulative GPA of a 4.4 or even higher. There were also students who received the title of Magna Cum Laude, meaning these students had a cumulative GPA of 4.0 – 4.39. Gibbs further recognized the graduates who received a Ventura Unified School District (Ventura Unified) multilingual seal. In addition, students were recognized for their recorded community service hours, some seniors totaling over 200 hours. 
Gibbs recognized the graduating class who participated in academies such as Bioscience, D-Tech Academy, Journalism, the National Honor Society, and A.V.I.D. There were also students who participated in ASB and the California Scholarship Federation. There were also less than 16 students whose name will be inducted into the student-athletes Dragon Athletic Wall of Fame. 
Niyam Reddy '22 states how he felt during the ceremony,  "I feel like it's kind of like an eighth grade promotion. I didn't really feel much and I don't think I really ever will until maybe a year later and I'm like, oh my god, I'm actually a high school graduate or when I start with what I'm doing next."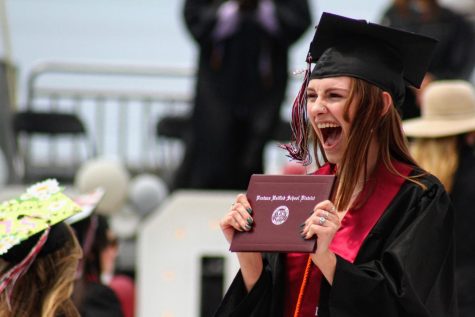 Gibbs further presented the Class of '22 to Ventura Unified Superintendent Roger Rice. Rice greeted and welcomed families who could and couldn't make it to the graduation. He discussed the memories he had with some of the graduating seniors, specifically those he had with Karyme Fierros and Athina Ananias. The official acceptance of Class of '22 begun, which were led by Rice and Captain, each taking turns listing the names of the graduating class.
Gibbs then awarded each of the students with their diploma, and as they reached the stairs, they paused to take a picture with the diploma in their hands. As each name was called, the vibrations from cheering were felt through the bleachers. Confetti was thrown by family members and friends as each name was called. At the end of the ceremony, friends and families cried as their graduates were finally done with high school.
After the graduation ceremony, Gibbs had words of advice for the former Foothill Tech students as they moved on with their lives, "As you get older, you know who you are, and just be yourself and everything will turn out." 
After every graduate had received their diploma, Mikaela Hantgin gave a very heartfelt speech. They explained how everyone had worked so hard to get to where they are today and that's the only thing that matters.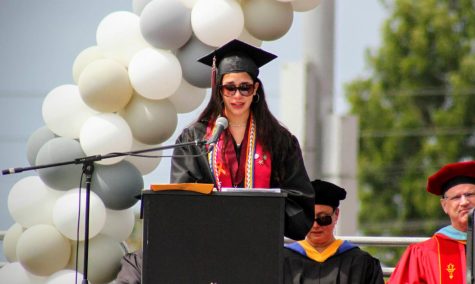 "Take the memories, keep the friendships, but above all else, never forget: you are resilient," she tearfully told her peers, calling back to the year lost to the COVID-19 pandemic, and the other struggles they faced. 
"
Now here we are, ready to graduate and take hold of our future."
— Mikaela Hantgin '22
The last speech given by Charisse Lindsey stated the hardships faced this year, and the beginnings of life. Lindsey stated, "Our goal for the past 12 years has been to learn initially, we thought that meant to learn academically and I believe we achieved that. But I think more than anything we were meant to learn what we want out of life and how to get it."
After the speeches had ended, Kira Shinden '22 on guitar, Alex Loza '22 on keyboard and Kelsa Ropersmith '22 came to the stage to sing a song. They dedicated the song to "those students who never made it to graduation and to those who were lost suddenly to gun violence and hatred" as Ropersmith explained. 
As the song came to an end, the crowd cheered. Then, it was finally time for the students to become alumni.
"In a moment," Gibbs began, "I will ask you to move your tassel to the left side of your cap to signify the end of your studies here with us, and with Ventura Unified School District."
With eager hands, every tassel was moved, and the sky erupting with flying caps and celebratory screams. 
As the ceremony ended, the Foothill Tech graduates gathered one last time to say farewell to their past, and to embrace their futures.
Correction: Karyme Fierros was previously misspelled. It has been corrected.