Nostalgia and congratulations filled the air during the honorary Senior Awards Night for the Class of 2022
As a cool breeze swept through the quad and birds chirped in nearby trees, the senior class of Foothill Technology High School (Foothill Tech) eagerly gathered to celebrate the many accomplishments of the Class of 2022. On May 26, 2022, Foothill Tech faculty and students part of Dragon Honor Court hosted the annual Senior Awards Night, marking the first time the event occurred in person since 2019.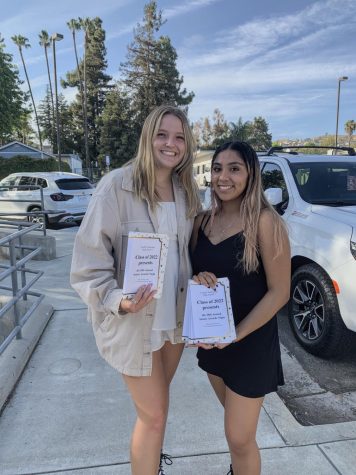 Seniors and their families were greeted in the quad with program pamphlets, red and black balloons, calming background music and large logo posters for photo-ops before they were ushered to take their seats among their excited peers. 
As usual, Associated Student Body (ASB) advisor Melanie "Captain" Lindsey and beloved art teacher Justin Frazier hosted the ceremony, but they only cracked a few jokes before jumping into awards in the interest of time and a lengthy program. 
The night began swiftly with scholarships as the Class of 2022 was awarded a total of 1.8 billion dollars in scholarships from various organizations and universities, some of which sent representatives to specially recognize the deserving students. 
Perhaps the most notable scholarship brought tears to many of those in the audience as the Class of 2022 was the first group to receive the Erica Grace Conchas Memorial Scholarship, awarded by the Conchas family to honor their late daughter who valued kindness above all else. In addition, many Foothill Tech students took notice of a new mural painted in her honor so that future generations of dragons will never forget her dedication and selflessness.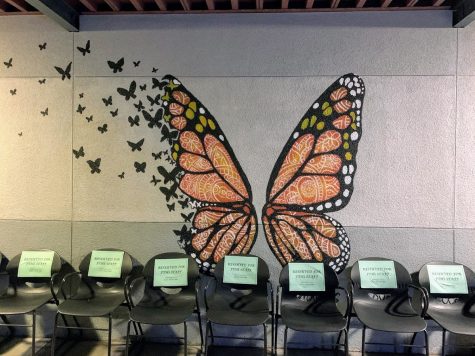 As coordinators transitioned from one phase to another, Ventura Unified School District (Ventura Unified) Superintendent Dr. Roger Rice made a special appearance to present Principal Russell Gibbs with the Gratitude Award for his service to Foothill Tech during the pandemic. 
Following scholarships, the next phase of the ceremony created even more buzz amongst the audience as specialized cords were distributed to students including First in Family, California Scholarship Federation (CSF), F.I.R.E, SSD Pathway, National Honors Society (NHS), Multilingual Seal, Community Service, Athletic Wall of Fame, Finish Strong, Magna Cum Laude, Summa Cum Laude, Salutatorian and Valedictorian. 
Certain cords required students to reach a minimum threshold for either grade point average (GPA) or community service hours completed. Two-thirds of Foothill Tech's senior class qualified for the Finish Strong award as 166 total students maintained a 3.0 GPA or above. Community service awards were split into four tiers: silver (75-99 recorded hours), gold (100-124 recorded hours), platinum (125-199 recorded hours), and ruby (200+ recorded hours). Finally, some of the most well-known awards of the night were based on students' cumulative weighted GPA, and one needed a 4.0-4.39 GPA to qualify for Magna Cum Laude and a 4.4+ GPA to qualify for Summa Cum Laude.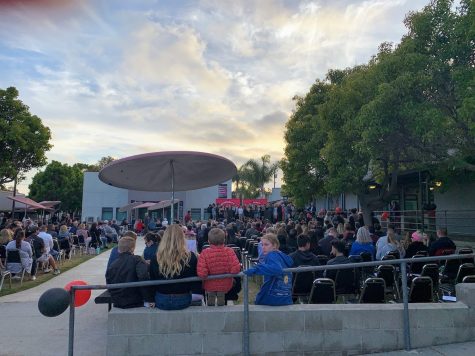 As the first half of the ceremony concluded, students and parents awaited the announcement of the highest academic achievements of the entire night. Principal Gibbs took to the stage to honor the year's Salutatorians and Valedictorians as the crowd cheered avidly for their students and peers. Three seniors qualified as Salutatorians: Brandon Ramirez, Aimee Kidwell and Noah Brown. Seven seniors qualified as Valedictorians: Bridget Stromme, Meredith Araujo, Kaelyn Savard, Nick Kvale, Kelsa Ropermith, Rebekah Weldele and Marina Wolowicz. 
However, the night did not end there as the ceremony was concluded with the highly coveted Dragon Hall of Fame awards. Each department head and program advisor gave a brief description of those who were nominated before honoring winners with certificates and a permanent place on Spirito Hall's wall. 
Following the excitement and nostalgia, the crowd began to feel the effects of a long event, so Captain and Frazier quickly wrapped up the ceremony so parents could interact with faculty and give seniors an opportunity to congratulate their successful peers!