HOSA partnership with Vitalant saves up to 168 lives at biannual blood drive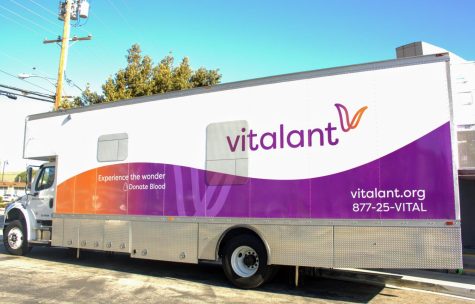 The sun glinted brightly off the Vitalant Blood Donation van as it awaited its student donors on March 14, 2021. Organized by HOSA, the Health Occupations Students of America, a leadership program part of our BioScience program here at Foothill Tech, the blood drive gave students 16 years and older the opportunity to donate blood to Vitalant, a non-profit organization that distributes blood to those in need. 
In order to donate blood, students were required to meet the basic donation requirements and those who donated received a blood donor t-shirt to show off their good deed. They also received three hours of community service and walked away with the satisfaction and pride of helping others. Leilani Magana 22' said that she  donated blood, "to be a good person for a good cause."
Charisse Lindsey 22' mentioned that, "there is currently a national shortage of O blood types and I am O positive so I figure if I can I might as well."
According to the American Red Cross Blood Association, 10 percent of overall blood donations have declined since March of 2020. In fact, there was a 62 percent drop in college and high school blood drives due to the COVID-19 pandemic. Foothill Tech has taken a step towards increasing the current percentage by hosting a blood drive and helping our community and others. 
Magana added that the importance of donating blood is, "giving back to the people who need it more than you do."
Kimberly Fickerson
The blood donated goes to various patients in hospitals with cancer, leukemia, heart surgery, organ transplants and other such circumstances that require blood for the patient so it is vital Vitalant receives enough blood to assist these people. 
The event proved a success, as Foothill Tech donated 56 pints of blood, saving up to 168 lives.