Petition for new athletic facility opens up possibilities for the next generation of Dragons
During the 2014-2015 school year, Foothill Technology High School (Foothill Tech) opened its own athletics department after over a decade of allowing students to play for neighboring schools. Since then, the various athletics programs have grown and received numerous awards through facility contracts with other Ventura Unified School District (Ventura Unified) schools and Ventura College. 
On January 30, 2022, two mothers of student athletes, Michelle Callahan and Maggie Rabizadeh, sent out a letter to parents explaining their petition to transform the district-owned warehouse located between Foothill Tech and Dorothy Boswell School into a multi-purpose gymnasium for Foothill Tech.
The petition form encourages support to fund the gymnasium and provides a basic outline of the plan for the building and the usage of the facility. Signatures and comments will then be sent to the district office where the petition will be formally reviewed.
Callahan and Rabizadeh noted how important it was for everyone to sign and spread the word about the petition. 
"
This is not going to get done by Maggie and Michelle. All students, family, community members need to support and write letters, and sign the petition.
— Michelle Callahan
Convenience for students and their families has been challenging for student-athletes and their families due to conflicting practice and game times as well as a lack of transportation to and from current facilities. "We want our kids to play sports […] but the shuffle around has been getting rough. Most parents work, so it's hard to get the students to and from practice," Callahan explained.  
Without a gym, or any home area for Foothill Tech teams to go, athletes have to travel to different areas at different times for practice and games. In the petition, they addressed the issue of getting students from school to practice when their parents are unavailable. Having a sports facility also prevents the issue of having to cancel or reschedule due to a facility being booked.
This situation has raised concerns over students' safety for when they have late practice, especially practices held in secluded areas. 
Callahan shared, "when our children are at practice, not everyone gets there immediately to pick up their child…if one of the parents didn't stay behind until all of the students get picked up, anything could happen."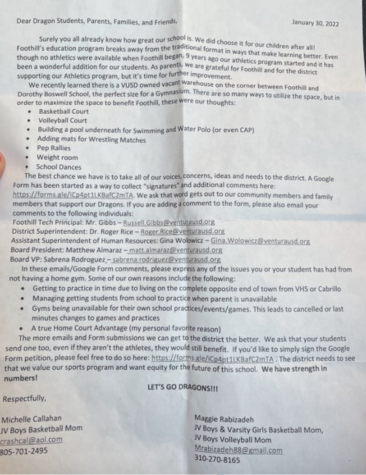 They also referenced the advantages a gymnasium could offer players. Rabizadeh pointed out, "anything that's the same conditions day-in and day-out at practice makes a home-court advantage."
The proposed warehouse is currently being used as a holding space between schools, but the petition proposes that the current holdings be moved to Buena High School's on-site warehouse or to another location. According to the google form, the new facility could also be expanded into Foothill Tech's garden and neighboring district-owned space if needed. 
Aside from possibly acting as a basketball court, a volleyball court and a swimming pool, the space could also be used for other school events such as pep rallies, school dances and plays. 
However, a current dilemma is the amount of time it will take to build the facility. Foothill Tech principal Russell Gibbs explains, "the warehouse is currently fully occupied by the district, it's completely filled with things such as cafeteria food and pencils. This gymnasium would cost millions and millions of dollars, and I am not sure if there is enough space."
Building the gymnasium would also require state funding that could indeed take much time for the state to approve. Gibbs further explains, "this would all have to go through the state architect and overall California has very strict rules as to how you change your campus. There will definitely be a gym facility one day, within ten to fifteen years."
However, this gymnasium, if created, could potentially create a wide variety of opportunities for students and the school as a whole. Gibbs mentions, "it would help in terms of scheduling gym classes and or athletic classes, it would have more substantial athletic facilities for our athletes who are training as well. Generally, students get excited about new additions that all students can use. It would take one to two years to plan it out and another at least three years to actually build it." 
The petition has yet to reach the desk of district administration but the tentative excitement revolving around the proposal is palpable. Foothill Tech students, faculty and parents could all benefit from an additional athletic facility, but the legal and financial considerations complicate the predicted timeline and execution of the project.