Ho Ho Ho! BioScience supports Be The Match with a winter coin drive
The giving season is in full swing for the BioScience Academy and Foothill Technology High School (Foothill Tech) community. Throughout the week of Dec. 13, 2021 a fundraiser for the organization Be The Match was coordinated by HOSA. Jars were placed in second period science classrooms, and the class that raised the most money won donuts for the final day before Winter break, allowing for friendly competition, as well as contribution to a larger cause. 
Resident Head BioScience teacher Mika Anderson summarized what Be The Match is, "in a nutshell, 'Be the Match' is HOSA's National Service Project […] Be the Match is operated by the National Donor Marrow Program, and it is a Stem Cell Marrow Registry that aims to match patients with life-threatening blood cancers (like leukemia or lymphoma) with their genetically matched stem cell donors."
Joseph Parcher '23, the head of the FTHS Service Committee of HOSA and an organizer of the fundraiser, commented, "diseases that are bone-based are rising in America in children […] All of the money goes to families that would otherwise need to cover medical expenses for children, or anyone, not necessarily pediatrics." 
Student interaction and awareness was an important focus of this as well. "We aim to increase awareness of the problem and to get people talking about it. We're also looking for a small amount of profit, so that we can make a tangible amount of profit," Parcher added.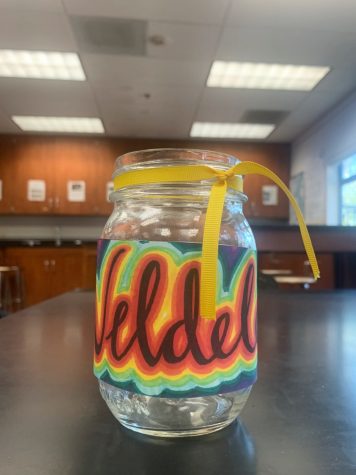 He continued, "it's important that people know that even if they don't see these issues personally, they should recognize the effect of that. We want to open their eyes to the reality that there are people out there, a lot of them, who are really suffering. This is our way of really helping that part of our community out."
Participation from various groups of people is imperative to the cause too, as Anderson wrote, "people are most likely to find a donor match from someone of the same ethnicity. So we want to encourage the community to either sign up to be a stem cell donor (thus growing the diversity of the registry) or donate funds to the cause to help match donors to their genetic match." 
Furthermore, live events like this bring students closer to what they have been learning digitally. Anderson discussed, "this is a great way for students to connect to the content that they have been learning and actually do something to help." After the time spent in online learning, staff and students have been making more efforts for hands-on learning, and interaction.
As Dragons leave for two weeks of relaxation, Be The Match has given students the opportunity to give to people in a meaningful way, fitting for the holiday season. As for the winner of this coin drive competition: Anderson's second period class enjoyed donuts with a glass full of donations.