Cohort 16 prevails at the annual BioScience Olympics
The fog hung over the BioScience Cohorts as they did their beginning chants before the start of the annual BioScience Olympics on Nov. 4, 2021 at Foothill Technology High School (Foothill Tech). The BioScience Olympics gives each cohort (C), or grade level, the ability to compete in a series of science related events to win the famous golden crutch and the glory of victory.
Before the Olympics, Cohorts were able to gain points through multiple different activities including wearing their BioScience t-shirts, donating to a coin drive and other competitions. 
The games began with a jeopardy competition where teammates from C 16(seniors), C 17(juniors) and C 18(sophomores) competed in science related questions that tested their knowledge. Cohort 16 knocked it out of the park with 5,100 points. Cohort 18 came in second with 1,000 points. Cohort 17 got 300 points, suffering from what is called, "the junior curse."
With the class of '22 starting out strong, the cohorts assembled for the micropipetting competition. Cohort 16 also swiftly took the lead following this event.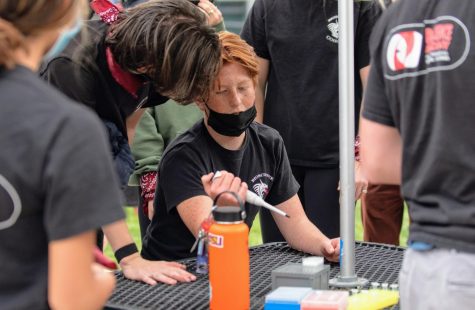 Next was the game called, "Rescue the baby" where cohorts blindfolded would attempt to resuscitate a baby dummy. With many laughs and struggles all groups finished strong. Cohort 18 came out with the most points of 1,100, Cohort 16 with 900 and Cohort 17 with 600. 
Caitlyn O'Neil '23 stated that, "when we were not playing in the games we were cheering on our fellow cohort members," and that, "it was a lot of fun to not only bond with my cohort but also other cohorts."
Last, but not least, was the relay race. Students gathered along the hallway to cheer on their competing teammates. This race contained many difficult activities including filling a cylinder with water by running back and forth to a bucket of water with a sponge, to having to bandage two teammates legs together and running across the quad to the other side.
Katelyn Neasham '24 stated that she, "liked the relay because it was really entertaining to see people running around and it seemed really fun."
O'Neil also mentioned that, "I had a lot of fun watching all my cohort members playing in the games and I also thought it was really well organized."
In the end, Cohort 16 won, with Cohort 18 in second and Cohort 17 in third. The seniors accepted the golden crutch with honor and held it over their heads in victory. 
Sofie Prieto '22 stated that, "winning in general was fun," and that, "there might be some bitterness[among cohorts] but it was mostly good fun."
Overall the BioScience cohorts completed the Olympics strong and are ready for next year's challenges.