Recap: Boys' water polo beats Malibu on Senior Night 15-10
On Oct. 21, the Foothill Technology High School (Foothill Tech) varsity boys' water polo team beat the Malibu High School Sharks 15-10 in their annual Senior Night. Although the Dragons maintained a steady lead throughout the whole game, the fourth quarter exposed the emotions of the day, when Malibu seemed to pull forward. Malibu ultimately couldn't touch Foothill Tech's lead.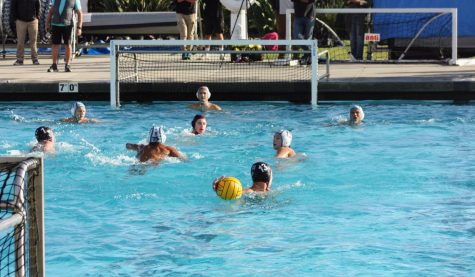 This was the second game Foothill Tech has played against Malibu this year, captain Ram Pierce recounting, "we lost the first game to Malibu by one, that one hurt. We really needed this win." He's proud of the team's performance this time around. 
To the team, it wasn't just about redeeming themselves against Malibu: this victory against Malibu was the last big challenge before they qualify for CIF. 
"It always feels good to win on Senior Night," says Levi Davis '22. Davis, Donavan Hart '22, Alex Jannone '22, Pierce, Brandon Rogers '22, Jake Runestrand '22 and Ben Zeko '22 are all graduating seniors on the team. There's something sentimental about this well-deserved win on what could have been one of the last games for the seniors. Ryder Hart '23, who's on the team with his brother, feels it too, "I look forward to playing more games with my brother."