Vegan restaurant review: Vegan vs. non-vegan
As vegan lifestyles rise in numbers and popularity, so do vegan restaurants. Are these restaurants worth the visit? We visited three locations and reviewed them from the point of view of a vegan and a non vegan! Our vegan taste tester is Frances English '24, a vegan of three years and a vegetarian of 12 years. Our non-vegan taste tester is Ailanie Martinez '24. 
At the hole-in-the-wall-esque Searanger Seafood Station, we ordered an Oreo milkshake, Hot Cheetos (vegan twists imported from the UK), the Crab Cake Sandwich, buffalo wings and the Crunchy Tiger Roll.
Oreo milkshake:
Frances: It was nice, but could've been better. It was pretty liquified, but for a vegan milkshake I thought they did a pretty good job. 8/10.
Ailanie: It's noticeably vegan, but not in a bad way. It has a nice flavor with a slightly earthy undertone to it. 7/10.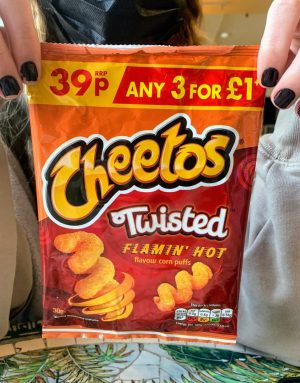 Hot Cheetos (vegan twists imported from the UK):
Frances: When I saw these I got super excited, and they did not disappoint. I personally don't like spices very much, but they were not too spicy. It was so good that I bought another bag before we left. 10/10.
Ailanie: I was shocked to learn that there were vegan hot Cheetos! They tasted like barbeque Cheetos more than hot Cheetos, though that might just be the UK's spice tolerance. 7/10.
Crab Cake Sandwich:
Frances: This was very enjoyable. It had amazing flavoring and a really good sauce. The bun was perfectly flaky, and it overall went above my expectations. 10/10. 
Ailanie: It was mouthwatering-ly good. The bun was so fluffy, flaky and just perfect. My taste buds were ascending. 11/10.
Buffalo wings:
Frances: The texture was pretty weird and it was hard to eat. The flavor was really tasty though, and it came with a vegan ranch that was superb. 4/10.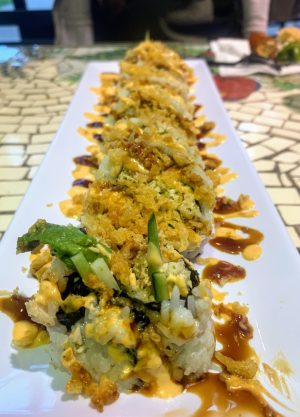 Ailanie: I like the flavor and the sauce was really good. Sadly, the texture did not meet that standard. Biting into it was tough and the texture of the wings themselves were mushy and strange. 3/10.
Crunchy Tiger Roll:
Frances: I've never had anything like this before, and it was pretty weird. Normally, when I get sushi, I just get a roll with avocado and cucumber. This one was fishy…I think I'll just stick to my regular roll from now on. 5/10.
Ailanie: The flavor was tasty, but I didn't love the texture of a certain part of it. The presentation was really nice too. I've had their California Rolls before, and I loved them. 5/10.
Final thoughts: 
The place itself has a quirky presence, stationed in a small and isolated food court. The staff were so nice, and it was definitely an experience. The menu was super extensive, so it's easy to find something you'll like and it's amazing for vegans.
Fatty Vegan: $$
Our next stop was the edgy looking Fatty Vegan. At Fatty Vegan, we ordered an Oreo shake, the Awesome Cookies and Brownie, the Mother Superior Pizza and the Mr. BBQ sandwich.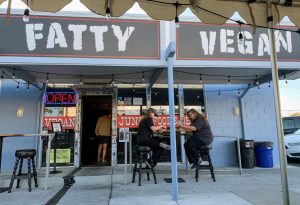 Oreo Shake:
Frances:  This was the best vegan shake I've ever had. It came with a cherry and whipped cream too. Absolutely fantastic. 11/10.
Ailanie: It was delectable. I wouldn't have known it was vegan if I hadn't been told! 10/10.
Awesome Cookies and Brownie: 
Frances: It was extremely delicious. Definitely the best brownie I've ever had. I loved it. 10/10.
Ailanie: This was outstanding for a vegan brownie. I don't usually love chocolate sweets, but this brownie was so thick and wonderful. 9/10. 
Mother Superior Pizza:
Frances: Normally, I'm not a fan of vegan cheese but I loved it on the pizza. It had amazing flavors and was cooked to perfection. I will definitely order it again. 1,000/10.
Ailanie: This pizza really knocked my socks off. The crispness of the crust was amazing, coupled with the sauce and very realistic vegan cheese made it such a delicious dish. 11/10. 
Mr. BBQ sandwich: 
Frances: The bun was superb, the jackfruit was perfectly seasoned and the flavor was fantastic. It has coleslaw in it that complemented it perfectly. I loved it. 10/10.
Ailanie: The bun was my favorite part of this; it was so fluffy—just the way I love bread. The jackfruit and coleslaw worked together so well by not overriding each other. 10/10.
Final thoughts: 
This restaurant presented our favorite decor and atmosphere. There were posters on the walls, skateboards with rebellious slogans, great music and a really unique, punk rock energy. All of the staff were super nice and cool. It's an amazing little hangout spot.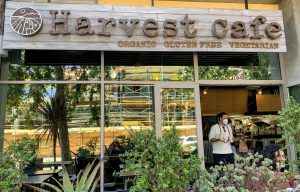 Harvest Cafe: $$$
Our final place was the millennial chic Harvest Cafe. There, we ordered the Luscious Lavender smoothie, the Rose Lemonade, the Vegan Buckwheat Waffle and the Burrito Bowl.
Luscious Lavender smoothie:
Frances: It tasted super good and nothing was overpowering. Along with it being healthy, it was beautifully plated. I just wish there was a more distinctive lavender flavor. 8/10.
Ailanie: For a Lavender smoothie, I didn't taste much lavender. It was wonderful, but the banana flavor really overpowered the rest. 7/10.
Rose lemonade:
Frances: I wish there was more flavor. It was nice but it just tasted like flavored water. 6/10.
Ailanie: It was great, but it was like drinking water while thinking really hard about lemonade. 5.5/10.
Vegan Buckwheat Waffle:
Frances: It was super good. This is what I usually order when I come here. It came with fruit, syrup and an amazing cashew cream sauce. 10/10.
Ailanie: It had a nice flavor, and the outside texture of the waffle was so well done. The inside was a little crumbly and mushy, but it was still tasty. 7/10.
Burrito Bowl:
Frances: It was very flavorful as each flavor went well together. I would get this again. 9/10.
Ailanie: The jackfruit tasted like real meat, which really surprised me. It was so flavorful, and it made a party in my mouth. 9/10.
Final thoughts: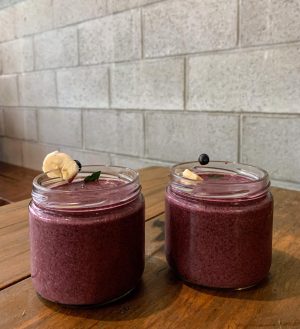 When we walked in, we felt as if we had been teleported to a cafe in Los Angeles. It was rustic, but in a modernized way. The staff were polite, and the wait time was pretty short.
We both enjoyed each of the restaurants and were immensely impressed with the food that we tried. The range of each food and the energy that the restaurants brought were outstanding. It shows that there is something for everyone, even when having a more diminished palette. In the end we would recommend that everyone go test out these restaurants and find something new to try!