Dragons finally spread their wings: Cross country leads the reintroduction of sports
It was an early morning as a slow stream of dormant runners began to warm up. Just over ten athletes were present for each event, from only Santa Clara High School, Saint Bonaventure High School and La Reina High School. This pales the typical 100 athlete races. A sense of eeriness filled the arena, as few parents lined the fence, masked and distanced, to watch the first league cross country meet in over a year ensue. 
For months, anxious athletes have been preparing for the go-ahead to be released for sports. March 6, 2021 was the day for these aspiring runners to experience what they have been missing out on since the previous fall. At the Ventura Unified School District (Ventura Unified) Educational Services Center, there were strict guidelines to ensure safety at this monumental step in the progress of student sports. 
The four races, boys' and girls' varsity and junior varsity, were separated by hour intervals to maintain social distancing. This meant that there were also no crowd gatherings allowed anywhere near the runners, which is much different from previous years.
"There are lots of things that I think were different, but we're just really grateful obviously for the opportunity to race and so I think, more than anything, today we wanted to take advantage of the opportunity to get out here and compete," says head cross country coach Jason Dinkler. 
The Dragons dominated all races, the first to compete being boys' varsity. Zen Li '21 won first place in the two mile race earning a solid time of 10:57.65. Jacob Walker '22 was close behind to place second (11:20.59), and the rest of the Foothill Tech boys followed on the leaderboard with Owen Teehee '21 placing third (11:47.24), Braeden Elliot '24 placing fourth (12:28.83) and Noah Browne '22 placing fifth (12:32.44).
Walker reflected on the moment, saying, "I felt very confident actually, we were the only team that was really practicing, or so I've been told, so I felt pretty good about the race"
The girls' varsity race took a similar suit, with Brooke Secreto '21 finishing first (12:19.26). The rest of the group prevailed farther behind, with Sophie Prieto '22 finishing sixth (13:34.59), Madison Bowman '23 finishing seventh (14:44.57) and Nisha Reddy '24 finishing tenth (15:04.98).
Reddy, with no previous high school running experience, said "I felt nervous. It was the first race of a weird season. I think everybody did well, but I felt very nervous."
"I think everybody did great and I love the coaches and the whole community and everything here. It was awesome." -Reddy
As varsity wrapped up, boys' junior varsity stepped in for their one and a half mile run. Frank Stilwell '22 finished first at 8:07.49. More Dragons followed with Erik De La Trinidad '23 finishing second (8:52.20), Mason Borkowski '24 finishing third (9:12.04), Cody Bondy '24 finishing fourth (9:23.12) and Christian Flores '22 finishing fifth (9:24.42).
With so much change happening this year, due to the COVID-19 pandemic, Stilwell had much to say about the current situation. He commented, "It has been well over a year since I've raced so it is definitely a feeling I haven't felt in a while. It feels really good to race. I was expecting a lot more people to be here, but I guess that couldn't really happen."
With so much adjusting, De La Trinidad talked about how well the freshman runners have been adapting. He says, "I've been working with the freshmen and they're really good motivators, they're excited to race, they're excited to go out and run."
Coach Dinkler commented on this as well, saying, "I was really proud of our youngest athletes just getting after it today."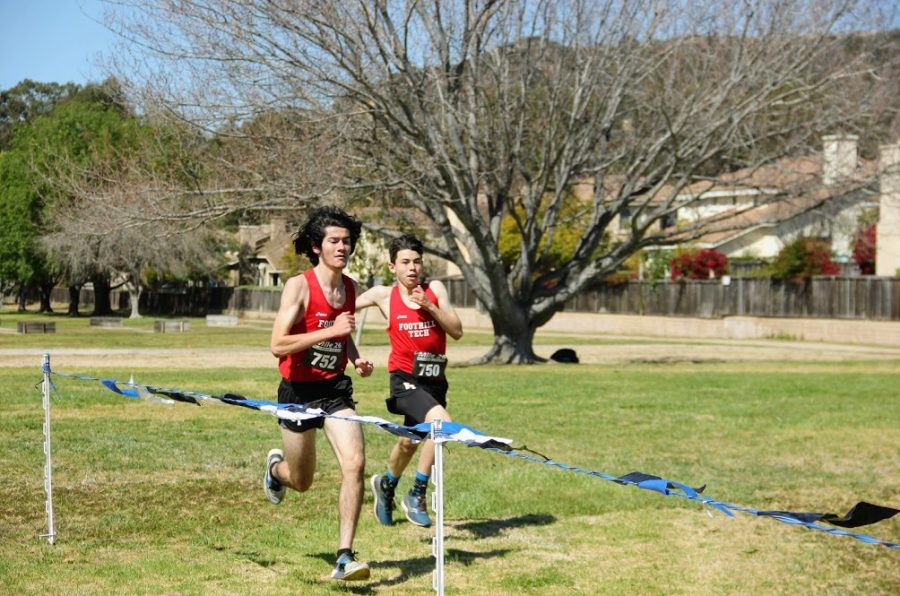 The girls' junior varsity concluded the meet with Kassie Mendoza '21 finishing first (10:26.80), Kayla Brewster '24 trailing in third (10:35.07), Caitlyn O'Neil '23 finishing fourth (10:44.67) and Maria Munoz finishing fifth (10:48.64).
Mendoza commented on her last season running, saying, "the coaches have really emphasized that it's just about improving ourselves as athletes, and not really racing, so I wasn't too nervous as I usually am, which I think helped me perform better during the race."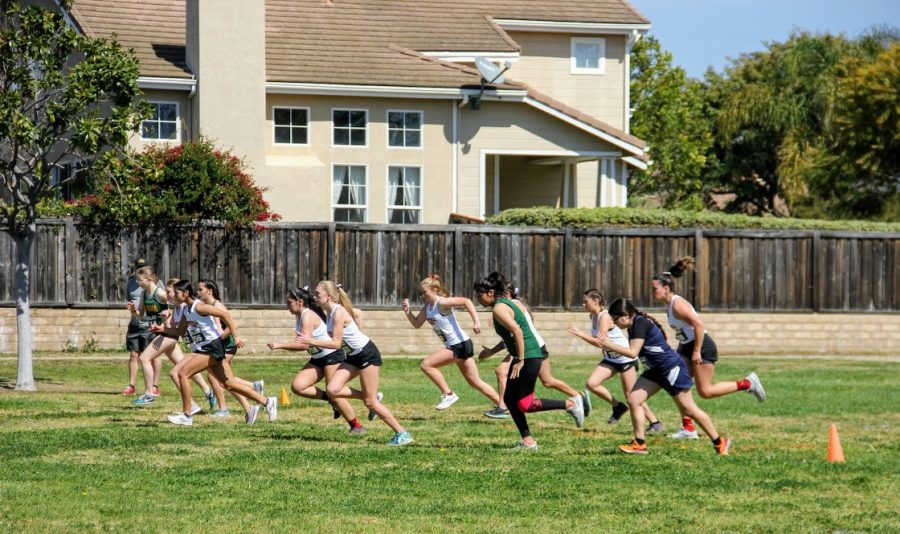 "The reason I joined track this year even though it is social distancing is because I wanted the chance to be a part of a team one last time, for one last season because we didn't get to do it last year, so I'm just going to enjoy it while I can before I go off to college," Mendoza continued. 
With prospects to continue the season and move into track, Dinkler remarks that there were "a lot of teachable things," saying that "learning how to race is a different environment. So we have a lot of things to learn from, and then we get another opportunity on (March 20) to go try it again."
With this in mind, the Foothill Tech cross country team will continue their new season triumph on March 20 at La Reina High School at their second and final meet.