Former child slave James Kofi Annan spoke to Foothill on Tuesday about the brutality he faced in his day-to-day life as a young boy. Annan, the founder and president of Challenging Heights, was hosted by the Foothill Girl Up club and arranged in partnership with Abolish Slavery Now, an organization in Ventura combating slavery and helping the citizens of Ghana.
Former child slave James Kofi Annan spoke to Foothill on Tuesday about the brutality he faced in his day-to-day life as a young boy. Annan, the founder and president of Challenging Heights, was hosted by the Foothill Girl Up club and arranged in partnership with Abolish Slavery Now, an organization in Ventura combating slavery and helping the citizens of Ghana.
Annan was born in Ghana in a household of 11 children. His family lived in poverty, and his parents had a hard time caring for them. He was sold into slavery at the age of six, and was forced to work in the dangerous fishing industry of Lake Volta.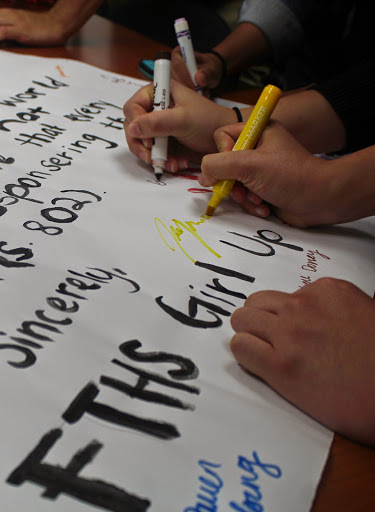 He spoke of how he worked seven days a week, from 3 am to 8 pm, with very little food. He was punished severely when he made mistakes and was often beaten and tortured.
"Despite the physical nature of the work, despite the fact that I was a child, I was still not expected to make a mistake. And anytime I made a mistake, I was tortured," Annan said.
"As I was going through this situation, I saw that they found joy in torturing others. I saw adults kicking and hitting children with glee. And so it was exciting [for them]."
Annan was a slave until age 13, when he received an opportunity to escape.
He was named after a prominent religious leader in Ghana, and when that leader died, all citizens named after him were invited to his funeral. Annan went to the crowded funeral, which was held at a place near his home. He took this opportunity to escape back to his parents' home. 
His biggest desire for escaping was to receive an education.
"I wanted to go to school. That is what I really aspired to do. I wanted to be in school. I wanted to speak English," Annan said.
He started school as soon as he escaped. Although he started school illiterate, Annan worked hard and set an academic record at his school- one that no other student had been able to match.
"Despite all the challenges- the challenges of illiteracy, the challenges of poverty, the challenges of stigmatization- despite all those challenges, I was able to set an academic record that no other student was able to break," Annan said. "If I can do this, you can do better."
Although Annan now lived with his family, he was still in poverty and often went without food for days. 
He reflected on an incident where he had gone without food for three days.
"I said 'Please. I have not eaten for three days now. So I need food.' And I saw in his eyes, an empathy. So he gave up his food for me, and I ate it," Annan said. "And that day, he went to bed without eating. Up to now I've always told [people] that gesture was so important, it felt like he saved me."
After he finished his basic schooling, Annan became a university graduate, and later, a manager at Barclays Bank of Ghana. In 2007, he resigned from his banking career and created Challenging Heights.
Challenging Heights is a non-profit organization located in Ghana that rescues, rehabilitates, educates and protects children who have been forced to labor in the fishing industry and who are vulnerable to trafficking.
[soundcloud url="https://api.soundcloud.com/tracks/200884454″ params="color=ff0000&auto_play=false&hide_related=false&show_comments=true&show_user=true&show_reposts=false" width="100%" height="166″ iframe="true" /]
"We put [the children] into some social programs like sports and activities that will add them back into society. We also have a school where we send some of the children," Annan said
This organization also focuses on empowering women, educating them and teaching them the needed skills for jobs.
"We do a microprogram with various activities. We raise the capacity of women through training […] we train them to be able to bear their capacity, to learn how to do basic bookkeeping, how to calculate profit and loans, how to do marketing and customer service," he said.
Annan explained that slavery still exists today in many countries.
"We want you to know what is happening in this world. Slavery exists. At the moment, we are talking about 35 billion profit in slavery worldwide, every year," he said. "We're talking about over 30 million slaves in the world. In my country alone, we have over 180,000 people in slavery."
Annan said the experience of being an enslaved child changed his views.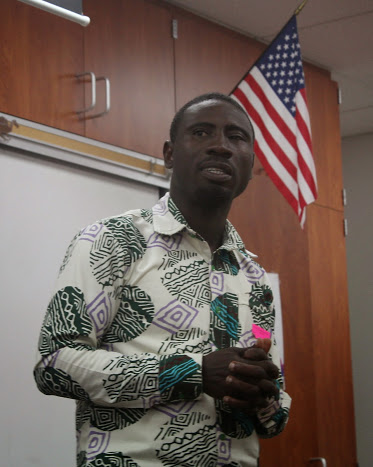 "It has taught me that there is a need for us to focus on education, because once I got educated, I have been able to do all that I have been able to do," he said. "But those of my colleagues who were also enslaved with me, who did not receive [education] are still wallowing in poverty, and some of them have even became traffickers."
He also said that many people were ignorant and disconnected about the issue of modern slavery.
"I have traveled around the world and have been shocked at the level of ignorance of what is happening. So many people, who especially should know about this situation, but shockingly did not know," he said. "There's more to be done."
Girl Up president and junior Fidelity Ballmer said that speakers are an important factor in spreading awareness.
"It's important to have speakers come in and talk to the school because otherwise, the issues don't seem real. In Girl Up, we're talking about things that are going on in developing countries, but it's hard to recognize that these are actual lives being affected and actual people who are living through this," she said.
Sophomore Yume Dorsey reflected on how Annan's speech inspired her.
"I am very fortunate to have education and opportunity, and I often forget this," she said.  "From listening to James Kofi Annan's speech, I realized that I should use this advantage in a positive way by becoming active and impacting the lives of people who are in need."
Ballmer explained how Annan's message connected to Girl Up's mission. 
"Girl Up is a campaign of the United Nations that works to protect, educate and empower girls in developing countries. Receiving an education is impossible if you are in child slavery," she said.
"His organization, Challenging Heights, focuses on the economic empowerment of women in society and the education and protection of children, which is similar to a lot of UN programs that Girl Up works to raise funds for."
At the end of the speech, Girl Up asked students to sign a petition to pass the Girls Count Act of 2014 in the United States Senate (S.2591) and the House of Representatives (H.R. 3398). One of the aspects of the legislation is that is has the capability to help protect children in developing countries from ever entering slavery.
"This legislation works to prioritize giving girls a birth certificate when they are born," Ballmer said. "The implications of this are huge- with a birth certificate, she will become a counted member of society who can get a driver's license, access health care, education, buy land and use any services that her country offers."
Dorsey explained her thoughts after listening to Annan's speech.
"What I personally thought while I was listening to the speech was that there are so many people in the world and I am just one of them, so my life doesn't matter very much, but if I do things that make an impact on people's lives and help people, I can really make my life matter and find a sense of purpose," she said.