Kindness Week at Foothill encourages good vibes on campus
Foothill's kindness week, held from Feb. 24 to Feb. 28, encouraged compassion and school spirit through the implementation of events, activities and affirmations. The event included five days of fun, and was headed by the Associated Student Body (ASB), and planned by the Awareness Week director, Elizabeth Ferris '21.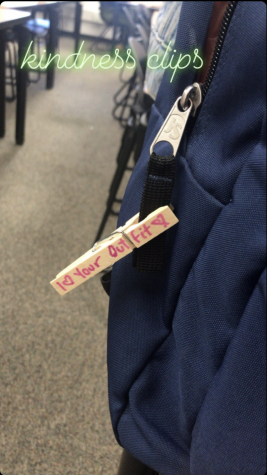 On Monday, the quad sidewalk was sprinkled with colorful chalk drawings. Tuesday brought the craft of bracelet making, where students could come to the quad at lunch to make their own. Wednesday was full of kind words and affirmations, and clips were placed on students with messages such as "I love your outfit" or "You're smart" to give a word of encouragement. 
On Thursday, Foothill's Kindness Tree grew as students added their handprints to its branches. Friday brought the main festivities, a celebration at lunch including a giant game of Twister, and the long awaited candy "kindness" grams. Students had the chance to send a candy gram to any of their friends at Foothill, Ventura or Buena. This idea was new for ASB, but it quickly became a favorite for students as they read the heartfelt, oftentimes humorous, messages wrote by their friends. 
The main event, a kindness assembly featuring Dude. Be Nice was cancelled due to an unforeseen hospitalization of the speaker. There is no word on whether or not it will be rescheduled, but ASB coordinator Captain Lindsey hopes that the speaker will reach out to replan. However, the cancellation led to the planning for more events for the week. 
"I think that most teenagers go through a lot during their high school years," said Ferris. "So it's nice to put a little happiness into their lives if we can."