Ending period poverty: Foothill's annual period product drive
As the year ends and finals begin, the annual Period Product Drive is in full swing at Foothill. Run by Foothills WE Club, the drive is collecting various period products as a way to help end period poverty in Ventura. This is the 4th annual period product drive put on by the club.  
"Period poverty is a huge issue in the United States," states Aline Silva Rodrigues '20, president of WE Club. 
"1-in-5 girls miss school every year [due] to not having adequate menstrual products," Rodrigues continued.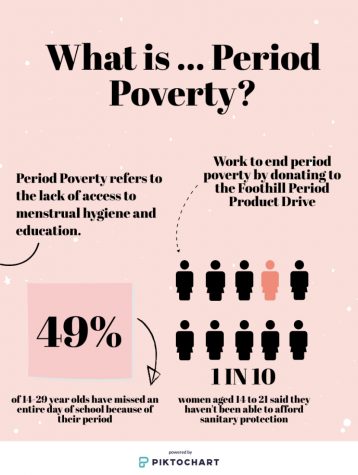 According to the American Medical Women's Association, period poverty "refers to the inadequate access to menstrual hygiene tools and education."
WE Club hopes that the drive will "address [period poverty] in Ventura" and "raise awareness" of the struggles faced by those that lack the correct menstrual resources. 
Through advertising and classroom jars designated for donations, WE Club is "erasing the stigma that is around periods," while helping those directly affected by the problem. 
The Period Product Drive ends on Feb. 14; until then you can donate to the cause and help end period poverty in Ventura County. 
Editor's Note: The final date of the period product drive was changed from Jan. 31 to Feb. 14 on Feb. 5 at 8:11 a.m.