Swim & Dive finish season strong, earn titles during CIF week
To see team scores, click
here
.
To see individual scores, click
here
.
"We earned a banner in the black box to celebrate our win," Sydney Roman '19 said of the Foothill Technology High School 200 yard intermediate medley (IM) relay team, who took first place in their race on May 3 (1:51.96). Roman swam the final leg of the relay along with Annika Arroyo '20, Giovanna Postma '21 and Caitlin Potter '19 in the finals of the California Interscholastic Federation (CIF) Division IV swimming and diving tournament.
The tournament took place in two legs: Prelims on May 1 and Finals on May 3. Scores from both days were taken into account to determine the CIF champions, runners up and so forth. The dive team competed on April 30. All events were held at the Riverside Aquatics Complex at Riverside City College.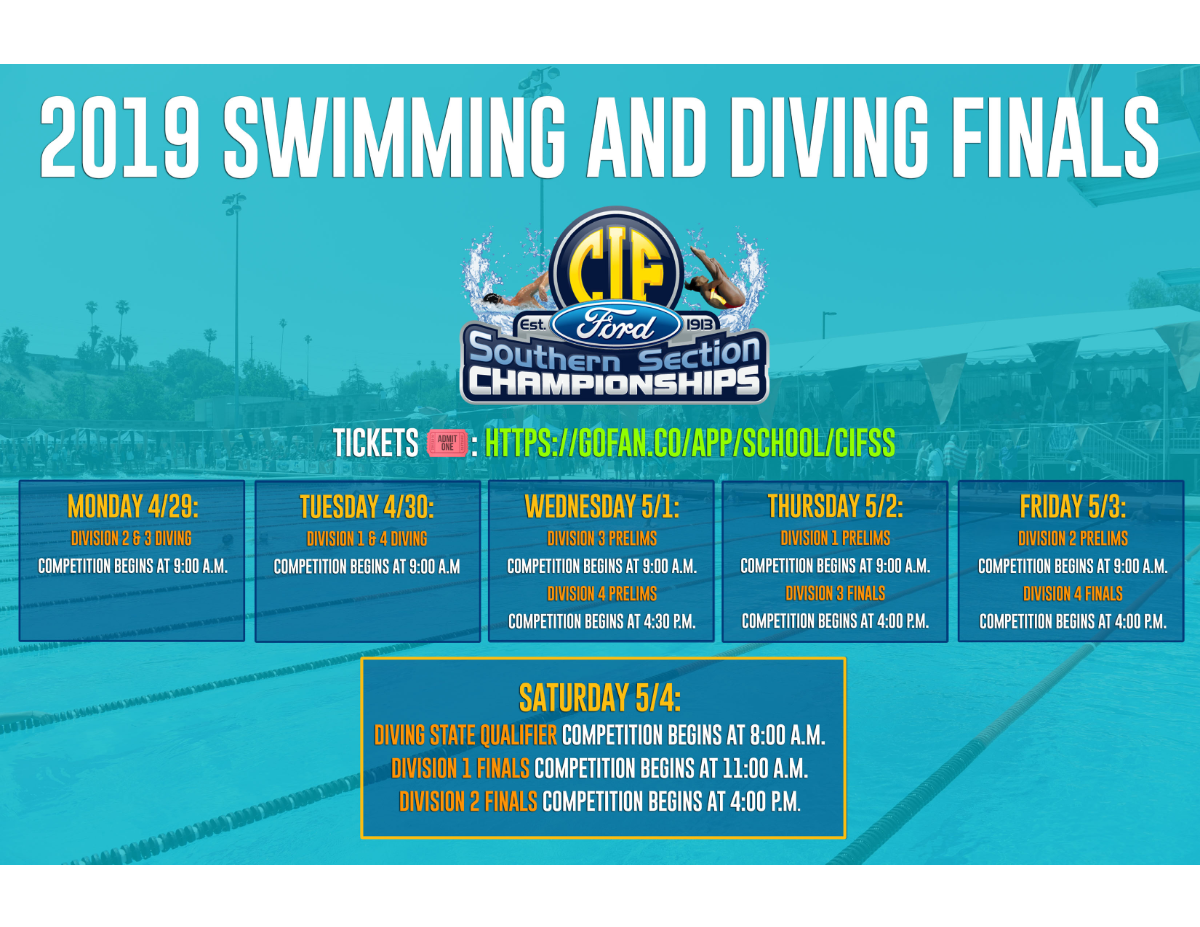 With stellar swim performances on both days, the Dragons finished in third place on the girls' side and tenth place on the boys' side. The girls scored 205.5 points while the boys scored 99. On both sides, Diamond Bar High School, with over 3,000 students, took first place.
GSwim/Dive: @FoothillTech finishes 1st in @CIFSS Division 4 200 Medley Relay (1:51.96) #GoDragons @FDP_Sports @vcspreps @TCAAinformation pic.twitter.com/fWqQKJZxIc

— FTHS Athletics (@fths_athletics) May 3, 2019
"Our team competed so well at the meet with pretty much every swimmer getting their best times all season," Roman said.
Almost all of Foothill's swimmers made it back to the finals day, with some making it to the final heats of their events: Arroyo, Rachel Johnston '21, Alyssa Potter '22, Caitlin Potter, Roman and Dafne Varela '21 for girls, and Jake Anders '20, Tristen Arana '21, Ben Clinton '19, Miles Lagomarsino '20, Brandon Rogers '22, Isaac Velasquez '20 and Evan Wallace '20 for boys.
GIRLS SWIM SUMMARY:
Arroyo, Postma, Caitlin Potter and Roman finished third in their 400-yard freestyle relay (3:44.35).
Heidi Fedde '21, Johnston, Alyssa Potter and Varela and finished 16th in their 200-yard freestyle relay (1:51.00).
Roman took ninth in her 50-yard freestyle (26.16) and 15th in her 100-yard freestyle (57.27).
Arroyo finished sixth in her 200-yard IM (1:03.41) and tied for first in her 100-yard breaststroke (1:07.53).
Potter finished second in her 100-yard backstroke (58.40) and fourth in her 200-yard freestyle (55.11).
BOYS SWIM SUMMARY:
Anders, Clinton, Rogers and Velasquez finished 11th in their 200-yard freestyle relay (1:34.38).
Arana, Clinton, Rogers and Wallace finished 15th in their 200 yard IM relay (1:48.95).
Anders finished ninth in his 100-yard freestyle (50.15).
Clinton finished ninth in his 100-yard backstroke (58.16).
Lagomarsino finished 15th in his 100-yard backstroke (1:00.23).
Arana finished 15th in his 500-yard freestyle (5:10.90).
Velasquez finished 16th in his 200-yard freestyle (1:57.44).
Swim/Dive: @FoothillTech girls finish 3rd overall and boys 10th in @CIFSS Division 4! #GoDragons @FDP_Sports @vcspreps @TCAAinformation

— FTHS Athletics (@fths_athletics) May 4, 2019
On the diving side, three competed: Fedde, Joe Shumaker '21 and Dafne Varela '21.
Fedde recalled the challenge of CIF competition: "We only had a couple of weeks to have practice time on the boards, and learn 11 dives each," she said.
However, the work was worth it, as "we have improved as a team and are very supportive of each other. Personally, it was fun for me to have others diving- it really felt like we were a team," Fedde said.
Fedde herself finished fourth, with a score of 346.35, while her teammate Varela finished sixth with a score of 172.75. Together, they led the Dragons to a second place overall victory in the diving competition.
Shumaker competed against just one other male diver, Luke Huang '21 from Diamond Bar High School. Shumaker earned a score of 257.60 as opposed to Huang's 422.25, thus leading Foothill to another second place title.
Fedde was proud of her team's performance as a representation of their progression over the season.
"It was a lot of fun to help teach some of the new members of the dive team some of the basics of diving and see their growth over the season," she said.
Roman saw improvement on the swim team as well: "In this season everyone worked very hard. We had difficult practices, but they overall lead to everyone dropping time and getting the best times of the year."
As their season comes to a close, it's time to recall all of the good memories that have been made.
"Teamwork was a strength of our team," Roman said. "Everyone cheered for each other through the long swim meets and I've made friendships I know will last a lifetime."