ASB makes menstruation no obstacle, period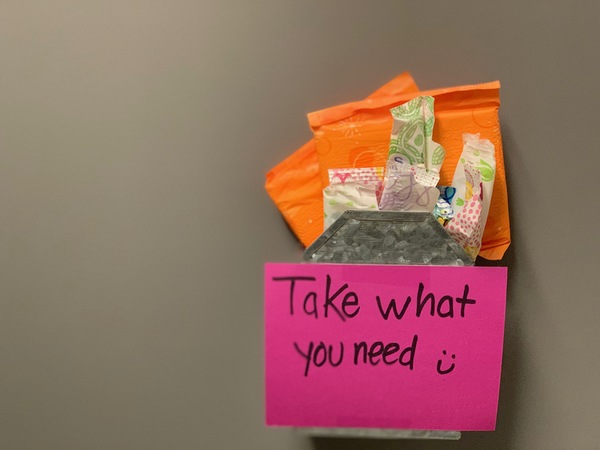 Noelle Hayward, Reporter
April 24, 2019|103 Views
Hang on for a minute...we're trying to find some more stories you might like.
In honor of Women's History Month in March, Foothill's Associated Student Body (ASB) put on a campus-wide women's history week as a means to educate the student body about influential women and showcasing the involvement of Foothill students who identify as female on campus. A signature part of this week is a period product drive, where ASB provides students access to feminine hygiene products such as tampons and pads in women's restrooms around Foothill.
Designed chiefly by ASB Vice President Josiah Beharry '19, the new period product drive is meant to be a tribute to the "250 million girls around the world [who] don't have access to period products, or [who] have to choose between that and like basic necessities like food and clothes."
He worked with Senior Class President Anna Pyron '19 and Awareness Week Director Hannah Yale '20.
Beharry commented that his initiative was sparked by the conversations he overheard about the priciness of period products.  
"What motivated me was I always hear girls talking about how access to [menstrual products] is so expensive," he said.
During the planning process of this drive, he also "got to learn that […] going in the office is sometimes really embarrassing to ask, so it just motivated me to have it in the bathroom and have that privacy to yourself so you don't have to ask—you don't have to pay yourself—you just got to do what you need to do."
Pyron said that she likes to "highlight everyone on campus, and this is like one specific thing just for girls, and I think it just made them feel really like 'oh, people actually care about me.'"
"The most important thing for me was just to let specifically […] girls on campus know that were like care about them," Pyron stated.
Beharry added that "normalizing it and making it something that's not so awkward to talk about is super important" for Foothill's atmosphere.
ASB teacher Melanie "Captain" Lindsey explained that not only does this drive provide more security and care for specific students, but it also "actually cuts down on girls missing academic instruction, because sometimes things happen that you didn't expect to happen, and then you have to go the nurse and get products, and then go back to the bathroom, and then you get to go back to class."
"This way, stuff is available, and if things happen, then—boom—you can take care of business and go straight back to class," Lindsey said.
As for the reaction that their service garners, Beharry thinks they "got so many positive remarks:" "We posted it on Instagram, and even alumni or parents were saying, 'this is super cool that you guys are doing this!'"
Beharry mentioned that many people commented on the drive, expressing that this service was "so necessary." He added that he "heard a lot of girls talking about how having that privacy is so important to them, and even if like they go in the bathroom and they might not know that they're on their period, it's super convenient."
However, Lindsey explained that the continuation of this drive will "be dependent on the student body."
According to Lindsey, someone recently "put a whole basket of feminine products in the toilet." The tampons, pads and the container itself "were completely wasted," so the future of the drive "depends on how the student body treats what we're doing."
"If they treat the products and the containers with the respect that they deserve, then absolutely I see this as something we can make part of our culture, but if they vandalize them again, then it's not going to be worth continuing to spend the money, because we're—it's just wasted."
"I hope that the student body knows that this is a lot of love and thought that goes into trying to make school and life better for them in the smallest possible ways, and so the more they treat the things that we do with respect, the more things we're going to do to make life continually better for them in small and big ways," Lindsey concluded.